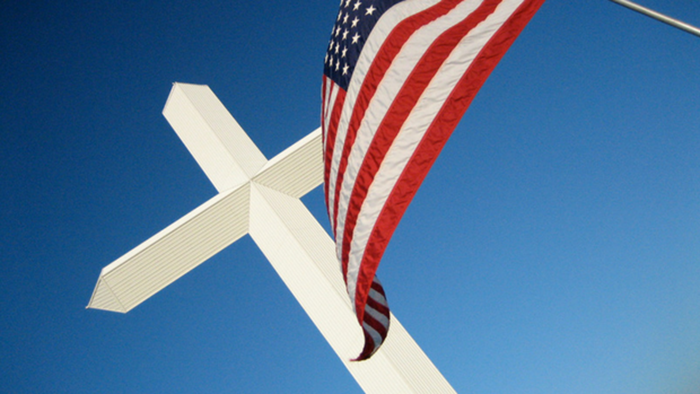 I recently wrote an article for Influence Magazine on patriotism and the church and wanted to add a few more thoughts.
As we celebrated Independence Day in the United States over the summer, I saw a lot of churches discussing America, God, and the Church, and how they fit together in the context of worship services. I want to challenge us towards a greater understanding of God's kingdom in times of national celebration.
The Stats and the Concern
According to a LifeWay Research study, almost 90% of Protestant churches did something in their worship services to celebrate July 4th.
There is a statistic that brings an interesting fact to consider how and why the church is involved to such a large degree. Here it is:
53% of Protestant pastors say "our congregation sometimes seems to love America more than God."
Now, when I point out the dangers of mixing patriotism and worship, some people are just deeply offended. Well, I'm deeply offended too—by this statistic. And, you should be as well.
When 53% of pastors agree that sometimes their congregations love America more than God, that should be sounding alarm bells. That is what is compelling me to write.
Idolatry Is the Real Issue
To be blunt: anything that replaces a love of God is idolatry, and this needs to be addressed. It is our job as pastors to point people to Jesus and highlight idolatry in our lives, in our churches, and in our culture.
And, our hearts are idol factories, according to Calvin, so we are drawn to them.
I go on to explain why this statistic shouldn't actually surprise us, in some ways:
As recently as 60 years ago, the church was the community center, the pastor was the representative of the community, and the church building was the largest public gathering hall in town…And [these things] made it instrumental in the forming of the American culture we understand today…America, God, and the church coalesced together in a symbiotic relationship.

America is perceived to be a Christian nation less because of the founding fathers' intentional objectives, and more because of the passive role of the local church in shaping American culture.
This is a history that is both nuanced and fascinating to me, and we go more into detail in the full article at Influence Magazine. And it is this history that has conflated the worship of God and the worship of America. If your church has a regular habit of celebrating and singing about America and its greatness in the world, the line between God's sovereignty over creation and America's sovereignty as a creation will become blurry.
But, How Dare You?
Yet, for some, they just don't seem to acknowledge this possibility. When I've raised it, I get all the tweets saying, "How dare you have such a concern!" and "I've never seen such a thing."
Seriously? I have. Seems I am not the only one.
Indeed, "53% of Protestant pastors say 'our congregation sometimes seems to love America more than God.'" So, I guess somebody's seeing something that concerns them.
So, it appears I am not the only one noticing and being concerned.
Being Careful Means Being Theological
So how do we move forward and address some of these concerning issues in light of the history we see? It's important to remember that our country is not chosen by God and Americans aren't God's chosen people.
Let me be blunt: singing about an earthly, temporal nation in a worship service can be confusing at best, and needs to be done with great care, lest it give off a different message to that visitor from China. I'm not saying it can't be done, but I am saying that it should be done carefully. And those who are continually offended by those of us concerned about worship services that sound like America rallies might need to listen to the 53% who are concerned about the loyalty of their own churches.
Thus, we need to think theologically about this.
As such, every Sunday is a celebration, but it must celebrate Jesus and His freeing work on the cross, for our sins, and in our place, not anything else! As Acts 4:12 says, "And there is salvation in no one else, for there is no other name under heaven given among men by which we must be saved."
America is not our salvation, and I get that you probably know that, but do the people who attend our worship services always know it? Or is there hope in a nation more than in God?
A New Kingdom While in A Nation
As followers of Jesus, God has given us a new kingdom and a new allegiance. You are no longer citizens of this world, but of the world to come, the kingdom. His kingdom is worth dying for, His kingdom is worth living for, and His kingdom is the only one that deserves our full allegiance and loyalty.
I'm deeply patriotic. I read the Declaration of Independence to my kids on July 4th and we reflected in my home on its meaning as we celebrated the day. Let me know if you did the same but are offended that I would still be a little concerned about precisely how one incorporates "I'm proud to be an American" into a worship set.
A Higher Calling
Finally, I want to encourage us all that we have a calling. I explained in Influence:
We are called to love and serve the King and represent the kingdom of God. That's our primary duty. We can celebrate our country in this world, but our loyalty should be to the Kingdom that is not of this world.
My friends, no one can top what the Bible says about how we live and view the world. Our earthly citizenship is too fleeting and heaven is too eternal for us to ignore Paul's words in Ephesians:
There is one body and one Spirit – just as you were called to the one hope that belongs to your call – one Lord, one faith, one baptism, one God and Father of all, who is over all and through all and in all. (Ephesians 4:4-6)
We have a new citizenship and a new allegiance. As pastors and leaders, we MUST call others to that reality, particularly when confusion abounds. It's not that we can't be patriotic—I am. It's that we need to be careful, particularly when the numbers show us a concern.
Yes, people come to different conclusions about how to be patriotic and how that relates to church. And, I'm not assigning motives to each and every person or church who does things differently than I prefer.
However, can we all agree that we need to do it carefully? Can we at least consider that there might be some dangers—both scripturally and historically—that we might want to consider?
In light of the stats above, that seems like a pretty wise course of action.
Ed Stetzer holds the Billy Graham Distinguished Chair of Church, Mission, and Evangelism at Wheaton College, is Executive Director of the Billy Graham Center, and publishes church leadership resources through Mission Group.
The Exchange is a part of CT's Blog Forum. Support the work of CT. Subscribe and get one year free.
The views of the blogger do not necessarily reflect those of Christianity Today.