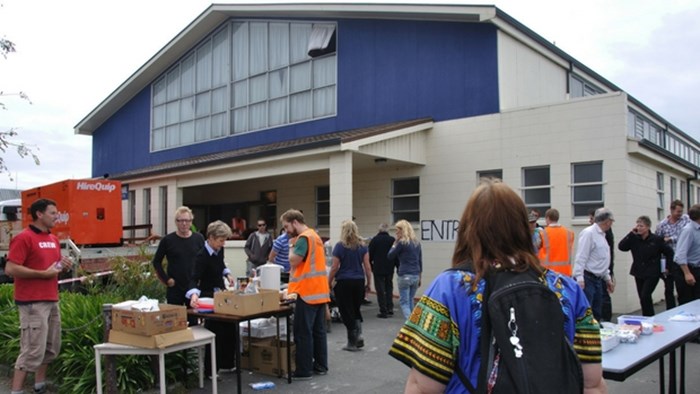 Image: Lakeview Images / Shutterstock.com
This morning in USATODAY, I wrote on the role of faith-based organizations in disaster relief. I explained:
Government is essential in the rescue stage — they have the equipment and means to move that equipment. The Coast Guard and the Federal Emergency Management Agency are hard at work right now. Yet their work alone is insufficient to rebuild the homes and lives of people impacted by natural disasters each year. In fact, over the past decades, we have seen a growing acknowledgement (from government, no less) of the reliable role of faith-based organizations.
The fact is, right now as we move into relief mode, it is faith-based groups that will lead the way, as the immediate rescue efforts soon subside.
Lots of Disasters
This may serve as a surprise to some of us, but records are indicating that between 1995 and 2015, a shocking 6,457 weather-related disasters occurred. These disasters left 4.1 billion people injured and claimed 606,000 lives.
Many of us don't realize the serious toll that natural disasters take on our world each year. People are losing family members, being displaced from their homes, and being robbed of their personal possessions on a regular basis. Unfortunately, studies continue to indicate that the frequency with which these storms occur isn't going down any time soon.
The nation—and the world—have watched this week as Hurricane Harvey continues to pour buckets of rain down on the state of Texas. As relief efforts and volunteer workers are pouring into the state, many might not have known how to help or what resources to contribute.
How Can I Be Ready Next Time?
Perhaps you're sitting in your living room right now and thinking, I couldn't help with Hurricane Harvey relief efforts, but what can I do to be ready for the next natural disaster?
Thankfully, there are many ways to get involved. The world has a growing need for well-informed, thoughtful engagement with natural disaster relief work. Whether you're considering volunteering or donating, there are several 'dos' and 'don'ts' that are important to remember before taking part in either.
First, don't be an SUV.
That sudden urge you are feeling to pack the car with used clothes, canned goods, and your child's old stuffed animals must be fought at all cost. While social and spiritual support is vital to the revitalization of communities in recovery, these efforts are best organized by experienced relief groups. Organizations already on the ground are better equipped to know the needs of community members; if you genuinely want to help, get yourself connected with one of these groups and let them tell you about the most effective ways you can serve.
Second, start training for the next disaster sooner rather than later.
Pastors interested in leading their congregations to better levels of preparedness for the next natural disaster should consider participating in one of the many training programs offered by organizations across the country. Luther Harrison, the vice president for North American Ministries for Samaritan's Purse said when speaking about Hurricane Harvey that relief work was a "great way for churches to get involved in local missions." Disaster victims find themselves in need of practical, physical help but spiritual help as well; this perfectly positions the church to use its resources to step in and offer assistance.
Third, learn more about the most effective ways to help.
Unless you've been trained and certified, you've missed the opportunity to be there now.
However, you can give! You should give!
In many cases, donations can go a much longer way than you might think. Although we might initially find ourselves more drawn to volunteer work because it makes us feel more helpful, the reality is that disaster relief has nothing to do with what makes us, the volunteers, feel all warm and fuzzy inside. We should be willing to do whatever it takes to help those in need whether that means giving of our finances, time, or other resources.
If You Want to Go Next Time, You Have to Prepare Beforehand
For those wanting to prepare themselves in the event that volunteers are needed, groups like Samaritan's Purse, the North American Mission Board, Convoy of Hope, and many others offer church members the opportunity to learn how to best offer assistance to victims in the event of a weather-related disasters. Volunteers who complete this training and will likely end up feeling better equipped to serve and more confident that their work is touching lives and truly helping those hurting to heal.
Our own Wheaton College Humanitarian Disaster Institute is leading the way here. Our mission is to "equip churches and faith-based organizations to prepare for the unthinkable, care for the vulnerable, and cultivate resilience in times of disaster." And you can find ways to get involved here.
Remember the Why!
As Christians consider how to get involved in relief efforts, we must never lose sight of why we do what we do. Disaster relief matters to the Christ-follower because we serve a God who rescues people not just spiritually, but physically as well. We see numerous examples in scripture of the Lord's ability to command storms, part waters, and still waves even during the worst of storms.
Christ cared for a multitude of human needs while on earth, from providing food in times of hunger to healing in times of great sickness. When we go out in faith and use our gifts and resources to help victims of natural disaster, we get to participate in this work and show the same generosity to others that God so lavishly shows us.
Ed Stetzer holds the Billy Graham Distinguished Chair of Church, Mission, and Evangelism at Wheaton College, is Executive Director of the Billy Graham Center, and publishes church leadership resources through Mission Group.
The Exchange is a part of CT's Blog Forum. Support the work of CT. Subscribe and get one year free.
The views of the blogger do not necessarily reflect those of Christianity Today.