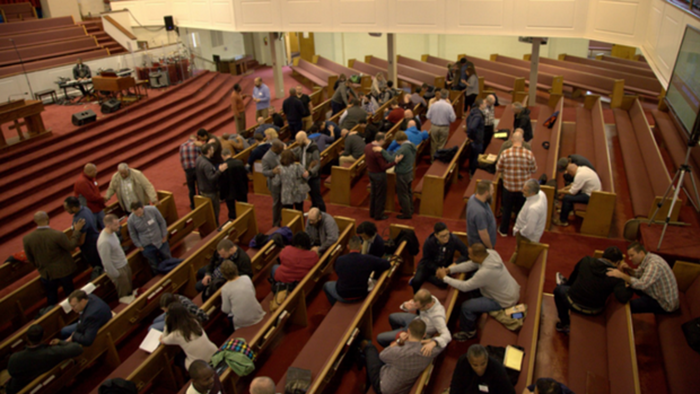 I consider myself an Evangelical ecumenist. Big 'E' for Evangelical, little 'e' for ecumenist, because I don't follow the classic approach to ecumenism.
To put it another way, I don't believe in searching for the lowest common theological denominator in a general statement like "Jesus is Lord." Actually, Jesus is much more than that. For example, he is "the Son of God," "the One born of a virgin," he suffered, died, was buried, and rose again, ascended into heaven, and is coming to judge the living and dead. He is the head of the church, which has pastor/elders and deacons, calls people into covenant membership, and baptizes believers.
That's too specific for many big 'E' Ecumenists.
But I am more of an ecumenist than are many Evangelicals. I've spoken at the national meetings of 50 different denominations and I train pastors, evangelists, lay leaders, professionals, and church planters from all different denominations.
Some don't like my ecumenism. I was actually accused by one leader in my denomination of being an "Evangelical Ecumenist." He explained I was "the most dangerous person" in the denomination because I was, well, an Evangelical ecumenist.
I like that.
I mean, the part about being dangerous.
Because that's the kind of danger that Jesus calls us to— acting like the body of Christ.
When Together Is Better
What my ecumenism means is that I avoid saying that all Christians are the same and believe the same— and I believe they can still have the gospel. Yet, I work with others (even more broadly) on common issues, such as the sanctity of life and issues of justice.
What do the Anglican Church in North America the Southern Baptists, the Wesleyans, the Evangelical Free Church, and even others who are non-denominational have in common?
The gospel.
On that basis, to be an evangelical is to be an ecumenist as far as the gospel is concerned.
But, that doesn't mean that differences don't matter.
You see, I have convictions that also create some places where I can't work together in quite the same way.
Church Planting
I think it's good for us to do things together, and I think there are good things we can do when it comes to church planting. For example, I created the Chicagoland Church Planting Alliance, which meets quarterly to talk about church planting and guide and facilitate conversation for church planters. I lead these meetings and gather different denominations in order to pray together, train together, and learn from guests like Mark Jobe, Charlie Dates, and Ron Edmondson.
Although we are from different theological traditions, we come together under the common umbrella of church planting for the sake of the gospel. It's fun, and there is much to be learned as we work together, and as "iron sharpens iron."
We learn from each other and then take that back to our local churches.
What I've learned, however, is that although this macro-level engagement is necessary and helpful, at the micro level, planting local churches is best left to a single denomination per church. Denominations hold different beliefs on essential things that are part of the church community. For example, baptism to Presbyterians can involve babies and sprinkling, but baptism to Baptists means immersion following conversion.
To use another example, while planting a church, the priests of the ACNA will explain that there are three offices—the bishop, priest, and deacon. I, on the other hand, will teach my new converts and attendees that there are two—pastors/elders and deacons.
On the other side of eternity, we'll find out that some of us were wrong on some of these issues. But, for now, there are just too many important theological beliefs in each denomination that would make interdenominational church planting so difficult that it would take away from the centrality of our mission—to become disciples who make disciples until our world knows Jesus.
In the Final Analysis…
I am glad that we evangelicals are agreeing more and more on issues like life, advocating for justice, and protecting victims. This is good and helpful to our witness and the growth of the kingdom! Let's do this more and more.
We can train for evangelism and cooperate in such endeavors as well. And, there are some places (like church planting) where we learn together, but plant separately.
That's ecumenism that takes seriously that the gospel makes us one family, but also takes doctrine seriously enough that we know that we can't just pretend differences don't exist.
Ed Stetzer holds the Billy Graham Distinguished Chair of Church, Mission, and Evangelism at Wheaton College, is executive director of the Billy Graham Center, and publishes church leadership resources through Mission Group.
The Exchange is a part of CT's Blog Forum. Support the work of CT. Subscribe and get one year free.
The views of the blogger do not necessarily reflect those of Christianity Today.