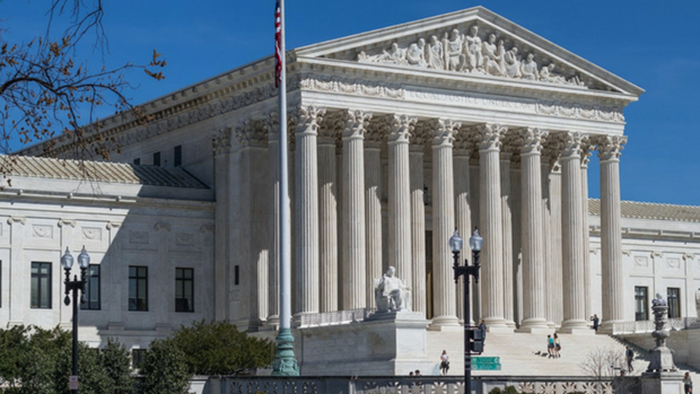 Yesterday, the Supreme Court heard arguments for Masterpiece Cakeshop v. Colorado Civil Rights Commission. The case, as you may have heard, involves Colorado baker Jack Phillips, who in 2012 refused to make a cake for the same-sex wedding of David Mullins and Charlie Craig. Phillips defended his refusal as resulting from his Christian faith.
The case not only brings to the foreground issues of religious liberty, but also whether First Amendment protections extend to cases where those involved believe their participation denotes endorsement of their clients. Phillips' lawyers argue that because cakes are an artistic expression, creating those cakes is his 'speech', and thus, he should not be compelled to support something with which he disagrees.
Just as Phillips has refused to create Halloween cakes, sexually explicit cakes, and cakes that disparage the LGBT community on the basis of his faith, the baker's lawyers contend that his refusal is not discriminatory against a specific community, but rather informed by a consistent religious belief.
Conversely, the Colorado Civil Rights Commission and other civil rights organizations, including the ACLU, have come to the defense of the couple, arguing that the First Amendment does not give individuals a constitutional right to discriminate.
In the buildup to opening arguments, the internet flooded with opinion pieces from every ideological and religious community. Yet no matter how simplistically anyone tries to portray the case or how loudly they castigate those who disagree, this is a difficult judicial problem and it is not clear where the court will come down.
In a democracy comprised of significant religious, political, and cultural diversity, there will always be tension when rights seemingly come into conflict.
A Watershed Moment
The tension between these two rights is so evident that even outside the United States the judicial systems of three other Western democracies are working through cases with a similar theme at the same time. We stand at a watershed moment in religious liberty within Western society as other democracies struggle with the difficult, yet essential, challenge to balance religious liberty, freedom of expression, and the civil rights of all its citizens.
In Canada, the case of Trinity Western University finally reached the country's Supreme Court last week. The case involves the accreditation of TWU's proposed law school that was denied by three provincial bar associations on the basis that its Community Covenant had a clause restricting students from sexual intimacy contrary to traditional and biblical Christian teaching.
As in the United States, this case has been framed as a conflict between religious freedom rights against individual civil rights against discrimination but has reverberated out into subsequent debates around the potential bias of TWU law graduates and potential inherent discrimination of community covenants.
Even as it is unclear where the court will land, its implications on religious liberty and civil rights in Canada are equally murky and concerning.
In the UK, five of the court's 12 Supreme Court justices will convene this April in Northern Ireland to consider a discrimination case against Ashers' Bakery in what the press have labeled the "gay cake" case. The case again centers on the tension between discrimination and religious freedom, arising from Asher's Bakery Company refusing to supply a cake with the slogan "Support Gay Marriage" for a patron to mark International Day Against Homophopia.
The lower courts had previously ruled against the bakers that was subsequently upheld by the Court of Appeals. Already a lightning rod, the case is certainly going to continue generating attention as the presiding justices have opened the court proceedings to the public.
In Australia, in the wake of legislation on marriage equality passing, fierce debate has ignited around the possibility of a religious exemption clause that would protect the rights of individuals or companies to refuse services towards same-sex weddings. While Prime Minister Malcolm Turnbull has come out in favor of amendments to exempt religious organizations, politicians have clashed over how far these exemptions should extend or even if their inclusion undermines the entire bill.
The result has been an intense fight over the makeup of the panel charged with reviewing religious exemptions and making a recommendation.
A Complex Case
Back here in the United States, there is a very high likelihood that the Supreme Court will rule 5-4 in this case, which should put a pause into those yelling, "This is an obvious case of _______."
It's not.
Maybe you disagree with Jack Philips approach, and that is fine, but the question here is how we, as a nation of laws, are dissenters to the prevailing view, and act accordingly in their businesses.
My hope is that the Court will rule in favor of Jack Phillips, and I've actually predicted as much on our radio show and podcast, Breakpoint this Week with John Stonestreet.
The fact is, after the Court rules, we are still going to have to find a way to live together, and many in our culture are going to have to find a path to address those who dissent from the current view of, for example, same-sex marriage.
In other words, we are going to have to make accommodation for the dissenters— and Jack Phillips is one of the dissenters.
The complexities of these cases are a flashing signal to Christians that we need to think critically on how to balance our own rights of religious liberty and the civil rights of LGBT people, where we all live within a post-Christian society.
And, as Christians, we are going to have to walk though this new reality. I think there are two ways to do that.
Christians Need to Care About Justice … for Everyone
These cases should demonstrate to Christians (and Western democratic culture, in general) that we need to find a balance between religious liberty and LGBT rights.
Throughout the final chapters of Acts, Paul repeatedly utilizes his rights as a Roman citizen to both protect himself from harm and to enable his platform to preach the gospel. Reflecting on Acts 21, John Chysostom notes, "When [Paul] argues with those from the outside, he does not hesitate to use the help of the laws."
Christians do not need to be ashamed of advocating for justice as the laws of a just society have proven to be vital tools for the proclamation of the gospel.
Yet the difficult (but essential) nature of justice is that it demands consistency. If Christians are going to advocate for justice, we need to also care about the rights of LGBT persons. More than doing so simply as fellow citizens, our faith calls us to value justice for all. That LGBT advocates are speaking in the language of justice means that we need to take seriously the judicial implications of the debate, thinking critically on how we can both protect our own rights and recognize the rights of those with whom we disagree.
I would suggest that rather than thinking exclusively about how to achieve justice for ourselves, Christians need to think critically on the issue of justice itself. We need to arrive at a place where both rights are valued, even if imperfectly. The difficult part of justice is that it demands consistency: at times, we have to protect the rights of others even if it demands sacrifice from ourselves.
All of this to say that there has to be a place within a fair and just society where two communities of differing political, religious, and cultural perspectives can agree to disagree while still respecting one another's rights and dignity.
Christians Need to Learn How to Love the LGBT Community
The unfortunate truth is that many Christians have not been particularly effective at loving the LGBT community. Yet as we begin to think through how to course correct, we should be wary of two opposite, but equally problematic, attempts to define this love.
The first is to accept a definition that reduces love solely to our acceptance of homosexual practice. This framework begins from the false dichotomy that any deviation from an enthusiastic embrace of homosexuality (i.e. historic Christian teaching on marriage/sexual identity) is inherently unloving.
The second definition is perhaps more common in Christian circles yet is equally problematic in that it reduces love to the preaching of judgement. It begins with the preface that one is being loving by condemning homosexuality, hoping a rebuke will spare them an eternal punishment.
I would argue that a pathway forward for Christians begins from the premise that all people are made in the image of God and thereby entitled to dignity and value—as people. In this respect, John Calvin sums up this form of love the best:
Love of neighbor is not dependent upon the manner of men but looks to God. The Lord commands all human beings without exception "to do good." Yet the great part of them are most unworthy if they be judged by their own merit. But here Scripture helps in the best way when it teaches that we are not to consider that men merit of themselves but to look upon the image of God in all men, to which we owe all honor and love. (Institutes, III.7.6)
We do not have to agree with everyone, but our faith call us to love others as image bearers of the God who saved us despite the gravity of our own sin. We love them as reflections of God's own glory. This love does not stop at the water's edge of preaching judgement, nor does it blindly endorse their behavior when it conflicts with the holiness of God.
Rather, it orients our love to them in line with how God sees them, calling us to fearlessly engage and selflessly serve as Christ came to seek and save us.
I want to be known as a Christian who shares the love of Jesus to a hurting, broken, and lost world. That means that I have to share the gospel with people who are like me and, more importantly, with those who are not.
We can't look at a court case like this one and only see a battle.
It's not about scoring points.
It's about people.
Today, their names are Jack Phillips, David Mullins, and Charlie Craig. Tomorrow it could be you or someone in your neighborhood. So as we engage, let's do so remembering that Jesus came into this world not to condemn it, but to save it. While we were yet sinners, he died for us. And in his sacrifice, he freed us to love others.
We can't run from this conversation. It's here. Our choice now is how we have the conversation.
Ed Stetzer holds the Billy Graham Distinguished Chair of Church, Mission, and Evangelism at Wheaton College, is executive director of the Billy Graham Center, and publishes church leadership resources through Mission Group.
The Exchange is a part of CT's Blog Forum. Support the work of CT. Subscribe and get one year free.
The views of the blogger do not necessarily reflect those of Christianity Today.