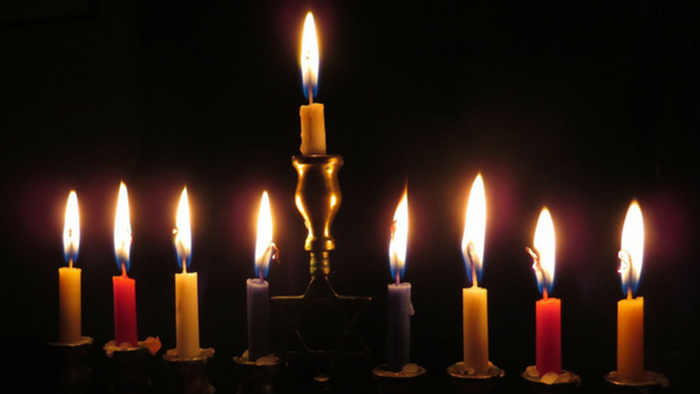 When you think about it, isn't it ironic that Jewish people think, Christmas isn't for us? As I grew up in traditional Judaism, we observed Hanukkah, a celebration of Jewish survival against oppressors. And Christmas was just an American cultural festivity without a spiritual message.
Lots of Jewish people like the holiday trimmings, lights, and music. It might seem off, but a Top Ten List of All-Time Favorite Christmas Songs could feature just Jewish artists. The theme song and seasonal favorite White Christmas was composed by Irving Berlin. And The Christmas Song, which evokes "chestnuts roasting on an open fire" seems to be a required holiday tune in every shopping mall. That one was composed by Bob Wells (born Levenson) and Mel Tormé. And for all the trivia experts, The Christmas Waltz was a creation of Sammy Cahn and Jule Styne.
You would think Christmas really is a Jewish holiday.
Some of the best-loved Christmas hymns feature Jewish connections that emerge like candied morsels in fruitcake. O Little Town of Bethlehem was set in King David's village, located in the Judean Hills of Israel. And O Come, O Come Immanuel inspires worshippers to "Rejoice! Rejoice!" because "Immanuel"—God who is with us—"shall come to you, O Israel."
Beyond those familiar expressions of Christmas traditions is a message of biblical proportions, rooted in Jewish history and promised hope. Christmas ought to be a Jewish holiday, because it greets the birth of a Jewish baby from a Jewish mother in a Judean village.
God fulfilled his prophetic promise to little Bethlehem, "from you shall come forth for me one who is to be ruler in Israel, whose coming forth is from of old, from ancient days" (Micah 5:2).
That baby was promised to Abraham to be a blessing to all nations through the Jewish people (Gen. 12:3). He was to be the descendant of King David who would rule from his throne forever (2 Sam. 7:14-17, Psalm 89:35-37). So, on the night Jesus was born in Bethlehem, an angel announced to a small group of Jewish shepherds in a nearby field, "Fear not, for behold, I bring you good news of great joy that will be for all the people. For unto you is born this day in the city of David a Savior, who is Christ (literally Messiah) the Lord" (Luke 2:10-11).
Maybe it would help to recall what the word Christmas means. Christmas is derived from the Middle English word Cristemasse, which was first noted in 1038. The Greek Χριστός (Christós), is translation for the Hebrew מָשִׁיחַ (māšîaḥ), which in English is "messiah," meaning "anointed."
Scholars debate the meaning of the Latin word missa. Many agree that it refers to a spiritual celebration of Eucharist; a mass in honor of Messiah Jesus' (Hebrew: Yeshua) birth.
You can help Jewish people discover the real meaning of Christmas. Here are just a few simple ideas to stimulate your creativity.
Engage a conversation aimed at understanding what your Jewish friends already know. Ask about Hanukkah. Yeah, it's not Jewish Christmas. Send a Hanukkah card. Include a Bible verse about light, a main theme at Hanukkah. God promised hope for Israel after their deportation from Galilee saying, "The people who walked in darkness have seen a great light; those who dwelt in a land of deep darkness, on them has light shone" (Isaiah 9:2).
You might be surprised to realize that John 10:22-39 is the only Bible reference to the Feast of "Dedication" (Hanukkah is the Hebrew). At the time, Jesus confirmed he was the Messiah when asked, saying, "I told you, and you do not believe."
Now there's an illuminating conversation starter.
Aim to keep conversations safe. Take it slow. Give the Holy Spirit time to help you both grow in understanding. Don't judge them for their misunderstandings about your faith or for their beliefs. And please don't try to deliver the whole gospel in one conversation. It takes time to grow trust and create curiosity about the Messiah.
You might ask permission to send your Jewish friend a Christmas card. You could include an Old Testament scripture like Isaiah 9:6. While it is a culturally familiar refrain from Handel's Messiah, it is also spiritually thought provoking. Consider the four couplets that provide details about the male child who is born in Israel to rule.
For to us a child is born, to us a son is given;
and the government shall be upon his shoulder,
and his name shall be called
Wonderful Counselor, Mighty God,
Everlasting Father, Prince of Peace.
Decorate with the true Christmas message, adding a little Jewish flair. Instead of Santa and or snowmen, create a festive banner or use LED lights to say, "Happy Birthday Messiah." Or just repeat the angel's message that first Christmas, "For unto you is born this day in the city of David a Savior, who is Messiah the Lord."
Tuvya Zaretsky is a Lausanne catalyst for Jewish evangelism, serves the Lausanne Consultation on Jewish Evangelism (LCJE), and is a Jewish-Gentile Couples ministry specialist with Jews for Jesus. He posts resources at www.JewishGentileCouples.com. He and his wife, Ellen, are the parents of four incredibly amazing Millennials.
The Exchange is a part of CT's Blog Forum. Support the work of CT. Subscribe and get one year free.
The views of the blogger do not necessarily reflect those of Christianity Today.