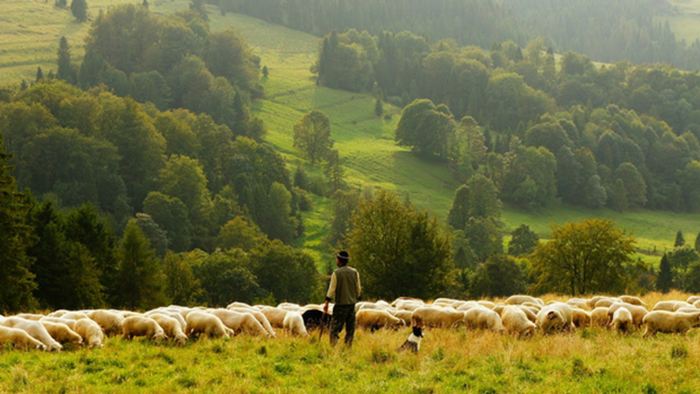 Today, we celebrate the coming of our Savior and King. Prophets foretold his birth for centuries and, finally, after years of waiting, Christ the Messiah came into the world. The wait for redemption is finally over.
Christmas is a time to celebrate the fulfillment of longings.
We long to be cared for, understood, and known. We want someone to look at our hearts, see who we are, and deeply love us nonetheless. The coming of Christ is the truest fulfillment of our deepest desires and means that we can live lives free of estrangement from the One we we're created for. He is finally here.
In yesterday's article, I spoke a lot about anticipation and all the things our human hearts so naturally long for. I guess the question is: What are you waiting for this Christmas? Are you waiting for a Christ who loves unconditionally? One who accepts strangers and welcomes wanderers?
I can promise you that this tiny baby born in a manger so many years ago is all those things and so much more. In looking at the circumstances of his coming—the dirty stable and lowly shepherds with their sheep—we see a God who aimed to turn people's expectations completely upside down.
He came in humility, through the most unexpected yet beautiful of means, to draw the lowliest and most undeserving among us to himself.
Christ Looks at the Heart
I don't know about you, but if I were God (be glad I'm not), I'm not confident that I would have chosen a poor, young, inexperienced girl to become my earthly mother. Mary was likely in her teens and lived in a humble home with her mother, father, siblings (and likely several other relatives). She may have spent her days laboring long hours over hot ovens, dirty clothes, and cooking supplies; a lifestyle vastly different from that of your average girl of that age today.
So this begs the question: Why Mary? Of all the girls in the world—and our omniscient God knows of each and every one—why this particular one?
To answer that question, we need not look any further than Luke 1. When the angel Gabriel comes to deliver the good news of God's plan to Mary—that is, the news that she is about to be with child—her reaction is telling of her willingness to do as God has asked. She responds to Gabriel saying, "I am the Lord's servant…may it be done to me according to your word."
What we see here is that God doesn't look at a person's social class, level of influence, or wallet circumference; he looks at a person's heart. He saw Mary and ultimately chose her not because of any big, impressive, worldly accomplishments she had pasted on her resume. Instead, he selected her simply because she was willing to offer up her life and enter into the story.
This is the Savior we've been longing for—one who allows imperfect, unimpressive people to be a part of his work in this world.
Christ Identifies with the Humble
Looking again at the circumstances of Christ's coming, we see that he wasn't anything like the kind of King we might have first expected. He came to us in the form of a defenseless baby and made his home in a manger, perhaps first among oxen, sheep, and other farm animals before considering any columned palace halls. He had peasants—religious minorities living under brutal Roman governance—for parents and no real material possessions to call his own, save the swaddling cloth draped around his waist.
You see, God is a God who identifies with the humble. In a world wrought with material obsession and preoccupation with status, Christ came to show us a new way.
Instead of spending time in elitist circles, he chose to spend his days in the presence of the lowly, surrounding himself with children, the sick, and social outcasts.
In doing this, we see that he came not to call the popular, well-loved, or well-off to salvation, but all people willing to accept the free gift of forgiveness he offered.
Christ's Love is for All
Most of us might not think much about the different figurines that we place around our nativity scenes each year. Mary and Joseph in place? Check. Magi and their gifts? Check. Shepherds and sheep all present and accounted for? Double Check.
But what if that nativity scene could be experienced today? Yes, the Magi came later and we don't know what animals were present, but take a moment and think of that nativity scene as a living reality and imagine just how chaotic this scene truly was.
There are two peasants from a far away town—one of them just a young girl holding a newborn, likely screaming, child. Beside them are several wide-eyed shepherds and farm animals when all of the sudden three wise men arrive on the scene carrying with them more wealth than the overwhelmed couple had ever seen before.
This was a diverse crowd to say the least. If I was God (again, you don't want this to be the case), I'm not so sure these are the guests I would plan on inviting to witness my birth.
But it shows us yet another thing about the character and person of Jesus Christ: he loves all, and his love is for all. There isn't anyone he wouldn't have invited to see this scene unfold. There are no unworthy attendees—no one undeserving of Christ's welcome.
Again, this concept of unmerited, undeserved love for all people groups is an answer to another deep desire in our heart. We want to know that we're welcome—to feel that we're wanted by someone. Who knew that someday this small infant's arms would embrace people of all tongues, tribes, and nations by stretching them out on a cross?
As we celebrate with our friends and family members this Christmas, let us learn to put these attributes of Christ into practice. We must become a people who mirror his character and love what he loves so that the world will know that hope has come—we need not wait in anticipation any longer.
Ed Stetzer holds the Billy Graham Distinguished Chair of Church, Mission, and Evangelism at Wheaton College, is executive director of the Billy Graham Center, and publishes church leadership resources through Mission Group.
The Exchange is a part of CT's Blog Forum. Support the work of CT. Subscribe and get one year free.
The views of the blogger do not necessarily reflect those of Christianity Today.