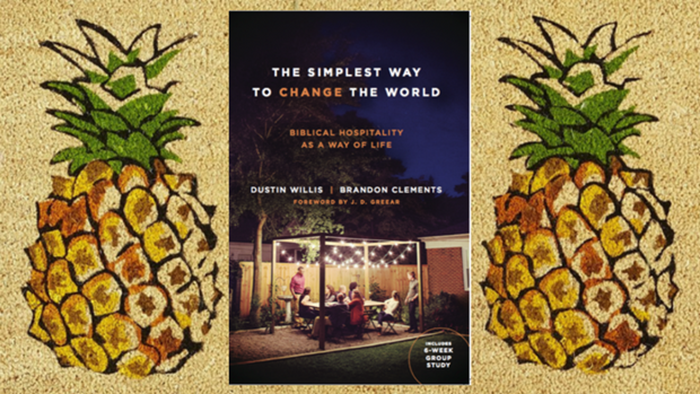 What made you write a book on hospitality?
Dustin: Over the past few years, I've realized just how revolutionary the concept of opening my home to others can be. There was a time in my life and ministry when opening my home to others was the very last thing I wanted to do, but God was gracious enough to show me that I was wasting an incredible tool for the gospel by not displaying the warmth and welcoming nature of God through my home to others.
I've seen life after life change through this simple practice of inviting people over, and it has shocked me and encouraged me so much that I felt like we needed to write about it to encourage others to use this simple practice as well.
Brandon: I am in introvert with a capital "I", so I also was a reluctant convert to the practice of opening my home. Ultimately, seeing the character of God as a hospitable God changed me. He's pursued us ever since our first parents declared independence from Him, and the whole saga of creation from the garden to the new heaven and earth is a story of God's hospitality to wayward sinners.
The fact that I can in some small way put that cosmic story on display through saying, "Hey, would you want to come over for dinner?" has been a complete game changer for me.
Dustin: It also feels like right now is the perfect time to bring up this subject. Although people are more 'connected' than ever before through social media and online interactions, it seems the void of presence and real-life conversations over meals is having a substantial effect on how lonely, depressed, and divided a lot of people are.
Is hospitality really mainly for extroverts? Do introverts get a hall pass on this?
Dustin: Not at all. Introverts don't dislike people, they just like people in different quantities than extroverts. An introvert and an extrovert might practice hospitality in different ways, but the biblical commands for them to practice hospitality are not predicated on a personality type.
Brandon: I sure hope not, because I'm the king of introverts and I just wrote a book on hospitality. Like Dustin said, introverts love people—they just tend to love people in quieter and smaller doses. Introverts are actually uniquely gifted for hospitality, because they're often the most gifted with things like listening, empathy, compassion, and creating warm environments they'd want to be in.
You don't typically hear the words "hospitality" and "change the world" in the same sentence. Do you really believe hospitality is the simplest way to change the world?
Brandon: In the last decade there has been a lot of focus on getting Christians to live radical lives in light of the gospel, to do drastic things in obedience to Jesus, to love others in crazy and atypical ways. I have personally benefitted greatly from these messages and have recommended these books to many others who need to have their love of comfort challenged. In many ways, these have been very needed corrections for a sleepy church.
But not everyone will end up doing something drastic. Not everyone will be called to go overseas, start a non-profit, or move to a crime-ridden inner-city neighborhood. And I think a lot of 'ordinary' Christians end up thinking that the mission of God (or at least the really important parts of it) must not be for them. It's for this vast swath of Christians that we wanted to show the truth that opening your home and life with gospel intentionality is quite literally a way to join God in His mission to save the world. And it's something that every single one of us can do, easily.
What do you think are the biggest barriers to Christians practicing hospitality?
Dustin: Practicing hospitality is incredibly simple in one way, yet there are many cultural barriers to it. The biggest one is probably that people tend to view their homes as a personal refuge to escape all the crazy of life.
Home is where they relax and recharge—the only place where no one else gets to tell them what to do. So the thought of opening their home to others can be scary. However, we are in no way advocating that our homes should stop being a personal refuge for us—just that we can leverage them to also become a refuge for others.
Brandon: The more I think about it, the more I think that a lot of us are just really bad at making friends. We don't know how to talk to people in real life, so the thought of meeting a neighbor for the first time, and then somehow getting to a place where you feel comfortable inviting that person over to your house almost feels like some sort of unsolvable math problem. Like, "How could I possibly get from point A to point C?" This is why we tried to be very practical in the book, to help with real barriers like this.
I'd also add that self-consumption and insecurity are significant barriers. Many times, we don't pursue gospel intentionality in relationships simply because we're so consumed with our own lives that we don't even think about other people. Hospitality and intentionality fall off of our radar, because when we see other people, we don't actually see them. Or we are too worried about what others are thinking about us, so we don't have the security necessary to initiate a conversation or risk a rejected invite. These things have to be addressed to have any kind of shot at developing a lifestyle of biblical hospitality.
The Simplest Way to Change the World: Biblical Hospitality as a Way of Life is available on Amazon.
The Exchange is a part of CT's Blog Forum. Support the work of CT. Subscribe and get one year free.
The views of the blogger do not necessarily reflect those of Christianity Today.