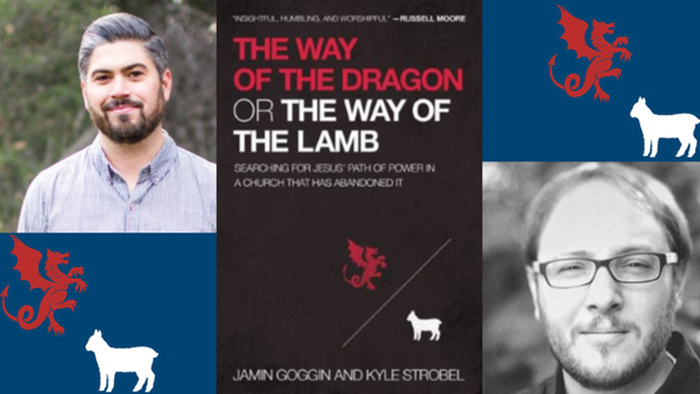 I am glad to feature a new book by Kyle Strobel and Jamin Goggin on the blog today. Kyle is an assistant professor of Spiritual Theology at Talbot School of Theology, Biola University; Jamin is a pastor at Mission Hills Church in San Marcos, CA. Kyle and Jamin have also co-written Beloved Dust: Drawing Close to God by Discovering the Truth About Yourself (2014). You can find them at www.metamorpha.com. Below I am sharing 20 Truths from Kyle and Jamin's latest book, The Way of the Dragon or the Way of the Lamb: Searching for Jesus' Path of Power in a Church that Has Abandoned It (2017).
This is a power known through death and resurrection – moving through our weakness to a new kind of strength – strength in abiding, submitting, and resting in God alone. (11)
Power is the capacity to effect reality. (11)
God can move in his grace to produce kingdom fruit despite our pride, but the call for followers of Jesus is to have hearts congruent with his work. (16)
In a culture drunk on power and in need of an intervention, the church has too often become an enabler. (18)
As Christians, our journey into true power begins with the realization of our desire for false power. (24)
We are often called into places where all we know is weakness. (36)
Often when we fail to stand firm against the powers, it is because we believe the powers can actually save us. We buy into the lie that we can employ evil powers for the kingdom. (74)
We must stand against evil in the church first, if we hope for the church to unify and discern what she is to stand against in the world around us. (92)
When our weakness is exposed we can try to reject community, but we cannot escape it. (103)
We have always been called to be with others, not simply near them, but truly with them. (108)
It is only in Christ where we find a foundation that can support the weight of our self. (109)
Groups are loosely held together by a common vision, but real Christian community is bound together in love. (111)
We are not all called to pastor, but we are all called into faithfulness in the way of Jesus. (135)
Toxic leaders do not develop other leaders, because they are a threat to their own power. (138)
Counterfeit wisdom is fast-food for the soul, it is easy to find, cheap to get, and never fulfills its promise to satisfy you. (148)
Christ made this much clear: his way of power continues to pour forth in this world by the Spirit through the church. (156)
Our actions on the Sabbath day will seem odd and counter-intuitive to others as well, but when they are grounded in God's work to bring us through the wilderness and into his kingdom, they reveal God's deep recalibration of our hearts to his way. (164-165)
Even though God's presence will expose our idolatries, fears, and anxieties, it is here where we must come to walk with him. (182)
Giving ourselves to times of silence and solitude helps to expose the ways in which our lives are truly oriented by distraction, achievement, and escapism. (186)
Power in weakness for love is power that bears fruit for the kingdom. Power in strength for control, used to achieve kingdom ends, will ultimately deceive us into thinking we're living in the way of Jesus when, in fact, we are living in the way from below. (202)
The Exchange is a part of CT's Blog Forum. Support the work of CT. Subscribe and get one year free.
The views of the blogger do not necessarily reflect those of Christianity Today.