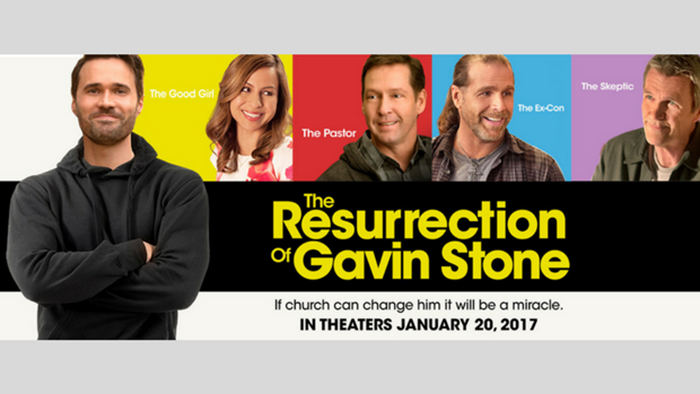 It appears that churches making films is a thing now.
Christian Films
I've known the folks at Sherwood Pictures and have even endorsed some of their work. And Christian movies, in general, are increasingly a thing.
Sometimes that's good, and sometimes that's bad. (For what it's worth, I most recently saw Risen, and would put that in the good category—and I'm encouraged by the increasing quality of such Christian and faith-oriented films.)
Odd Bedfellows
Yet, sometimes there are some odd bedfellows. For example, when I think of James MacDonald, I think of verse-by-verse exposition (jamesmacdonald.com) and church planting (harvestbiblefellowship.org). Yet, he is now the executive producer of a film with a wrestler and with a wrestling company (insert raised eyebrow).
That's an odd combination.
The movie is called The Resurrection of Gavin Stone (trailer). And… wait for it… it includes WWE Hall of Famer Shawn Michaels.
The Movie
The movie is about a former child movie star who gets in trouble and does community service at a church in his hometown. When he sees the church is putting on a Passion play, he pretends to be a Christian so he can work off his hours by playing the part of Jesus. A key phrase comes late in the film, when the main character—a church outsider—asks the pastor's daughter why he is being forgiven for a significant wrong so quickly and unconditionally.
She says, "This is what we do."
I've been attending Harvest recently, and I heard James preach on this, explaining "This is what we do." It was a deeply personal message from James, and it challenged Donna and me. It was part of a series that explained that, as Christians, we:
welcome without judgment
love without condition
forgive without limit
They have a video about it as well, posted here on Facebook.
A main focus of the series was on Harvest's philosophy of communicating, which emphasizes "truth and grace." This philosophy inspired key scenes in the film, which, according to Harvest's filmmaker, Dallas Jenkins, inspired the series "This Is What We Do."
MacDonald explained to me, "The movie brings clarity in an entertaining way to the Scriptures that command believers about how to relate to the lost around us. Are we to shout at the darkness—fight the decadent culture with petitions and parades? No, we are to welcome without judgment, love without condition, and forgive without limit."
Those Bedfellows
It does raise the question as to how a movie made by a church, in a church, and about an Evangelical church fits in with World Wrestling Entertainment (WWE). According to Jenkins:
WWE's film division loved the project, loved what we were doing with our filmmaking efforts, and they wanted to partner to get the movie out there. We told them we couldn't change the message or water down the presentation of the gospel, and they never asked us to. We figured this was a great way to get our message to a different audience than a 'faith movie' normally gets.
Interestingly, WWE released a testimony video made by Harvest Bible Chapel about Shawn Michaels, one of the most famous wrestlers of all time (and a believer), who makes his movie debut in a supporting role. In less than a week, the video about Michaels' conversion to faith had more than one million views across socia media platforms.
"We make testimony videos at our church every month. They don't normally get seen by millions of people, so we're already seeing the benefits of this project," Jenkins said.
Christian Movies
Donna and I will be attending the premiere and I'll tweet my thoughts. (James promises me that it's good!) The movie comes to theaters around the country on January 20. Jenkins adds:
Even though this movie has prayer, church scenes, worship, a conversion, the gospel, and a representation of Christ's life, it's tested as well with non-churchgoers as with churchgoers, because the main character is an outsider—they can experience the fish-out-of-water humor and ultimately the message impact through his eyes.
For what it's worth, I know that mocking Christian films is an evangelical sport these days. Instead, I am encouraged by the growing quality of such films, and I hope to see more churches and ministries engaged in the arts.
Ed Stetzer holds the Billy Graham Distinguished Chair of Church, Mission, and Evangelism at Wheaton College, is Executive Director of the Billy Graham Center for Evangelism, and publishes church leadership resources through Mission Group.