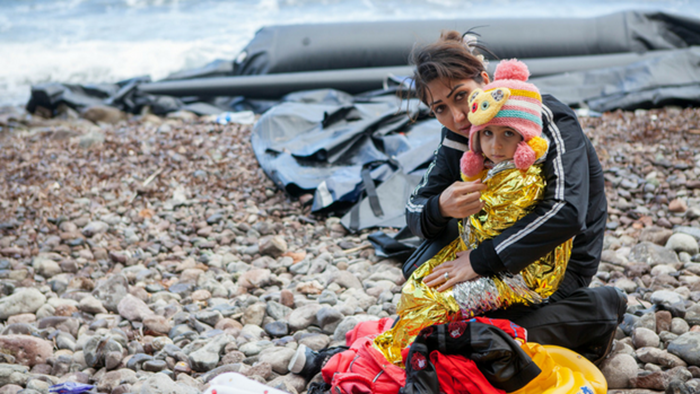 Yesterday was a critical day for U.S. relations with the world. When Candidate Donald Trump promised to overhaul immigration policies, it seemed like a long shot for many of us. But we are now seeing it unfold before our eyes. As I wrote in an article in the Washington Post:
Several drafts have been leaked of "Protecting the Nation from Terrorist Attacks by Foreign Nationals." One draft copy, now widely distributed (and reported on here in the Washington Post), is eight pages long and puts many new policies in place, most notably a 120-day moratorium on the Refugee Admissions Program, a dramatic cut of the overall number of refugees allowed into the U.S. this year, and an indefinite ban on refugees from Syria, with the suggestion that refugees from additional countries will also likely be barred.
If this draft becomes policy, this unnecessary ban should concern us. But does it concern us? Will we speak up at all?
Several Christian leaders have spoken out already, as reported in Christianity Today:
Advocates for refugees point out that the massive and chaotic flow of refugees into Europe doesn't compare to the smaller and more rigorous process in the United States, where government agencies vet candidates before approval.

"Most refugees from the Middle East are women and children who have suffered the assaults of ISIS terrorists and civil war," said NAE president Leith Anderson, in a statement opposing Trump's impending order. "We have the opportunity to rescue, help, and bless some of the world's most oppressed and vulnerable families."
Caution is Wise
It is not wrong to be wise and cautious. And part of President Trump's plan is, I think, wise. For example, his call for safe zones in affected areas is good policy. Yet I'm grieved by other parts of the policy.
You see, too much of the policy is driven by unfounded fear of refugees.
Yes, it is to be expected that terrorist attacks around the world and in our country, including the Orlando and San Bernardino shootings, would cause all of us to pause long enough to consider what kind of world we live in and how best to ensure safety for ourselves and our families.
But those were not refugees.
Real Facts about Refugees
There is a 1 in 3.64 billion per year chance that you will be killed by a refugee-turned-terrorist in a given year. If those odds concern you, please do not get in a bathtub, car, or even go outside. And, for contrast, there were 762 tragic murders in Chicago alone last year comparted to 0 people who were killed last year (or ever since the mid-70s) by a refugee-perpetrated terrorist attack.
But as I say in my article in the Washington Post:
Fear is a real emotion, and it can cause us to make decisions we wouldn't have otherwise made. Fear leads us to fix our eyes inward instead of on the 'other.' But, as I've written before, at the core of who we are as followers of Christ is a commitment to care for the vulnerable, the marginalized, the abused, the wanderer. And fear cannot replace that core—as a matter of fact, we are the ones who proclaim that we have hope rather than fear.
Today, millions of people have had to flee home, safety, family, and livelihood due to threats of violence. In fact, according to the UNHCR, the UN Refugee Agency, 1 in every 113 people in our world today has been forcibly displaced from their homes. And each of these have names and faces and lives and stories.
I go into lengthier detail if you read the full article in the Washington Post as to how we are to respond to this recent ban on refugees. I deeply believe that this is a Kairos moment in which God is calling us to be the people He has called us to be in hard, but life-changing ways.
Banning is the Wrong Decision
If America bans refugees, it makes a statement to the world that we don't want to make. It is the picture of someone who sits, arms crossed and turned away, with a raised eyebrow and a ready attack on the helpless, the homeless, the broken.
We must do better.
My friend Scott Arbeiter, President of World Relief, says this about the impact of the proposed Executive Order: "The lengthy delay imposed in this ban further traumatizes refugees, most of whom are women and children, keeps families separated, and punishes people who are themselves fleeing the terror we as a nation are rightly fighting to end."
Scott and I are not alone. Last year, more than 100 evangelical leaders, including Rich Stearns, Stephan Bauman, Jo Anne Lyon, Frank Page, Alton Garrison, Jamie Aten, and Sue Elworth, signed a statement which says, in part, "We will not be motivated by fear but by love for God and others."
Let's Speak Up, Fellow Christians
There is no more critical time than now for God's people to instead turn towards the helpless, the homeless, the broken, with open arms and hearts, ready to pour out every ounce of love we can muster.
Sure, conversations with our neighbors are sometimes hard as we express our solidarity with the refugee and those who are broken and in need of safety and dignity, but we must pursue what is right anyway. We are pro-life, but we must remember all that entails, from conception to death and each moment in between.
I am pro-life—and that includes for refugees. This week, many of us will focus on the unborn, and rightly so, but I'm also here to stand up for the born, made-in-God's-image, refugee as well.
God help us be the people He's called us to be in this generation, in this moment.
Later today, I will post on how we can all prepare ourselves for the changes and challenges that await us as we look to the coming days.
In the meantime, #WeWelcomeRefugees.
The Exchange is a part of CT's Blog Forum. Support the work of CT. Subscribe and get one year free.
The views of the blogger do not necessarily reflect those of Christianity Today.