Previously on The Exchange
Retraining Our Minds on the Things of Christ: Thoughts as We Draw Closer to Inauguration Day
Four Questions to Ask Ourselves as We Adjust to a New Political Reality
November 8th Is Long Gone, So Where do Christians Find Themselves?
God doesn't love countries. He loves people.
Repealing Obamacare without a Replacement: How It May Hurt Small Church Pastors and Church Planters Near You
ACA repeal/replace has a lot of implications.
Rebuilding Our Witness
A Christian worldview embraces two things: the Great Commandment and the Great Commission.
1. Why It's Time to Take a Second Look at Our Christian Worldview in Light of Our New Political Climate
2. Developing an Understanding of the Connection of Love & Evangelism in Light of Our New Political Climate
Towards Missional Effectiveness
1. An Introduction
2. The Message of God's Mission
3. The Movements of God's Mission
4. The Mark of Missional Community
5. The Mark of Sentness
6. The Mark of Multiplication
7. Analogizing and Applying Missional Effectiveness
Church Signs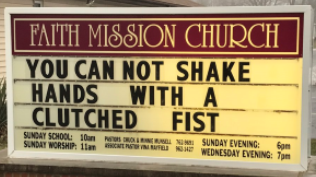 but fist bumps are preferred by germaphobes 4 to 1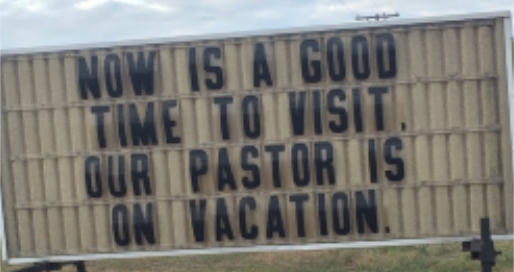 #ExchangeCaptionContest
Thanks to friends of the blog, including Mitch and Todd, for this week's church signs. As always, you can tweet your church signs to @EdStetzer.