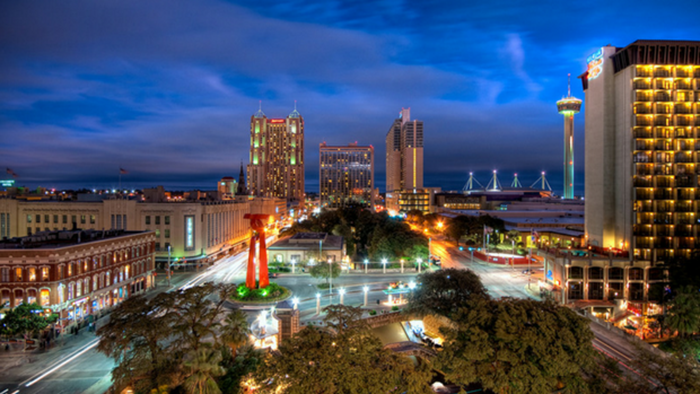 I recently had the opportunity to chat with Randy Frazee. Randy is the founder of a new work based out of San Antonio, Texas called Hope4RCity.
Ed: You grew a church from 4,000 people to over 10,000. But you've left to focus on city reaching movements. Why did you make this transition?
Randy Frazee: I've been a pastor now for 28 years. My biggest vision when I was 15 years old was to pastor a church of 500 and then die. At the age of 28, I became pastor of a church of 500. Rozanne and I made a deal with God: I'd already checked off my vision, so we'd live out His vision for the rest of our lives.
That's taken us on a 28-year journey. I've been pastor of three churches, and the past nine years I've been at Oak Hills, where we've experienced that tremendous growth. I started waking up every day with a stirring that I should give more of my life to the big social issues in our city. I tried to become involved as a senior minister, but I found that to be very difficult because of a lack of margin and focus.
This change is causing a lot of people to shake their heads; but at the same time, I've talked to many pastors who are inspired by the idea of focusing less on the levels of sound in worship and instead becoming an advocate for people in the city who don't have hope.
Ed: What is the project you're now developing?
Randy: The non-profit is called Hope for Our City. Our goal is not to create anything new, but to bring a robust network together, focused on the needs of families and children, bringing the love of Christ. We have a partnership of churches, Christian CEOs, more than 400 non-profits and foundations, and even the government, coalescing to see if we can all point in the same direction.
City movements often spend a lot of time primarily working with churches. It can take years for churches to work together before they can do something really significant. Penetrating the San Antonia area with the gospel takes much more than churches giving a sermon. I think the genius of Jesus is found in the concept of loving your neighbor. When we as the Body of Christ, which expands to these CEOs and parachurch ministries, love our neighbor, then the gospel is spread more powerfully.
Ed: What are you hoping to accomplish?
Randy: Our main objective is to mobilize people around the big issues in such a way that Christ gets the credit for it. For example, I was talking to the leader of the San Antonio Area Foundation, a foundation with over a billion dollars to give away. They said the poverty level in the city hasn't changed in 20 years. If we worked through a concentrated effort in our various networks, could we wake up ten years from now having cut the poverty rate in half?
What if we could empty out the foster care system or erase sex trafficking in the name of Christ? I think that's going to be the best opportunity for revival in evangelism in San Antonio.
Ed: You've got people connecting with you. How are they going to function together to accomplish this?
Randy: We were inspired by a project my wife and I were involved in called The Sister Project. Here's how it works: ten women get together. They each put $1,000 on the table. Then, those women each recruit ten other women, and every year the project gives away three grants to organizations supporting women and children. They give one $80,000 grant, one $10,000, and another $10,000. Here's a case where $1000 becomes $100,000.
The goal is to recruit partnerships in three primary networks: 100 churches in the area, 100 Christian CEOs, and 100 women who are all coming together.
First, we're recruiting ten large, influential churches. They're each putting in 1% of their budget. Then, we'll recruit ten more churches from within each of their networks. The goal is to mobilize the people in those churches to serve in the initiatives that non-profits collectively identify as significant. According to the math we've done, from those 100 churches, we're looking at the potential of involving 151,250 people. You take the concept of loving your neighbor, and then you deploy that many people, and you have an opportunity to really blanket the city.
We're also asking the CEOs to come together and make a contribution that will support two things: first, building up the inner city churches in our network, because that's where the hurting people are. Second, they will support resources for the initiatives we're working in. Then, the CEOs will have the opportunity to mobilize their employees towards involvement in these causes as well.
Ed: You've been a pastor for 28 years, and now you're looking at jumping into this totally different project in the next couple of months. What are some things you're discovering as you transition?
Randy: One thing I've discovered is that the concept of the Church is actually much bigger than how our buildings operate, even in our multi-site megachurches. For years, we've been careful to call certain ministries "parachurch ministries," because they're not the church. A certain CEO said to me the other day, "The way that I see it, you guys who are called the church spend all of your time focusing on one day. These parachurches are spending their time on the other six days." He then said, "I think it's time we called them the church." I thought, Whoa, that's pretty radical.
I find that the amount of energy it takes for our churches to pull off Sunday morning (maintaining the local brand, keeping offerings up, and so on) takes a lot of energy away from evangelism and kingdom things.
Ed: What would you like to send as a message to churches in order to help them prioritize kingdom things?
Randy: First, you've got to recognize that there are other organizations out there doing great things. They're struggling because they don't have the same base. Our churches would do well to focus not just on creating its own programs, but rather on partnering with these folks in a unified way.
I would also say that we need to develop an attitude of humility. The Church that Jesus Christ created is a much more organic monster than you've ever imagined. I've got people in my neighborhood who told me the other night, "I worship at Oak Hills, but my church is really in the neighborhood here." They're also involved in initiatives that aren't even connected to Oak Hills.
Some of the most committed believers are shopping for a chance to exercise their spiritual life. I think it's time that we church leaders recognize that 'church' is a bigger deal, instead of just protecting our brand loyalty quite so much.
Ed Stetzer holds the Billy Graham Distinguished Chair of Church, Mission, and Evangelism at Wheaton College, is Executive Director of the Billy Graham Center, and publishes church leadership resources through Mission Group.
The Exchange is a part of CT's Blog Forum. Support the work of CT. Subscribe and get one year free.
The views of the blogger do not necessarily reflect those of Christianity Today.