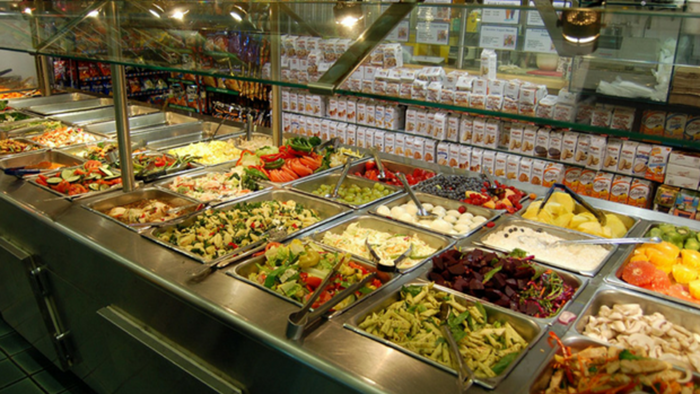 Image: skidder
The allure of a well-stocked buffet is that you can load up on the foods you love and avoid those you dislike. For most of us, this means plates over-laden with entrees and desserts and void of foods we find unpleasant. We don't include foods we don't like, such as (for many of us) brussel sprouts, or even foods we think are boring, such as cottage cheese or gelatin. When faced with so many gastronomic options, we lack the discipline to fill our plates with well-balanced choices or to avoid sugary treats that really aren't good for us. What we eat is based on our personal preferences, not based on the guidelines set forth by the USDA.
Arguably, many of us treat our spiritual lives like a buffet. Instead of following the entire menu of spiritual disciplines, we pick and choose what biblical guidelines we will or will not follow. While we know God prescribes a balanced diet of numerous disciplines, we tend to pick and choose in our spiritual lives just as we pick and choose in a buffet. Correspondingly, just as continually ignoring certain types of food at the buffet will result in us being physically malnourished, so continually ignoring mandates from God will result in us being spiritually malnourished.
Here are some reasons we suffer from spiritual malnourishment.
1. We don't understand what we need to be healthy.
Since their inception, the USDA dietary guidelines have been presented in wheels, squares, pyramids, and plates. The recent iteration, My Plate, was launched in 2011, when the USDA abandoned the rainbow-banded pyramid that festooned our cereal boxes. After almost 20 years of redesign, they discontinued the graphic because people just didn't understand what the pyramid meant in relation to personal diets.
Likewise, while many of us have seen different illustrations of what a spiritually healthy Christian life looks like, we don't understand what we see. We may learn about one part of the spiritual life by reading a passage in scripture or hearing a sermon, but we can't comprehend how the rainbow bands of our spiritual pyramids relate to one another or to our daily walk with God.
The Bible tells us to engage in a number of spiritual disciplines to grow in our relationship with Christ and with others. Its commands cover practices of inward-focused disciplines such as prayer, fasting, and meditation; outward acts, such as submission, confession, solitude, frugality, sacrifice, and chastity; and corporate disciplines such as worship, celebration, accountability, and service.
In a study of the lives of believers who are progressing toward spiritual maturity, LifeWay Research discovered their lives were characterized by certain common factors. These attributes of discipleship were Bible engagement, obeying God and denying self, serving God and others, sharing Christ, exercising faith, seeking God, building relationships, and being unashamed (Transformational Discipleship p. 59).
2. We think about the food rather than our overall health.
At the buffet, the options we select reflect what we enjoy. The brussel sprouts, cottage cheese, and gelatin remain untasted while we dine on prime rib and chocolate cake. Our focus is on our immediate enjoyment and not our long-term health.
Similarly, we each tend to have aspects of our spiritual walk we enjoy, while there are others we outright dislike. We eschew the brussel sprouts of fasting, and avoid the boring cottage cheese of meditation or the gelatin of prayer. Instead, we may savor the chocolate cake of our small group or the prime rib of worship.
Yet God calls us to participate in many things in order to be spiritually healthy. It is not up to us to choose which spiritual foods to eat and which to ignore. Engaging in all of these disciplines is not easy, but we seem to forget that the root of being a disciple is discipline. For example, during his discussion of his personal practice in Philippians 3, Paul concludes with the statement "Brothers and sisters, I do not consider myself yet to have taken hold of it [righteousness]. But one thing I do: Forgetting what is behind and straining toward what is ahead, I press on toward the goal to win the prize for which God has called me heavenward in Christ Jesus (Philippians 3:13-14).
Paul's use of terms such as "straining" and "press on" indicate that for him, discipleship is not just enjoying the few things he finds appealing. It includes consuming a healthy, balanced diet of discipline, even though he may not find all parts enjoyable.
Just as a mother tells her children to eat everything on their plates so they will grow up to be heathy adults, so we too should eat everything on the plate of discipleship if we are to grow into spiritually mature believers.
3. What we consume is stripped of nutrients.
Dieticians recommend filling our plates with colors: foods that are green, yellow, orange, red, and brown. They urge use to avoid white: generally potatoes and bread. While these taste good, they have little nutritional value.
In the Christian life, many of our choices similarly have little nutritional value. While we may laud ourselves for engaging in spiritual practices, our practices are like white bread. It fills us up, but most of the nutrients are gone. We pray, but our prayers are petitions, personal blessings, or deliverance from our problems. We fail to include praise, confession, thanksgiving, or intercession. We worship, but our focus is on the rhythm of the music or on the entertainment value of the sermon. We neglect to meditate on the awesomeness of the Lord or to offer Him the praise He deserves. We fill up on spiritual mashed potatoes and bread. They taste good to us, but do little to help us grow as disciples.
4. We never learn to value things that are good for us.
Just as we enjoy different types of food, we individually tend to have preferences for certain spiritual disciplines and dislike others.
Brussel sprouts, in particular, are one of those foods many people have to 'learn to like.' As a whole, children reject the taste of brussel sprouts. As our palates mature, many of us come to enjoy these vegetables. The balance of us learn to begrudgingly force them down, consuming only as many as necessary to please a hostess or to assuage our guilt about not having them in our diet.
We probably all have proverbial brussel sprouts in our spiritual diet. We ignore some disciplines because we personally don't enjoy them. While we know they may be good for us, we've never learned to like them. We therefore rationalize that if we don't enjoy them, we're not getting the benefit God intended, and if we're not getting the benefit, we might as well not practice them.
For other disciplines, we may nibble at them and force them down because we know we're supposed to; however, we do so because we are trying to please God or to assuage our guilt about not practicing them more often. These little bites, however, do nothing for our overall spiritual health because we never practice them hard enough or long enough for us to realize their benefit.
The writer of the letter to the Hebrews warns against the danger of only following a diet of the things one enjoys. Hebrews 5:13-14 reads, "Anyone who lives on milk, being still an infant, is not acquainted with the teaching about righteousness. But solid food is for the mature, who by constant use have trained themselves to distinguish good from evil."
Notice in this passage that the writer emphasizes how the mature believers had to train themselves. It implies that the solid food of spiritual growth was not initially appealing or easy. It took work. The believers in essence had to learn to like different spiritual disciplines; just as children learn to like brussel sprouts as they mature.
5. We don't appreciate the wisdom of the chef.
If you think about the buffet, all the foods for a well-balanced diet are there. A good chef plans the menu so ample quantities of healthy foods are represented. Our potential malnutrition is not because of poor work by the chef. Instead, it occurs because of poor choices we make.
How much more nutritious is the menu of spiritual disciplines that God has prepared for us? When we think of the spiritual life as a menu of buffet choices, we forget the wisdom of the Master Chef. We put ourselves in the role of God when we determine our personal menus.
Arguably, most of us are spiritually malnourished because we only nibble at, or completely ignore, most of the feast the Lord has prepared. In His wisdom, God has commanded us to engage in a rainbow of spiritual disciplines. It is not up to us to usurp the role of God and pick and choose what we will do. Instead, we are to obey and press on; engaging in all the disciplines of discipleship. At times, this means eating a lot brussel sprouts and avoiding chocolate cake.