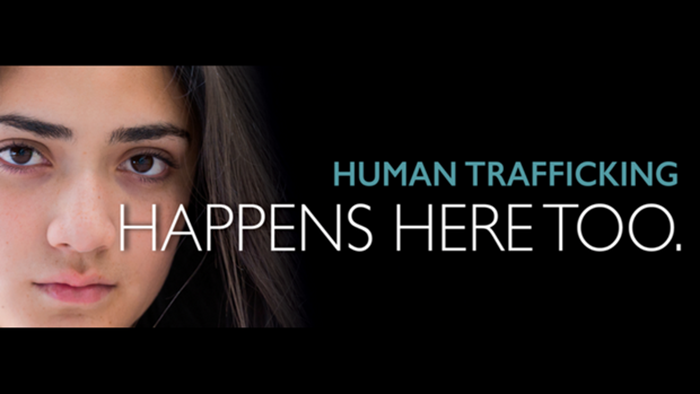 If you've heard or know anything about human trafficking, then you've heard the term "modern-day slavery." And that's exactly what it is. There are more slaves in the world today than any other time in our history. We should be facing this social issue—this human issue—dead on, not stopping until human trafficking no longer exists. Men and women, boys and girls all over the globe are being forced into both labor and sex trafficking, and the life for someone coming out of this type of exploitation is devastating.
I first saw and experienced what human trafficking looks like on the streets of Chicago. It was 2011 when I participated in street outreach and met women and girls who were being forced to sell their bodies. It changed me forever, and led us to pursue opening a home for women who have been commercially sexually exploited. Five years later, Naomi's House opened, and we welcomed our first resident in December 2016.
I've learned so much over the past five years. When I reflect on the journey, most of what I've learned has come from the survivors themselves, who have taught me that they are more than modern day slaves.
Clearing Up an Important Myth
Most women who are being sexually exploited are not being physically restrained. In fact, many survivor leaders warn anti-trafficking organizations not to use pictures of girls in handcuffs or chains to represent the women and girls who are stuck in this life. If we believe that sexually-exploited girls are always chained up, we'll miss those who are being trafficked before our very eyes.
The exploitation of women and girls is everywhere, many times in plain sight. Nita Belles, author of In Our Backyard: A Christian Perspective on Human Trafficking in the United States, said this:
Human trafficking is the dirty secret that has been hidden too long in our country. It is in every state of this great country, from large cities to small towns to rural areas. It's in our backyard whether we live in the city or the countryside.
This begs the question: if she's not tied up, why is she staying in this life? The answer to this is hard to digest. Here in the United States the average age of entry into forced prostitution is 13. Think of a child being lured into a romantic relationship with a man who is intentionally preying on her vulnerabilities. A trafficker looks for a young girl whom he can easily persuade to be involved with him, seeking to meet her emotional needs.
Once the relationship is established, he begins to force her to sell her body. If she doesn't acquiesce to the demands of the trafficker, the repercussions are unthinkable: extreme violence, homelessness, mental abuse, forced substance abuse, threats to harm her family, etc.
Most 13-year-olds do not have the emotional maturity to break free from this level of abuse and manipulation. The more frightened she becomes, the more attached she is to her trafficker. When these 13-year-olds grow to adulthood, they have very few life skills other than knowing how to sell and use their bodies to make money. If they are lucky enough to get out of the life, their road to rehabilitation is long and painful.
But there is hope! As Christians, we know that no one has experienced too much abuse for the gospel of Jesus Christ to rescue. Jesus can restore, heal, and bring new life to anyone at any time.
The Beginning of Healing
Naomi's House is a long-term residential program for women (18+) who have suffered from commercial sexual exploitation. We are trauma-informed, faith-based, and comprehensive. The program is designed to meet practical, spiritual, and emotional needs.
Being a trauma-informed program means that we know each woman is more than just a story or another statistic. Our goal is not to get her to the point where she can share her story and then help her get on her feet again—it is far more complex than that.
Our goal is to help her feel safe again, to provide her with tools and resources to start a new life, and to love her unconditionally by the grace of Jesus.
In all the conversations I've had with survivors over the years, particularly with the residents at Naomi's House, it has been uncommon for them to talk about the abuse they experienced at the hands of their traffickers. What is even more shocking is that they don't always see themselves as victims. They carry so much shame from the decisions they've made that it takes a lot of therapy and processing for them to realize that they are not at fault for what happened to them.
Too often, well-intentioned people press women to open up about what their life was like when they were trafficked, hoping that talking about it will bring healing. Unfortunately, trauma doesn't work that way. It's important to understand how trauma impacts the brain: in the case of sex trafficking, the victim's brain is effectively rewired, forcing her to constantly stay in the "fight or flight" state.
As a result, when she talks about her past experiences, she literally relives the experience as if it were in present time. She is traumatized all over again, and the result is extremely damaging. A trauma-informed program doesn't seek to have her tell her story to bring healing; rather, it teaches her to live in the present moment. We want her to be able to regulate her brain again so that eventually she can 'touch' her story without reliving it.
When this starts to happen with survivors, healing begins to take shape.
The Healing Work of Jesus
We get involved in social justice issues for all kinds of reasons, both good and bad. One of the most compelling reasons, if not the most important, is because caring for and serving others is important to God. It's a theme throughout scripture. Jesus modeled it for us—as He so pointedly said in Mark 10:45, "For even the Son of Man did not come to be served, but to serve, and to give his life as a ransom for many."
But here's a secret: when we give our lives to the service of others, we think we are helping them—but the truth is, they will change us. I have been overwhelmed by the courage and drive that the women at Naomi's House display each day.
When they get a taste of God's grace, they are blown away by it; He is always new to them! When they experience a breakthrough on their healing journey, they celebrate and live in the joy of victory! They fight for their lives and push hard to live in the present. They seek after restoration, they humble themselves when learning to forgive, and they desire spiritual blessings, not material things. I'm in awe of these ladies because they are raw, authentic, beautiful human beings.
If you're feeling the urge to get involved in the anti-trafficking movement in some way, my encouragement to you is to pursue it! Run toward whatever it is God has inspired you to do and jump in with both feet. I always remind myself that God doesn't need us to accomplish His purposes, but He sure does want us involved in the great things He does. He'll use you, right where you are, for His glory, your good, and the good of those He'll help through you.
The Exchange is a part of CT's Blog Forum. Support the work of CT. Subscribe and get one year free.
The views of the blogger do not necessarily reflect those of Christianity Today.