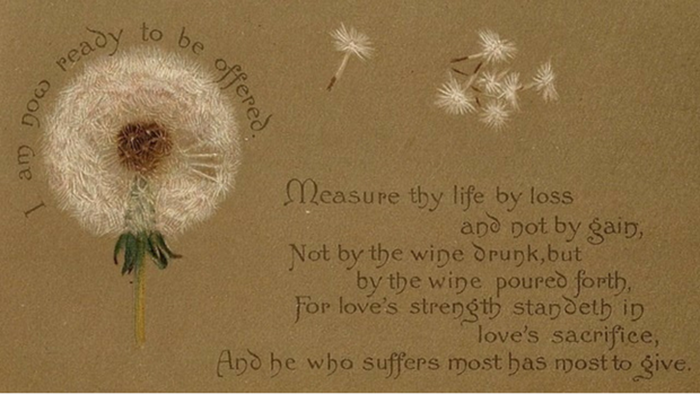 Marvel Comics created a number of superheroes beginning in 1939, which continue to be popular today. You can find superhero movies, toys, clothes, shoes, watches, and electronic games, just to name a few. Each of these superheroes has special powers that allow them to overcome evil.
Hebrews 11 list heroes of the faith who fought the spiritual battle with God, providing them with power and strength. They inspire us to be faithful in our commitment to following God, even in the midst of persecution. They trusted God for the fruit of their labor when it was not revealed during their lifetimes. The inspire us in our own spiritual journey.
This past year, I was introduced to Lilias Trotter, who is a new heroine for me. Watching the documentary, Many Beautiful Things (which depicts the life and vision of Trotter), viewing her art, and reading about her life has inspired my own faith in multiple ways.
You are probably wondering: Who is Lilias Trotter?
Let me give you a brief introduction. Lilias was born in England in 1853 to an upper-middle-class family. She was an extremely gifted artist and was told she could be England's greatest living artist, but in order to do so, she would have to give herself totally to her art. At the same time Lilias had a growing faith which encouraged her not only in her personal spiritual growth, but also in service to others.
Lilias felt the call from God to go to North Africa and serve Him there. She had to choose between pursuing her career as an artist and answering the call God had placed on her heart. She chose to follow God. As a single woman who was denied support from a mission agency because of health issues, and didn't know the language or culture, this was a radical decision.
Lilias served in Algeria until she died in 1928. For the last 29 years, she kept a diary in which she recorded seasons of her life. Author Miriam Rockness states that Lilias looked with "heartsight as well as eyesight," recording in watercolors and words her observations filtered through her heavenly vision: God working out His purposes on a land and in a people.
While Lilias turned her back on fame, she did not turn her back on her art. In addition to art found in her journals, she used her art in the pamphlets created to share the gospel with the people in Algeria.
Let me share with you a few ways God has used Lilias's art, words, and life to inspire me to live sold out for Christ and to making Him known.
First, she had love and compassion for those who were marginalized. She ministered among the prostitutes in London and lived among the poor of Algiers, ministering with women and children. One Algerian woman shared this about her: "No one loved us like she did." Lilias writes in her journal, "I have been thinking lately what a work for God it is just loving people." In our current cultural climate of hatred for the 'other', we have an opportunity to be people of love, not hate. To overcome evil with good.
Second, she had courage to take risks, following where God was leading her. Her choices were radical, defying concern from friends and societal expectations. She served the Lord alone.
Third, she was willing to turn her back on everything she knew and what was familiar and comfortable to follow God. She was willing to leave behind comforts, friends, culture, language, and fame. This is no different for people today who choose to follow Christ. It costs them everything.
Fourth, she recognized that her gift as an artist was from God; it wasn't her own doing. While we might think we are where we are today because of our own abilities, in reality it is God who decided which time period, family, country, and gifts were given to us. We are simply stewards of all that we have and are to use our gifts for God's glory and to further His kingdom.
Last, she engaged in cross-cultural ministry by listening and learning from the people. She respected their culture. She did not come to the people with a paternalistic mindset; rather, she came as a fellow traveler in life and as a learner. She met physical needs as well as spiritual needs. She was driven to share the love of Christ with whomever she met.
So much of her art is inspiring, but there is one piece which especially speaks to me. The picture above reminds me of my need to daily die to self so that I can serve God by loving others. It reminds me to hold on to this life and all that it holds—loved ones, material things, finances, and comforts—with open hands. It is all God's.
I hope you will take the time to get to know Lilias Trotter and to introduce her to your friends.
The Exchange is a part of CT's Blog Forum. Support the work of CT. Subscribe and get one year free.
The views of the blogger do not necessarily reflect those of Christianity Today.