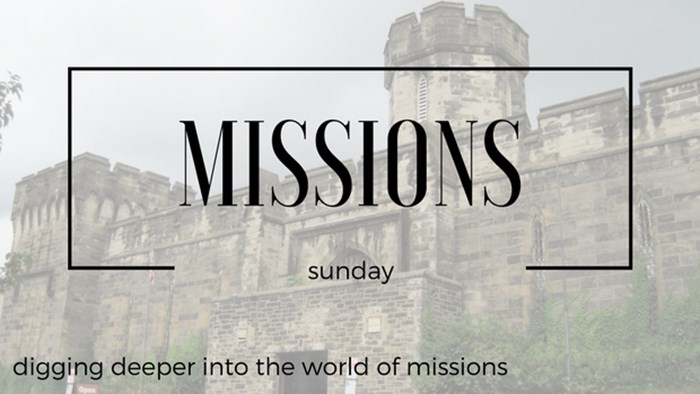 Read Part 1, Catalytic Inputs that Contribute to Movement Development.
We have defined church-planting catalysts as experienced church planters who come alongside local kingdom partners with strategic inputs and resources in order to mobilize workers and catalyze gospel movements, and we have seen some things they bring to the table to catalyze movement. The way they work will be shaped by their gifting and wiring, as well as the contexts in which they serve. However, there are five general best practices of gospel movement catalysts. What follows is not an exhaustive list; rather, it is a good starting point.
Best Practice #1
Movement catalysts think and work from movement perspective. Movement catalysts see the big picture and realize that God-sized results require great prayer, faith, cooperation, and a vision for multiplication rather than addition. They partner with people to impact entire cities, regions, and nations over several generations. This means that they do things in ways that favor indigenous forms and sustainable reproduction.
Training must be reproducible, offered in the heart language of learners, and adapted to the learning style and educational level of those who will pass it on. The delivery system should use technologies and methods that are locally accessible and scalable to the outlying regions. The following table contrasts movement perspective with the typical local ministry perspective.
Two Complementary Ministry Perspectives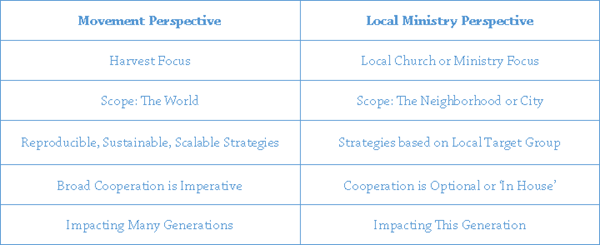 The type of ministry found in the right column—local ministry—is very positive. An example would be a multi-venue church that is impacting a city. But the billions who have never heard the gospel will only be reached when many ministries like the ones on the right come together to launch the type of movement found in the left column. Like the Apostle Paul, gospel movement catalysts are constantly looking to the 'regions beyond' (2 Cor. 10:14-16, Rom. 15:23-24). And like Barnabas and Paul, they mobilize people from the harvest and develop them for new harvests.
Best Practice #2
Movement catalysts develop and empower local leaders. Steve Addison reminds us that in order to create movements:
God takes the initiative. God choses unlikely people, far from the center of ecclesiastical power, and He works to remake them inside out. He inspires innovative insights regarding His mission, and how it is to be carried out. Biblical truths and practices are rediscovered. A growing band of ordinary people emerges who have heartfelt faith and missionary zeal that knows no bounds… movements change people, and changed people change the world." (2011, 22, 29)
God is stirring gospel movements all over the world, and he is using young, emerging, kingdom-minded workers. They need tracks to run on, and someone to come alongside at critical junctures in their ministry. That is what catalysts provide through their equipping and coaching. However, they need to do this in an empowering way.
Catalysts should never try to become the engine that drives the advance, nor the caboose that just goes along for a ride. They should not take over the controls, or tell their local partners what to do; instead, they should teach biblical principles and share fruitful practices to help them figure out how to move forward. And they don't abandon them afterwards, but respectfully coach them as they implement the plans they have made.
Best Practice #3
Movement catalysts multiply workers generationally. Catalysts follow the principle in 2 Timothy 2:2. They find experienced practitioners who have a heart to raise up a new generation of kingdom workers, then they invest in them. For this to occur, teaching good content is not sufficient. External catalysts must contextually reproduce themselves in local catalysts. They build in such a way that local leaders can carry on the work. Their vision is to develop, empower, and release a new generation.
They function like scaffolding, creating a framework that allows themselves to be replaced by emerging national leaders. Then, they work with and through local partners in such a way that the spotlight is not on the catalyst, but on what God is doing through local people. That doesn't mean that external catalysts won't be needed in the long term, but rather that they will never be the 'motor' of the ministry, only mobilizers and mentors. So job number one of catalysts is to reproduce themselves in others.
Best Practice #4
Movement catalysts grow church-planting networks. The task is immense. India alone has 1.3 billion people with 29 languages groups with over one million speakers. The State of Gujarat in Northwest India has 631 people groups and six million Muslims (Mandryk 2010). So no one church group or missionary organization can hope to do it all; instead, it takes coalitions with a vision to reach the lost. Movement catalysts always try to broaden the tent with other like-minded people. They are not content to oil the wheels of the denominational system; they pull people together to storm the gates of hell.
In some cases, external catalysts come alongside a coalition that already exists, but in others, they help to create them. They want to see church-planting networks (CPN) emerge as early as possible in the training cycle. The CPN selects apprentices, hosts training events, and empowers the regional church-planting efforts. It may evaluate results in one level of training, giving advice as to what is most needed in the following level. Some of the most exciting partnerships in training have arisen when several movement leaders have come together to do something greater than what any of them could have done individually.
In cross-cultural ministry, during the launch phase the impetus and resources may come primarily from the external team of catalysts. But during successive gatherings for learning and strategic planning, a church-planting training network is formed. Finally, local trainers are equipped and a master trainer is appointed to lead the charge into other generations of equipping and sending out church planters to unreached people groups or segments of the population. This three-stage progression is illustrated below.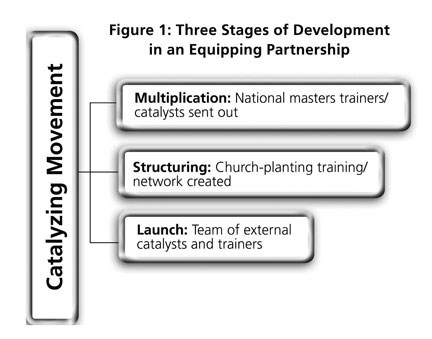 Best Practice #5
Movement catalysts work collaboratively with other catalysts. We don't want to see just any kind of churches planted, but healthy, reproducing ones that make disciples and transform their social environments. A variety of equipping resources are needed to strengthen churches and their leaders. Consequently, catalysts function best on a team with other specialists who will bring their gifts and experience to the movements. The developmental needs of the movement must be discerned through prayer, assessment, and dialogue with national partners. What will strengthen this gospel movement?
In our mission, our global team of catalysts has found the following themes helpful: Bible study and preaching methods, church health, leadership development, holistic ministry, organizational development, and pastoral development. The movement perspective requires an integrated approach and teamwork. It takes wisdom to sequence and weave these themes together for movement development, and cultural insiders should be consulted first.
As we look over these five best practices, it becomes clear that this is not a job for independent spirits. Church-planting catalysts do not seek their own glory, personal success, or self-fulfillment. Since they measure success by gospel movements that produce life and community transformation, they are always inviting others to join forces for greater impact. They are not content to cross the globe as itinerant teacher-trainers or to run denominational church-planting support systems.
They are builders and reproducers who are constantly taking others along in order to develop them for greater impact. They are willing to work under a big tent. The role of a gospel movement catalyst may seem overwhelming, but it is something catalysts grow into as they move forward with their apostolic partners. Fruitful catalysts cultivate this mindset: "We are here to be fruitful and multiply for Jesus' sake. There is no other way to spell success. Not numbers, not size, not buildings, not programs."
References
Addison, Steve. 2011. Movements that Change the World: Five Keys to Spreading the Gospel. Downers Grove, Ill.: InterVarsity Press.
Garrison, David. 2004. Church Planting Movements: How God Is Redeeming a Lost World. Monument, Colo.: WIGTAKE Resources.
Gupta, Paul R. and Sherwood G. Lingenfelter. 2006. Breaking Tradition to Accomplish Vision—Training Leaders for Church-planting Movements. Winona Lake, Ind.: BMH Books.
Mandryk, Jason. 2010. Operation World, 7th Edition. Colorado Springs, Colo.: Biblica Publishing.
Ott, Craig and Gene Wilson. 2011. Global Church Planting—Biblical Principles and Best Practices for Multiplication. Grand Rapids, Mich.: Baker Academic.
EMQ, Vol. 52, No. 3 pp. 134-135. Copyright © 2016 Billy Graham Center for Evangelism. All rights reserved.
The Exchange is a part of CT's Blog Forum. Support the work of CT. Subscribe and get one year free.
The views of the blogger do not necessarily reflect those of Christianity Today.