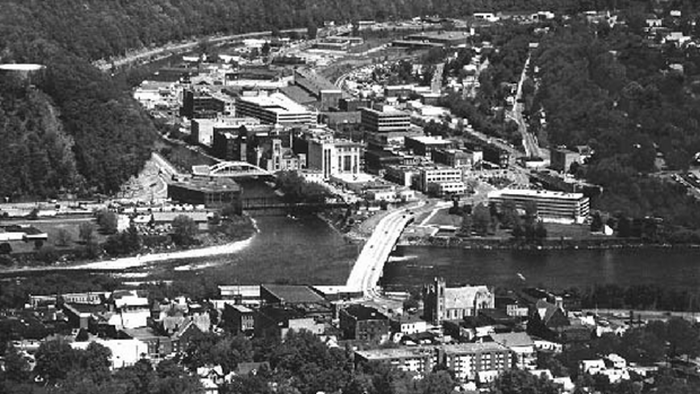 We've all heard it: "Go big or go home." It's the phrase we used in high school after we succeeded in eating 66 chicken wings—one hugely important wing more than our best friend. It's the phrase we used in college to commemorate basically any achievement from a victory in intramural sports to a surprisingly good grade in ECON 101.
It's the phrase we tell ourselves, and maybe a close group of friends, right before we ask the girl of our dreams out on a date. In 2015, the band American Authors capitalized on the cultural ubiquity of the phrase in a catchy song titled…wait for it… "Go Big or Go Home."
For many young people in rural areas, this phrase also sums up what feels like a virtually indisputable certainty in life. Today, if you happen to have been born and raised away from the fast-growing urban and suburban centers of our country, there is a pervasive sense that to make it big you have to go. If you're content with smallness (small dreams, a small checking account, small opportunities, etc.), however, you can choose to stay or choose to return home after spending a few years away at college.
I know the power of this line of thinking because I grew up in an area of the rural rust belt where many who can get out do get out, where one grows up hearing adults talk about how few jobs and opportunities exist locally. For people growing up in places like this, there is a sense that a successful future requires a move to the city or the Sunbelt. One either goes big or goes home.
For too long, evangelical church planting agencies, conferences, and well-known church planters have contributed to this mindset by basically overlooking the need for rural church planting. I grew up in an evangelical milieu, where church planting was probably the coolest church thing I knew of. It felt like all my favorite pastors were hugely successful church planters, not denominationally appointed pastors.
When I thought and prayed about my future, the idea of church planting always came up. I knew of towns close to where I grew up that seemed desperate for a new church plant. But where were the models of inspiring rural and small town church planters?
It was during the three years I commuted from my rural town to a large urban seminary nearly two hours away that the absence of any significant or sustained efforts to plant churches in rural areas really hit me. None of the church planting models I saw during my seminary years—whether at school or on television, the internet, or in popular Christian literature—seemed to care much at all for the rural and small town folks who peopled my childhood memories and made up the vast majority of my friends and relatives.
Church planting was exciting, but it seemed the domain of urban and suburban hipsters.
But as the years went on and I transitioned from seminary to a Ph.D. program in Religious Studies, I couldn't shake the feeling that, as important as urban and suburban church planting were, there had to be more to the picture.
If millions of Americans still lived in rural areas, surely God cared about them too. A resolve began to well up in me to pursue church planting among the rural poor—people who seemed to be overlooked or forgotten by virtually every large church planting agency. I felt called, but very alone.
In the end I came to find, like the prophet Elijah, that I wasn't as alone as I thought. There were a few brave and blessed souls who also saw the need presented by rural America (even before the Trump campaign made the urban-rural divide glaringly obvious) and were working to plant churches in these areas. I was ecstatic.
During my initial talk with a leader in the Vineyard USA's Small Town USA initiative, I realized that, for the first time, someone was speaking my language. I had previously read Francis Schaeffer's sermon "No Little People, No Little Places" and been moved about God's concern for small places. Now I had found an organization (and a few friends) who felt the same way.
In July of 2016 my wife and I and our three kids moved from a bustling university town to the rural corner of western PA that we had always called home and planted a church. It's not big, at least in comparison to the large suburban and urban churches that tower about the landscape of American evangelicalism, but it is what God has called us to for this season. Not everything about the move has been easy, but we have witnessed God's faithfulness to us time and time again.
I know that there are small communities like ours scattered throughout the United States, communities that could really use a healthy church plant. I also know that there are many, many young people who have grown up in these communities who have accepted the false dichotomy that they can either go big or go home.
I am convinced that God is calling enough church planters to meet the needs of rural areas. Whether or not they are listening remains to be seen. My hope is that a few of them might listen to God's still small voice as he calls them to look back toward home. I think the church planting world is ready for a generation of young planters who can act in faith and humble confidence on the fact that in God's eyes, one never has to choose between going big or going home. In terms of kingdom significance, there are truly no small people and no small places.
The Exchange is a part of CT's Blog Forum. Support the work of CT. Subscribe and get one year free.
The views of the blogger do not necessarily reflect those of Christianity Today.