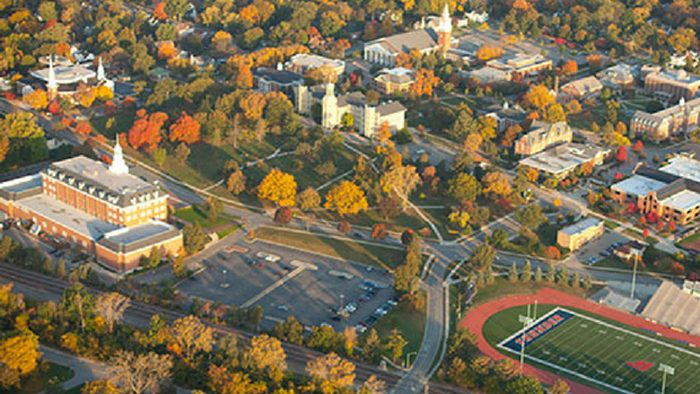 It's a sad, even tragic, thing to read news stories about an accidental death. The stories focus on, well, the accident. And, to be honest, they are hard to read.
We saw that recently in the death of one of our students at Wheaton College. His name was Ethan Roser. And, yes, he died in a tragic accident that made national headlines.
But that's not why we should remember him—there is better way.
So, yes, on Saturday, April 22, Wheaton College suffered the painful loss of one of our own: freshman transfer student Ethan Roser. But Ethan wasn't just a Fischer Hall resident, soccer player, or aspiring pastor. He was a child of God and a young man beloved by countless students and faculty members in our community. It goes without saying that he will be dearly missed.
Ethan was a student in one of our evangelism classes—an elective, so he sought out the topic. Jerry Root, on our team here at the Billy Graham Center, was his professor. As he talked with Ethan, it became clear that he had a deep and abiding love for the spread of the gospel. Student after student acknowledged his warm heart, willingness to share, and deep desire to grow as a disciple of Christ.
His love for God, one student remarked, was simply contagious.
As much as Ethan wanted to grow in his own relationship with the Lord, he longed for others to do the same. His professor asked his fellow students if they wanted to share anything about him, and they gave me permission to use their words.
One student remarked that he "yearned for people to know God's love." Another added that, as a result, he bravely followed the "promptings of the Holy Spirit" in deciding when and how to share his faith. Story after story, Ethan was clearly seen and known by his peers as a young man with a huge heart for spreading the gospel.
Dr. Root also took note of Ethan's passion for evangelism. Ethan told Jerry of a longing he had to connect gospel with need. He wanted to take the message of the gospel—a message of hope in a world full of problems and pain—and use it to address the needs of those around him.
As a Young Life volunteer and frequent Chicago Evangelism Team member, Ethan didn't just talk about his faith like some of us so often do. Instead, he went out into the community and neighboring city to boldly live it out for all his classmates, teammates, and friends to see. He bore witness to the Jesus he loved and provided our campus community with such a clear picture of what a Christ-honoring, gospel-transformed life really looks like.
Taking Up A Baton
Though it's never good to compare tragedies, we can hope that God might work in similar ways.
For example, this is not the first time that our campus community has grieved the loss of one of its own. Perhaps the most famous loss here was the deaths of graduates Nate Saint, Jim Elliot, and Ed McCully, along with Peter Fleming and Roger Youderian, in January of 1956. That event on the shores of Ecuador shook the college and the country.
If you know the story, their deaths galvanized others to go to the mission field. People responded and went—taking up the baton for missions.
My hope is that will happen today as well—that students (and faculty and others) will grieve, question, and struggle, as we always do in moments like this. But that we also might take up the baton with which Ethan ran—and share of the Jesus he knew and wanted others to know.
I think Ethan should be remembered for his life, and not just for his death, as his funeral showed. I'm thankful for him and hope his life will inspired others to show and share the love of the Jesus he loved so much.
Ed Stetzer holds the Billy Graham Distinguished Chair of Church, Mission, and Evangelism at Wheaton College, is Executive Director of the Billy Graham Center for Evangelism, and publishes church leadership resources through Mission Group.
The Exchange is a part of CT's Blog Forum. Support the work of CT. Subscribe and get one year free.
The views of the blogger do not necessarily reflect those of Christianity Today.