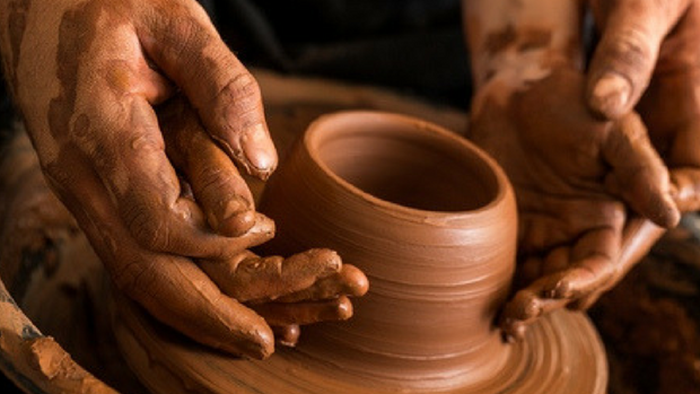 Given that the objective truth of the gospel never changes, the PROCESS of evangelism is much more about helping people encounter Christ than it is explaining Christ. And ARTISTS are some of the most powerful God-designed servants who can create environments wherein people experience the God-desired fruit of evangelism—people reconciled to God through the work of Christ.
In fact, when we emphasize explaining over encountering God's gospel, we raise at least two barriers to witnessing. The first barrier is the fear that I'll make a mistake or that I'll miss something. The second barrier is the fear that "I'll" be rejected. Plus, these barriers are both about me, not about those I'm praying will access God's help, healing, love, forgiveness, and life.
All this to say that if church and mission leadership strategically turn to the artistic kingdom servants in their networks, they will embrace untold creative resources for designing at least seven environments wherein they and their vast army of normal Jesus-loved-people-loving volunteer Christians can meet with, pray for, care for, and share with people in their neighborhoods and communities.
So let me suggest at least seven evangelism environments that artists are God-designed to create.
Environment Designers. Artists are the ones God capacitied to imagine, then design, the culturally appropriate gathered events of the community—worship liturgies, celebration rituals & memorializations: all the various community gatherings, funerals, weddings, rites-of-passage. These are any GATHERINGS in which the community manifests its heart & soul (its transcendent reality—the expressions of the sum of its participants) in tangible terms. Community cannot design these gatherings well without the artistically gifted.
Heart Strikers of Humanity. Artists are the specialists God has given humanity to sculpt environments wherein people's hearts can enter and touch the transcendent realities of life and of God.
Relationship Makers. The environments artists design always promote human interaction that produces relationships. Artists are hardwired to be curious about culture expressions and intrigued by and interested in culture's ways. Through their curiosity—and a wonderful product of it: looking at familiar realities in fresh ways—they always create situations and places where relationships are formed.
Community (Culture) Connectors. Artistic kingdom servants can provide the community (inside and outside the local parish) holistic expressions and profiles that facilitate the need-meeting biblical virtues like justice, honesty, courage, compassion, moderation, and moral character. These will contribute to the community by creatively bringing beauty, joy, goodness, and truth from God's perspective, without preaching or frowning.

They will also create a culture that is virtuous, beautiful, good, and true. Finally, these will profile to the community the good, the bad, and the ugly. Artists possess powerful means of helping the community see, feel, and engage both the good and the bad of the community. Without preaching or pounding, artists (in community with church leadership) can innovatively and productively point out what needs to be faced, fixed, and changed, including the fact we each need God's help and healing in order to live life fully. Artistic kingdom servants, when released and affirmed, can connect with the mainstream community culture delightfully, beautifully, creatively, and powerfully.
Compassion Context Creators. Artistic activities like drama groups, bands, choirs, art groups, public mural projects, dance classes and groups, video/film classes & projects that are motivated by the need and intent to CARE for and DEVELOP the person and the community are crucial to the work of evangelism.

A beautiful example of this sort of thing in my Nashville region is Rejoice Ballet and its director, Patricia Cross. They work with at-risk inner-city kids through their after-school dance classes, building character and virtues that help these children know better how to live life well—especially by coming to know the life-giver Himself, Jesus.
Story Tellers. Artists are the 'voices' of our cultures and communities, narrating our peoples' stories through the poems, paintings, dances, films, dramas, designs, architecture, fashions, food, sculptures, songs, and lore of the people; and interpreting how our story makes sense and has meaning within the framework of The Story of the World. Therefore, the gospel cannot be told well enough without artistic expression, and the involvement of artistic expression specialists.
Public-Proclamation-Producers. Artists are the specialists to whom God has given the sensitivities and awareness (honed by training and practice of their various crafts) by which public meetings can be designed and directed to the end that the gatherings actually accomplish the purposes for which they were desired.
These seven environments mentioned above are simply a start in stating how artistic expression specialists (artists) bring powerful and beautiful resource to the Lord's assignment of evangelism. In fact, when it comes to evangelism, the Church cannot do without them in the mix.
Hopefully, in these early days of the 21st century in which mainstream cultures have for the most part entered the Age of the Artists and left the Age of the Orator, artistic specialists are some of the most powerful resources the Church has for helping the Body of Christ engage with God and His purposes for us.
Evangelism is so much more than simply spewing a few accurate propositions of biblical truth. In fact, without creating environment where people can feel the truth of the Triune God, and imagine into the realities of the objectively true love-filled life with Him, there will be little hope that any non-believer will want to seek a relationship with Him.
That said, if church and mission leadership don't strategically turn to the artistic kingdom servants in their networks, they will lack the untold creative resources they need to design at least the seven (7) environments for evangelism mentioned here.
But there is hope. In new ways, a new breed of ministry servant leaders are coming forward ready to re-engage the Church, to create environments in which the vast army of normal Jesus-loved-people-loving volunteer Christians can easily meet with, pray for, care for and share with people in their neighborhoods and communities the Bible mandates us to evangelize.
So if you are an artistic kingdom servant, make yourself available to the church and mission leaders you know. If you are a church or mission leader, invite the artists you know to help you take a fresh look at the way you think about, plan for, and implement evangelism.
Dr. Byron Spradlin is the Founder and President of Artists in Christian Testimony Intl, a missions & ministry sending board for artists and creatives, now with over 320 artistic and innovative staff touching 32 nations. He is an artists-in-missions-&-ministry specialist who has served the Body of Christ as a Bible teacher, church planter, worship pastor, evangelist, professor, recording artist, published songwriter, and arts-missiologist in over 50 countries. He is a leading thought-leader in the role of imagination and the arts in The Church and her missional mandates.
The Exchange is a part of CT's Blog Forum. Support the work of CT. Subscribe and get one year free.
The views of the blogger do not necessarily reflect those of Christianity Today.