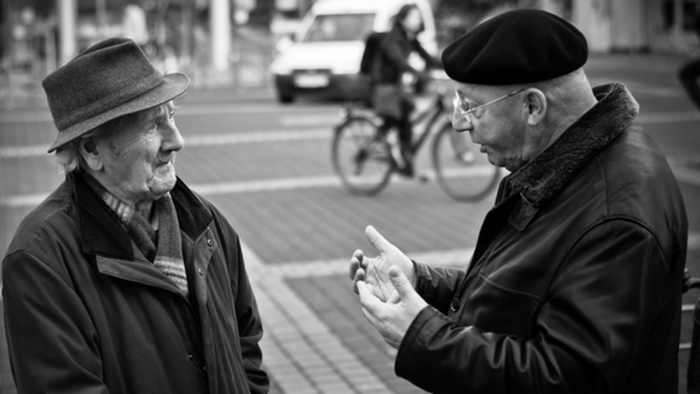 In some of our Billy Graham Center staff meetings, I ask our staff who they've been able to share the gospel with that week. After all, we work for an organization that bears the name of a man who made sharing the gospel his whole life's work.
Sometimes I let people volunteer. Sometimes I ask randomly. I want us to be accountable to one another regarding evangelism—and not just because we work at the Billy Graham Center.
During his 40 years of ministry, Billy Graham preached the message of Christ's redemption to nearly 215 million people in over 185 countries. What an amazing ministry. But his message is more important.
I've been thinking more and more lately about the importance of modeling personal outreach. As a pastor and executive director of the BGC, I can't ask people to do things that I am unwilling to do. I know life gets busy but, at the end of the day, no packed schedule or professional pursuit should get in the way of our willingness to obey the Great Commission and see people trust in Jesus.
We live in a world of great needs: physical, spiritual, emotional, and the like. People all around us are crying out in search of a source of hope. As believers, we know exactly what they need: Jesus. He is the only one capable of bandaging their wounds, healing their hearts, and, most importantly, forgiving their sins. Given this, telling people about the good news of Jesus Christ is all the more urgent.
Here are some lessons I've learned and thoughts I've had on how to be more effective at sharing the gospel.
First, we must find our 'sailboat'.
Lots of people have heard of Bill Hybels. However, I often ask people, "Who has heard Bill Hybels talk about his sailboat?"
A good portion usually have.
Hybels, who founded Willow Creek Community Church, often references his passion for sailing and his excitement about his boat in speaking. But why do so many people at my conferences say that they heard Hybels talk sailing?
Well, simple. It's an example Hybels uses. He has made a habit of using his sailboat as a means to tell people about Jesus. But my point is neither Hybels nor his boat. My point is that a lot of people that I speak to only know about the boat because it's Hybels' evangelism example.
I want everyone to have a similar example.
So the question is: What's your sailboat? Not all of us have our own boat, but many of us have a house or apartment. Maybe some of us have a really neat backyard, a pool, or even an expansive property to make use of and a whole community of people around us to invite.
My sailboat (for illustration purposes) happens to be my neighborhood. I once had the opportunity, at the last church I served, to map out all my neighbors on a piece of paper and then take the time to share the gospel with them one by one. Over the course of three years, I had the privilege of not just inviting them to church, but actually sharing the gospel with seven of them and later baptizing two of the couples.
And I would regularly share about it at church so that everyone knew that I was not just talking about evangelism, but I was also doing it!
Second, it helps to make a list.
Given the hectic, fast-paced nature of most of our lives, it's easy to place things—people, even—on the backburner. In the heat of the moment, we think to ourselves, I really want to connect with that new neighbor across the street or I need to dedicate myself to praying for that struggling parent in my church small group. But sometimes we let hours, days, and even weeks go by before suddenly remembering all the people we forgot to reach out to and pray for.
My suggestion is this: just make lists. Write down the names of those in your community in need of prayer and compile a similar list of people you want to share the gospel with. If we are serious about the gospel, our natural response shouldn't be to bottle up the gift we've been given in our hearts and keep it to ourselves. The message of Christ's love and redemptive work on the cross was meant to be shared and it's our job—not someone else's—to testify to its power.
Third, a message for the pastors: we need to dedicate ourselves to leadership in this area.
It's not enough for us to talk about evangelism from the pulpit or preach sermons from Paul's journeys in the Book of Acts. We need to make sharing the gospel a priority in our individual spheres and circles if we want to inspire our congregations to do the same. We need our churches to be places of accountability where churchgoers, staff, and leaders come together with one common desire: reaching people.
This is because, at the end of the day, sharing the gospel isn't just a side job—it is, arguably, one of the most important of our Christian responsibilities. The command to love God and neighbor is most fully expressed when we bring the message of his love directly to those who need it most.
So, pastors, when it comes to evangelism, you can't lead what you won't live.
Sure, people might reject us—neighbors might be disinterested and family members unconvinced. But nevertheless, we must continue to faithfully sow seeds in our homes, workplaces, and communities.
This is a true expression of our love for Jesus.
Ed Stetzer holds the Billy Graham Distinguished Chair of Church, Mission, and Evangelism at Wheaton College, is executive director of the Billy Graham Center, and publishes church leadership resources through Mission Group.
The Exchange is a part of CT's Blog Forum. Support the work of CT. Subscribe and get one year free.
The views of the blogger do not necessarily reflect those of Christianity Today.