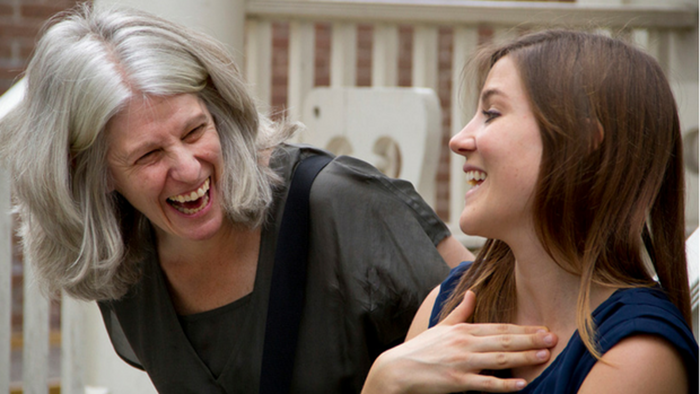 Ed: Seems like every weekend we have a new example of human tragedy filling the news. How can we get into those conversations in ways that are faithful and compassionate?
Carmen LaBerge: Christians must be prepared to lean into these conversations because this the reality of the world we live in. Whether its a shooting in Texas or a weaponized rental truck on a bike path in New York, evil is manifest among us and we cannot pretend we are immune to it.
Practically speaking, we can't start our conversations today with theology. But ultimately every conversation is theological. We begin by weeping with those who weep. We sit, we listen, we seek to understand. We don't address issues prior to understanding the crushing pain people are experiencing.
In the midst, we bear witness to Christ who entered that pain to bring about God's redemption. People don't need a piece of our mind today but they do need the peace of the mind of Christ.
Ed: We are living in a time of alternative facts, fake news, and general acceptance of "your truth is yours and my truth is mine." How are Christians supposed to speak truth into a post-truth culture?
Carmen : I don't want people to be afraid of the fact that we live in a post-truth culture. I want people to see that as an opportunity. Our culture is actually having a discussion about truth as if it is something to be known and ascertained. This is a good thing! In a post-truth culture, while people might reject the idea of absolute truth, what they do not reject is the opportunity for every individual to describe his or her own truth. I am not going to describe 'what's true for me,' I am going to describe the truth I know. And I'm going to describe that person who is Jesus Christ.
But one of the things I am most concerned with—and what I spend a lot of time in the book discussing—is that Christians actually know the truth. I reference a lot of research in the book done by LifeWay and others that finds many self-professed Christians in America don't actually know basic doctrine or theological truths.
This all stems from an erosion of understanding about the Bible. We need to restore the word of the God to its rightful place in the life of the Church: as the actual words of God, the full counsel of God, for our lives today.
Without restoring the word of God in the church and life of the Christian, we will not be able to fulfill our calling to have a prophetic voice in the culture. We will always be sliding and shifting with the changing winds of popular opinion.
Ed: The other issue you address, in addition to helping Christians know the truth, is speaking it. To those outside the church, Christians in America don't seem silent at all but are instead screaming in the public square and in politics. What do you mean when you say Christians are on the sidelines of the conversation?
Carmen: That was one of the first criticisms I heard in response to the concept of the book. But the reality is, and I think this is actually what they are speaking to, Christians can be really vocal in a public conversation, but still leave God entirely out of it. That is not our call as the people of God. Again, people don't need a piece of our minds—they need the peace of the mind of Christ. So, we need to train ourselves to think about what we thinking about.
Is this perspective or position flowing from the truth of the word of God, or something else? Maybe it's coming from politics, personal preference, or cultural norms. So when we enter into a conversation, whether it be it at the dinner table, at our kids' soccer game, or in a public discussion on cable TV—who are we representing?
When we become Christians, we actually have a change of identity. We are called to be God's ambassadors into any situation and any conversation.
This is a book about culture engagement, yes, but at the basic level this is a conversational apologetics resource to equip readers to bear a distinctively Christian witness into their daily conversations. The opportunities abound, we just aren't taking them. So I am less concerned with the few on television and more interested in speaking to people in the pews who see something is wrong in the culture but don't really know what to do or how to do it.
Systemic renewal as a culture is remade one choice, one decision, and one conversation at a time. Basically, we want to change the conversation by changing every conversation.
Ed: Your book is also practical. Can you share a few pointers for Christians who want to bring God's perspective into a conversation?
Carmen: We can't speak the good news of the gospel in un-gospel ways. First, see people, not issues. We see on so many accounts that this is what Jesus did. We need to understand where people are coming from—their operating systems. I have observed that many Christians are just waking up to the cultural changes of today and have no clue how to talk to their neighbors who have little, if any, biblical literacy, or who have a worldview completely different from their own.
We may need to take some time to be a student of others, which means asking questions and earning the right to be heard.
Second, as Paul tells the Corinthians, "From now on, therefore, we regard no one according to the flesh." We've got to ask God to help us see this person how he sees them. God knows his or her heart, hurts, and struggles, and cares very much for them. If we stop seeing someone as an adversary and as a precious person who has been enslaved by sin and darkness, our posture is so much different. If we truly believe the battle is not against flesh and blood, then how does that color our interactions?
Finally, understand this is not about you; it's ultimately about God. If we are speaking truth, we will be targeted and even persecuted. But we can understand that no matter the presenting issue, at the end of the day it is not about us; it's about God. By doing this, we will save ourselves much anger and anxiety and we have very little reason to get defensive or angry.
Ed: How do you see this book being used by churches and small groups beyond personal study?
Carmen: Some of these questions we confront in the culture about truth and identity and sexuality and so on are ones we need to actually wrestle with in our own hearts and minds first. So I encourage people to take the time and do the questions at the end of each chapter as preparation and reflection. We will never be perfect and we will never get it perfect. Yet, God wants to use each of us to display the truth and beauty of the gospel to those around us. It is the most beautiful calling and a glorious responsibility.
Ed Stetzer holds the Billy Graham Distinguished Chair of Church, Mission, and Evangelism at Wheaton College, is executive director of the Billy Graham Center, and publishes church leadership resources through Mission Group.
The Exchange is a part of CT's Blog Forum. Support the work of CT. Subscribe and get one year free.
The views of the blogger do not necessarily reflect those of Christianity Today.