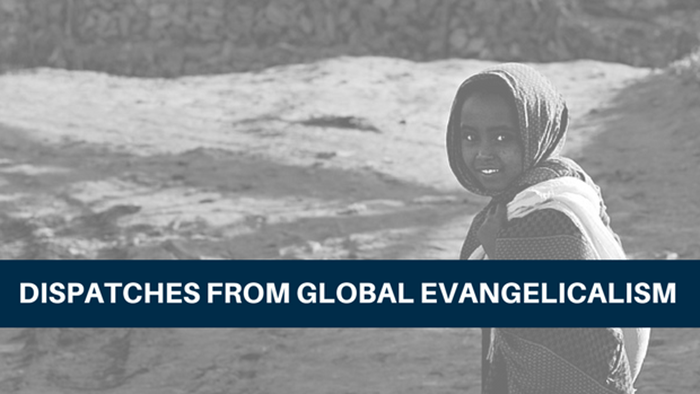 Three years ago, Mission Aviation Fellowship (MAF) flew us from Uganda onto a dirt landing strip in Yei South Sudan, a wind-blown village bravely holding onto life. For four days, with 90 chiefs, elders, and government ministers, we endeavored to broker a peace. These weren't enemies because of religion; instead, they were fighting and killing each other over cattle dowries. In a Dispatch then, I outlined the feud going on among the tribes.
Recently, I landed with Aiah Fouday-Khanenje, head of the Association of Evangelicals in Africa, in Juba, capital of this newest of nations, South Sudan. Since its 2011 independence, warring factions within the government has left thousands dead and exasperated food shortages. Five years after independence it has what it wanted: nationhood. But it also got what it didn't want: civil war.
At home in Canada, a friend winced when he heard of the places I visit. He asked, "How can you do it?"
I heard myself say, "I love being there." There are more convenient and comfortable places to visit; yet it is here, in a county hanging on by its fingernails, that one experiences the joy of faith. The opportunity to make a difference sounds its call.
A Great African Nation
As a country, before its separation into the north and south, Sudan was Africa's largest. It was critical to the spread of the Christian message. One of the largest missionary agencies in the world, SIM, had its name by way of this country: Sudan Interior Mission. Catastrophe after calamity, this area and its people are still at the forefront of the church. What they do and become matters, and this is made more urgent by the steady crawl southward of Islamic influence.
Historically, Sudan has had a natural, ethnic, and language north/south division. The north is mainly Arab and Muslim. The southern region is more Christian (although many are quite nominal). The drive of the south to separate was accelerated by abuse and persecution. Being both non-Arab and Christian only added to the religious and ethnic hatred by the dominant groups in the north.
Prior to their formal separation in 2011 of the north and south, two million people died and four million were displaced. Pastors were routinely killed. Churches, schools, mission stations, and hospitals were bombed and burned. Even so, in 30 years, the Christian population jumped from one and half million to 11 million.
Constant Crisis
One year before the 2011 separation of the north from the south, in a one-year period, 2.035 billion U.S. dollars was given to Sudan by ten donor countries. Its dependence on aid at all levels has created enormous dependency. This is not a criticism, but it is important to what Christians see, as we pray today and plan for tomorrow.
It was hoped, even assumed, that separation would break the cycle of persecution and killing by northern Muslims against southern Christians. Euphoria lifted the newly-created South Sudan as July 2011 dawned. For them, the page had turned. They believed that surely a new chapter was about to be written, and a good one at that.
The euphoria lasted, at best, two years. Its new president, Salva Kiir Mayardit, fired his cabinet. In retaliation, Vice President Riek Machar mounted a coup. Civil war broke out. They've tried to broker a deal, but killings continue. Not only do people die, but what adds to the desperation is the number of people exiled, fleeing to Uganda, Kenya, and bordering countries.
Here is where the circle of food shortage and civil war join. South Sudan is considered, as an agronomist in Juba told us, one of the most fertile agricultural lands in all of Africa. He estimates that, if put to good use, the lands of this one nation could be the breadbasket of the continent. But as civil war wrecks its fear, people flee, and those who flee are the very ones needed to plant and harvest.
It seems so true that droughts are ecological disasters. Famines are political disasters. The dog chasing its tail creates a downward spiral, which all the aid in the world won't arrest.
The ten million people of the South is complex: 60 indigenous languages, impossible roads, a completely broken down infrastructure, and a people who are majestic, able, and as resilient as I've met anywhere.
Vision of Life
It is in such moments and places that good intentions and generosity seem inadequate. Groups from Bill Gates to the World Bank analyze inputs and outcomes, pressing to find solutions. We applaud all who give and serve for the very best of reasons.
A long meeting with a senior cabinet member surfaced an issue that underlies growing concern: the civil war increasingly is being fought around tribal loyalties. President Kiir and VP Machar resort to their tribal groups, each building their case, currying favor and creating inter-tribal tension, which—as we have seen elsewhere—devolves into hatred and genocide.
How can we forget Rwanda?
Racial or tribal hatred, flowing along fault lines of historical grievances in time, jumps the banks of conventional behavior. Instigating it is the presence of evil. To ignore that reality is to admit we live in a closed universe. Yet as Lieutenant-General Roméo Dallaire—the UN commander in Rwanda whose hands were tied and was unable to intervene—told us at a prayer breakfast, evil exists not as a creative myth, but as a real and present danger.
I ended my time with the executive of the evangelical alliance with a promise to ask our wider world to pray for intervention: that there be a holding back of rage; that there might be a release of Spirit empowerment; that events will interject to calm the coming storm and point people to Christ. In the boiling ferment of political and social discord, our contribution is to reach out to the One who, in his resurrection, broke chains of evil so that good can be done and that faith will entreat and engage the living God to save a people.
To those in churches and prayer groups, pray so that in a swelling chorus together we will hold hands of faith that Southern Sudanese will be emboldened to stand for the power of the gospel to redeem and buy back what is under bondage.
The Exchange is a part of CT's Blog Forum. Support the work of CT. Subscribe and get one year free.
The views of the blogger do not necessarily reflect those of Christianity Today.