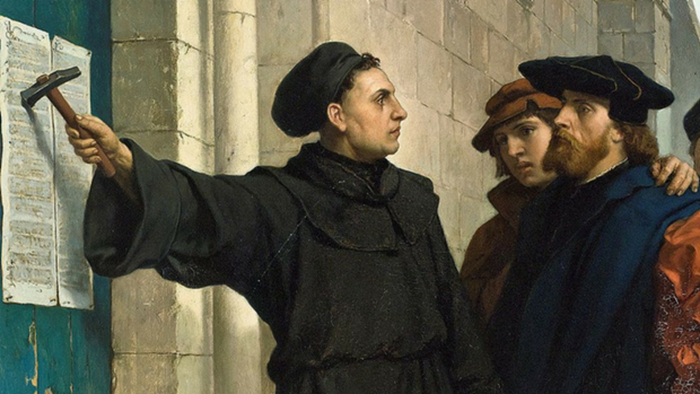 Today marks the 500th anniversary of, arguably, one of the most important events in church history: The Protestant Reformation.
On October 31, 1517, a man named Martin Luther nailed a piece of paper to the doors of the Wittenberg Castle church in what is now the nation of Germany. He may not have realize it then, but this piece of paper—his 95 Theses—was about change the course of church history around the world.
Reflecting back upon this period, Luther wrote that he had been wrestling with one particular phrase in the first chapter of the Book of Romans for quite some time: "the righteousness of God." With great candor, he admitted in his writings that, "Not only did I not love, but I actually hated the righteousness of God who punishes sinners." Despite his life as a faithful monk, devoted to piety, Luther could never see himself as anything but a sinner before the throne of God. Every religious observance and obedience failed to satisfy a righteous God.
Throughout this turmoil, Luther comments that he never left Paul's writings in Romans, desiring to know what Paul meant by "the righteous shall life by faith." Meditating day and night on Romans 1:17, Luther slowly came to appreciate their theological meaning and application: "There I began to understand that the righteousness of God is that by which the righteous lives by a gift of God, namely faith."
Luther writes of this joyous moment when the veil lifted from his eyes: "The merciful God justifies us by faith." This conclusion echoed across Europe and has continued to reverberate into the sanctuaries of churches around the world ever since. What we take for granted today, that salvation is by grace alone through faith alone, to a man like Luther, living in his context, it certainly was not.
The Fallacy of 'Earning' Forgiveness
While the Medieval Church had its share of problems, Luther's 95 Theses focused primarily on one major grievance: indulgences.
While we think of "indulgence' as overflowing bowls of ice cream or decadent slices of cake, indulgence in Luther's setting referred to a system of payments made for the pardon of sins. In essence, believers saw the indulgence system as counter-scriptural in emphasizing earning forgiveness of sins rather than faith.
To Luther this was an affront to the gospel and he directed his anger at men like Johann Tetzel, Germany's commissioner of indulgences. Tetzel's role was to travel the countryside selling forgiveness. He is well known for his repetition of the warm medieval tune, "As soon as the coin in the coffer rings, the soul from Purgatory springs."
Tetzel's peddling of a false gospel represents one of the lowest points of the church and thankfully today most Christians, regardless of where they fall on the denominational spectrum, reject this heresy.
In this we owe a debt to Luther and it's why we celebrate the Reformation's 500th anniversary today.
We must never lose sight that forgiveness comes to us only through relationship with God, not a donation deposit.
Therefore, as we celebrate the 500th anniversary of the Reformation today, here are some things we should keep in mind:
First, we should seek to celebrate the very thing Luther first feared: the righteousness of God.
In Romans 5:1, Paul tells us that we "have peace with God through our Lord Jesus Christ" because we have been made righteous through his faithfulness combined with our faith. We do not have to be afraid or cower in fear of God. Instead, we can approach the throne of grace with confidence in the forgiveness we have received in Christ.
Second, for those of us who feel like we are living in bondage and finding ourselves stuck on the good-works treadmill, start where Luther started.
Look at Romans 1 and particularly verse 17. There, Paul speaks of the gift of forgiveness that has been offered to those who believe. As we read, we can seek to understand the magnitude of this gift and allow the Holy Spirit to speak the same words to us that Jesus said aloud as he gave his life on the cross: "It is finished."
Finally, while certainly a time of celebration and remembrance, this anniversary of the Reformation should also be a time of careful reflection.
The Church (of which we are part) is largely united now on the principal of salvation by grace through faith alone. Yet, we continue to divide in a multitude of other ways.
This risks minimizing the importance of unity to God. We are the Body of Christ, who together share the same Lord, faith, and baptism. Instead of trying to find ways to separate, label, and segment ourselves, we need to work instead to make a way for greater unity within the Church.
In a culture that persistently hammers on the need to earn, we need to remember the theme of what Luther hammered on the door: the righteous shall live by faith. Christians of all denominational backgrounds and traditions can come together in celebration of our shared salvation in Jesus—by faith alone, through grace alone.
Ed Stetzer holds the Billy Graham Distinguished Chair of Church, Mission, and Evangelism at Wheaton College, is executive director of the Billy Graham Center, and publishes church leadership resources through Mission Group.
The Exchange is a part of CT's Blog Forum. Support the work of CT. Subscribe and get one year free.
The views of the blogger do not necessarily reflect those of Christianity Today.