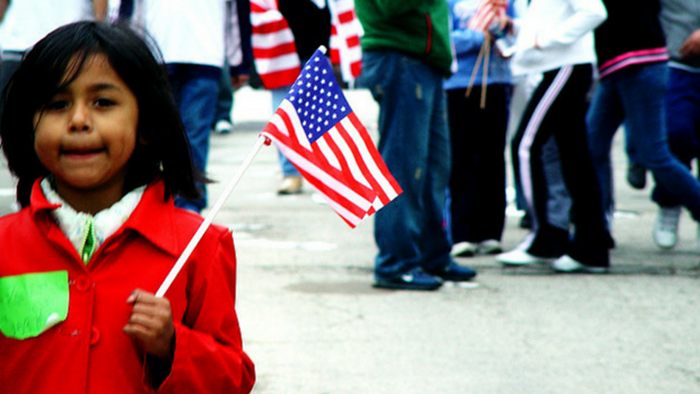 We have an opportunity, here, to unify a nation that is divided about immigration to find a path for the DREAMers.
Yes, comprehensive immigration policy is complicated. But the forward path for Deferred Action for Childhood Arrivals (DACA) need not be.
President Trump is asking Congress to vote a compassionate path forward for the DREAMers (DACA recipients). In a time when we are divided as a nation, and with so many concerned about immigration, this moment should be a unifying win for America, for the DREAMers, and for justice.
I know we could argue about the history, and I will touch on that, but I think we should now focus on the future—and the future of the DREAMers could be something that brings us together.
Complicated Issues
There are lots of people with strong opinions on immigration issues. I have my own views, which are connected to my support of the Evangelical Immigration Table, calling for immigration reform.
But there are complicated issues around DACA that make it harder to agree on how to make this right.
First, President Obama went about the creation of DACA the wrong way. We can argue about why he did so—Congress' failure to act or his unhelpful overreach on Executive Orders, for example. (I think both are at work here.)
For some, they want to be upset at President Obama, and I understand why.
But in the end, we are where we are.
For some, they want to be angry with President Trump, and I understand why.
But, in the end, we are where we are.
So ultimately (and rightly), it is Congress, not the President, that is given the constitutional authority to legislate so as to preserve a healthy balance of power between the various branches of the federal government.
Sure, we must consider what motivated the former President to legislate from the Oval Office in the first place. I believe that Obama was simply frustrated with Congress. They had failed to muster the courage to pass the necessary legislation themselves so the former President resolved to get the job done the best way he knew how: through executive action.
However, I share many American's frustrations with a president's overt overreach of Presidential power.
Yet, while it certainly is much easier to sit and stew in frustration over Obama's overreach, it does nothing to address the fact that real lives and livelihoods are at stake here. We are never just dealing with "politics as usual" when we discuss these matters—we're dealing with people.
The DREAMers represent 800,000 hard-working students and dedicated employees currently residing in the U.S. They were brought here by their parents, through no choice of their own, and now we have to ask how to respond appropriately.
The reality is that these DREAMers aren't foreigners in the traditional sense (not that such a designiation would allow for mistreatment). Instead, they are already valued and deeply invested members of our communities. They grew up here and want to stay. This is a group that offers an opportunity for a just and compassionate resolution across a very divided political landscape.
Evangelicals Speaking Up
Samuel Rodriguez, a Trump Evangelical adviser and President of the National Hispanic Christian Leadership Conference, agrees that it's "the job of Congress to make laws." However, as President Trump promised in his tweet, Congress now has a six-month window during which they must find a way to "legislate a more permanent and legally defensible solution for DREAMers."
Rodriguez, of course, is not the only faith leader eagerly awaiting Congressional action on behalf of the DREAMers. In fact, many have been strongly in favor of a compassionate way forward. The National Association of Evangelicals, where I serve on the board, expressed their belief that "protecting the children of immigrants" is both the smart and right thing for policy makers to do. Groups like the NAE, motivated by their belief in a merciful and just God, see it as a good thing to promote policies that care for the vulnerable and create a home for the foreigner residing in America.
Similarly, the Evangelical Immigration Table Statement acknowledges that, while Americans have competing interests when it comes to debating large-scale immigration reform, most can agree that "those who were brought to this country as children… should not be punished for the actions of their parents." And, Christianity Today reports that "[a]lmost 6 in 10 US evangelicals (57%) believe DACA recipients should be allowed to become citizens.
This is a basic principle of justice that everyone—whatever side of the aisle—should be able to agree upon. As one concerned about comprehensive immigration reform, I see this moment as the perfect opportunity to bridge the gap and take advantage of an important opportunity for consensus between Americans.
Moments like these are uncommon today— so let's seize this one.
You can argue about how we got here, and I have strong opinions on the subject, but this is the time for congressional action.
Trump Supporters, and Most Americans, Agree
According to a new POLITICO/Morning Consult poll, two-thirds of self-identified Trump voters think that DREAMers should stay in the U.S., while a mere 26% would support their deportation. That may surprise many, but, again, it's an opportunity.
In some ways, perhaps President Trump seems to be inspiring this shift among his base. On September 5, shortly after announcing DACA's undoing, Trump repeated earlier comments on the plight of DREAMers, stating that he has "a lot of love for these people and hopefully now Congress will be able to help them and do it properly."
This is a far cry from comments on other immigrants groups, and an opportunity for forward movement.
Although the scene may seem set for a time of compromise, we may in fact have a long way to go to see that happen. Congress has yet to begin the lengthy process of crafting legislation that both sides will approve. Countless organizations and non-profits have yet to discover their role in facilitating this discussion.
What Can You Really Do?
Many are wondering: What is it that I can do? Are there ways that I can lean in and meaningfully contribute?
Given the domestic nature of this issue, there are many ways for all of us to get involved.
First, get involved locally. Find out where they stand. Instead of going to battle on areas of disagreement, look for areas of common ground and fruitful discussion. Find local organizations that are serving immigrants and refugees and support their efforts.
Second, do what both President Trump and immigration advocates are both asking you to do—call on Congress to act. Members of Congress are likely to be receiving numerous calls about this issue in the coming weeks. Now is the time to make your voice heard. As a constituent, your voice matters to them and your thoughts carry weight. Tell them how you feel and how you came to that conclusion.
If you supported DACA, then that support is needed now more than ever in this legislative window of opportunity. If you opposed DACA simply because you did not feel it should happen via Executive Order, then now is your chance to get behind compassionate action. And if you opposed DACA because you truly do not support DREAMers, then I and many others (including President Trump now) encourage you to reconsider.
We stand on the soil of immigration. It is our heritage and one which, I believe, we must offer to others compassionately and deliberately as well.
Now is the time to pray and to act and to stand with those who have big dreams. You and I can help give them a future and a hope just like others gave to us.
Ed Stetzer holds the Billy Graham Distinguished Chair of Church, Mission, and Evangelism at Wheaton College, is Executive Director of the Billy Graham Center, and publishes church leadership resources through Mission Group.
The Exchange is a part of CT's Blog Forum. Support the work of CT. Subscribe and get one year free.
The views of the blogger do not necessarily reflect those of Christianity Today.