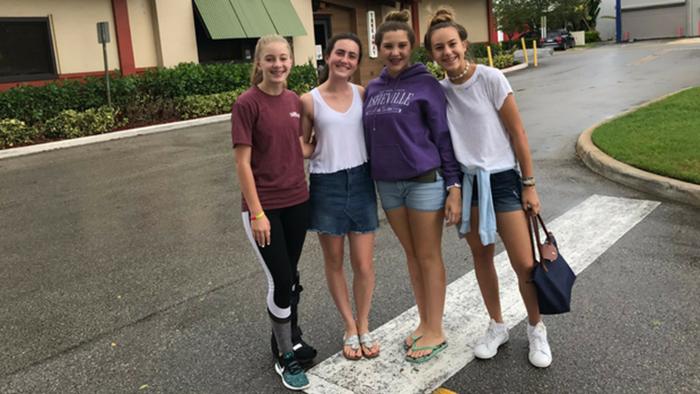 Over Labor Day weekend, I was in Miami with my youngest daughter. She keeps in touch with a number of friends she met at a camp she attended, so we met some for lunch.
My daughter and I talked a bit in the car about why she loves camp, and it inspired me to write a bit on the topic.
I recognize that camp can be expensive and is not within reach of everyone, but if you can afford such a thing, I think camp is helpful to girls. (I don't have sons, but I assume it is similar.)
But here are some reasons I think girls need camp, particularly a Christian camp where they grow in relationships, but also in relationship to Christ.
The Realities
Girls today are struggling.
By age 13, 53% of American girls are "unhappy with their bodies; by 17, that number has climbed to 78%." Furthermore, 7 in 10 girls, if asked, would tell you that they "are not good enough or don't measure up in some way." Given this, it is no wonder that 1 in 4 of them suffer from clinically diagnosed depression, eating disorders, cutting, as well as other mental/emotional disorders.
Make no mistake: those figures should break our hearts. As the father of daughters, it does.
According to a 2014 Atlantic article, there exists a stark "confidence gap" between the minds of women and men. In short, when men overestimate their ability to perform well, women are quick to underestimate their performance. They are generally less confident about their abilities and seem to prefer to criticize rather than complement their own skill levels. Why is this? Women, as authors Katty Kay and Claire Shipman put it, "feel confident only when they are perfect. Or practically perfect."
In all honesty, none of this should surprise us. During key developmental stages, girls are more vulnerable than ever to the pressures of subtle societal messaging. In today's media-driven age, they are bombarded daily by hundreds of photo-shopped images each conveying the same message: you're not good enough. Girls who take these implied criticisms to heart are left struggling the rest of their lives with feelings of inadequacy haunted by the perfection they just can't quite seem to attain.
How can we help girls know their worth and value their strengths instead of dwelling on their perceived weaknesses?
The answer: it starts when they're young. There are many ways to help grow and disciple strong girls. But, over the years, I've decided that utilizing camps which are led by Christians and teach Christian values is one of them.
Girls need to have ways to silence the noise of a society and culture that so carelessly corrupt their self-worth. They need to grow in confidence through building social skills and growing in relationships with others their own age. They need to develop new skills as well as better independence and resiliency.
For my girls, to different degrees, that's been Christian camp.
In the eyes of many parents and grandparents, summer camp is simply a way to prevent their kids from spending their summers playing video games and surfing the Internet. However, summer camps are places where non-academic learning finds its true home. Kids are thrown into unfamiliar communities and forced to grow relationally, physically, and, in many cases, spiritually. They are spending hours a day outdoors being encouraged to try new things as they explore their new environment.
For girls especially, this can be a powerful, confidence-restoring experience in several key ways:
First, camp helps girls build social skills.
The butterflies most adolescent females experience at the thought of living and playing with dozens of strangers for a week is understandably frightening at first. Getting to the cabin, staking claim on a bed, and trying to avoid awkward introductions is the initial challenge. After that, however, many girls start to realize that making friends isn't hard. After a week, these stranger become the best of friends, each leaving more equipped to build and sustain new relationships in the future.
They even get together in Miami, from a camp they attended in North Carolina!
Second, camp gives girls a greater sense of independence.
There is no denying that adjusting to new environments and unknown surroundings can be difficult. After the initial shock that mom and dad are gone and they have to make it several weeks out here on their own, most girls realize that they can do it. They're not incapable or inadequate. They're actually brave and strong. Making new friends, hiking that big mountain, and canoeing down that long river are no match for a girl with a strong sense of self.
I want to raise strong girls—camp helps us to do that.
Last, many camps offer a faith component to their programming which can do wonders for establishing confidence and fostering spiritual transformation.
The way Jesus approached and cared for women was nothing less than revolutionary during biblical times. When others would have condemned the adulterous woman, criticized the woman at the well, and cast Mary away from His feet, Jesus welcomed their presence and offered them the same gift of forgiveness that He would have given any man. For a girl to enter into a relationship with her Father in heaven—to know the truth about who she is in the eyes of the King of Kings—is ultimately their greatest hope for a restored relationship with their self-image.
Closing Thoughts
I'm concerned about raising strong girls who love Jesus and are self-confident.
For us, we've done lots of things toward that end, but we started sending them to Camp Crestridge years ago. And we've already booked her for next year. (She is pushing us to let her go for 4 weeks, but we are not sure if we are ready for that!)
But we believe that the ministry of camping is important in a lot of people's journeys. I came to Christ at Camp Wingman, an Episcopal retreat center, soon after we moved from Long Island to Florida.
Summer camps can provide young girls with a means to become more independent, self-assured, and confident in who they are as children of Christ and valued members of His body of believers. More than anything else, our hope should be that our girls leave better prepared to live full lives free of insecurities and fears and fully equipped to handle challenges they may face in the coming years.
Here at the in the graduate program I lead at Wheaton College, we will also be putting more focus on the ministry of camping, as I increasingly see it as having a global impact. You will be hearing more about our Evangelism and Leadership master's degree, with a concentration on Outdoor Adventure and Leadership, in the coming days.
Ed Stetzer holds the Billy Graham Distinguished Chair of Church, Mission, and Evangelism at Wheaton College, is Executive Director of the Billy Graham Center, and publishes church leadership resources through Mission Group.
The Exchange is a part of CT's Blog Forum. Support the work of CT. Subscribe and get one year free.
The views of the blogger do not necessarily reflect those of Christianity Today.