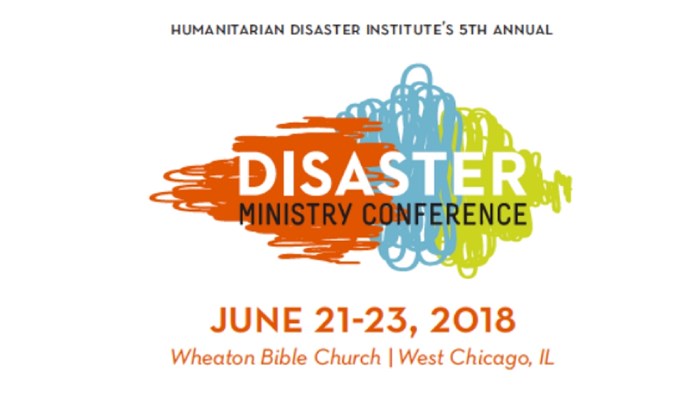 Ed: What's can attendees expect from HDI's Disaster Ministry Conference?
Jamie: The Disaster Ministry Conference will equip church and lay leaders to prepare and care for small localized crises to large national events. When most people hear the word "disaster" they often mentally pictures natural disasters, acts of terrorism, and mass shootings. Our conference will not only address these sorts of topics, but also show how disasters are related to pressing issues like the refugee crisis and human trafficking.
In addition to learning from our keynote speakers—who come from a wide range of fields and experiences and include Eugene Cho, Richard Stearns, Jo Anne Lyon, Marcus Coleman, Emily Gray, Miriam Burnett, Kent Annan, and both you and me—we will also have 16 breakout sessions divided into Disaster, Refugee, Anti-Human Trafficking, and Development Ministry Tracks led by experts in each field.
One of the greatest strengths of this conference is its ability to bring together people from different worlds. We'll have pastors, nonprofit leaders, FEMA officials, emergency management professionals, international humanitarian aid workers, anti-human trafficking leaders, and refugee advocates together in one place to explore best practices for helping and collaborating.
My hope is that people will leave the Disaster Ministry Conference with a strong sense of the great need that is in the world and the tools and connections to respond in their church, their community, and around the globe.
Ed: What does this year's theme—"Do Justice. Love Mercy. Walk Humbly."—have to do with disasters and humanitarian crises? Why is this important for people engaging in this work?
Jamie: At HDI, we point to this call in Micah 6:8 as the foundation of the work we do. Disasters are a biblical justice issue because they expose and exacerbate inequalities already present in a community. We also believe Christians and churches are called to serve the most vulnerable—and where there is a disaster there is vulnerability.
In this midst of such destruction and loss, it sometimes feels like justice is too far from our reach, but the command to "do justice" assure us that our hope in God's promise will not be disappointed, and reminds us that we have an active role to play in the bringing about of God's justice on this earth.
The call to "love mercy" grounds this in a relational truth that is essential to this kind of work. And the final words—"walk humbly"—are often the most overlooked and yet I believe they may be the most important. Swooping in to volunteer for the wrong reasons, like wanting to be a hero, is more likely to cause harm than help. Scripture is clear that humility is essential to service.
Humility helps us be more other-oriented and more open to hearing what sort of help survivors actually need. We need more Christians ready to help amidst disasters with humble hearts and hands.
Ed: Who should attend this conference?

Jamie: Anyone interested in helping their church or community become more resilient in this disaster-filled world should join us. This includes pastors, church and ministry leaders, laypeople, chaplains, academics, and college students with an interest in Christian relief and developmentwork.
This conference is also for those who commonly work alongside the church in times of disasters like emergency management, humanitarian aid, public health, and mental health professionals. Overall, this conference is for anyone with a desire to know more about how to respond as the hands and feet of Christ to all the great needs in world that have been and are being created by disasters both domestically and abroad.
Ed: Why is this conference important in 2018?
Jamie: The past year has been an especially difficult one when it comes to both disasters and humanitarian crises. 2017 was the costliest year on record in the United States when it comes to damage inflicted by natural disasters, with extreme hurricanes and wildfires impacting communities all over the country.
In fact, FEMA recently released a report showing that around 8% of the U.S. population was affected by disasters in the last year alone. Major mass shootings continue to happen on a regular basis, and the refugee crisis remains critical. Churches and faith-based groups are often among the first to respond in these situations.
It's also churches and faith-based groups that continue to remain and care for these communities ong after the news cameras have left and emergency groups have packed up and left town. It is so important that we know how to do disaster ministry well because an effective Christian response reveals God's love, grace, and hope to a hurting world.

Ed: How can people who want to be there but can't still get connected?
Jamie: Check out our website where you can access resources for disaster spiritual and emotional care, disaster ministry, and for humanitarian development. You can also sign up for our newsletter to receive periodic updates regarding upcoming events, field work, articles, and more.
We also recently launched the M.A. in Humanitarian & Disaster Leadership at Wheaton College Graduate School to prepare the next generation of humanitarian and disaster professionals to lead with faith and humility, utilize evidence-based practice, and serve the most vulnerable and the Church globally.
Learn more about the Disaster Ministry Conference at disasterministryconference.com. Register here.
The Exchange is a part of CT's Blog Forum. Support the work of CT. Subscribe and get one year free.
The views of the blogger do not necessarily reflect those of Christianity Today.