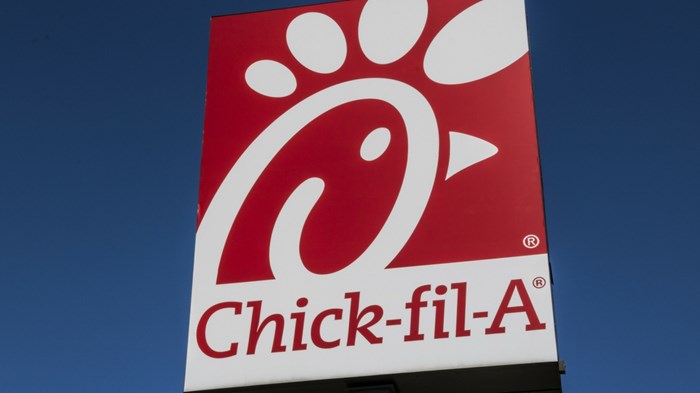 Image: By Jonathan Weiss via shuttstock
Just a few days ago, an article was published in The New Yorker discussing the "infiltration" of a certain fast food brand throughout Manhattan: Chick-fil-A.
The headline says they are creepy, but probably not in the way that some people talk about, say immigrant restaurants, since The New Yorker would be above such disparagement.
But, Chick-fil-a is run by evangelicals who hold evangelical beliefs, which makes all the difference.
Of course, some of the article is about its fried chicken and creative cow-infused branding—the message 'Eat Mor Chikin' would ring a bell in the minds of many adolescents.
But Chick-fil-A isn't just all fun and fried food. They're committed to serving people—their employees and guests—well, and with integrity. As founder S. Truett Cathy famously said, "We should be about more than just selling chicken. We should be a part of our customers' lives and the communities in which we serve."
And, I know they are committed to their Christian faith—I've done the small group leader training where some of the family serve as, well, small group leaders.
Their corporate purpose, as The New Yorker breathlessly writes, is to "To glorify God by being a faithful steward of all that is entrusted to us and to have a positive influence on all who come into contact with Chick-fil-A."
Oh no.
Not that.
Not in New York.
And, the cows…
The shock is getting old and so is the slander.
Whatever The New Yorker might think, few can argue that what Chick-fil-A is doing, well, actually works—and in more than one way. This year, the organization was among Glassdoor's Top 100 Best Places to Work and ranked number four on The Harris Poll's Reputation Quotient (RQ®) list of 100 most visible companies. Customers love their food, fast and friendly service, and commitment to community service.
Nevertheless, many have watched in frustration as fists are continually shaken at this fast food restaurant in response to its perfectly reasonable, perfectly untoward public expression of faith, and its commitment to biblical values.
When the mayor of New York city himself proposed a boycott of Chick-fil-A after one opened up in a Queens mall, it became clear that matters were well out of hand.
This morning, James Comey (rightly said) that President Trump's tweets about jailing his opponents were not normal—and got widespread news coverage. Can I say that the mayor of New York calling for a restaurant boycott is abnormal as well?
But it won't get coverage in The New Yorker, because they are busy calling the company creepy.
We know that Chick-fil-A and organizations like it shouldn't be under fire for their faith. We live in a pluralistic society where all are free to express their beliefs—religious and otherwise—without penalty. That includes, of course, the Christians who work at, own, and operate businesses in and around the United States. That also includes institutions who have mission statements or agendas inspired in part by their religious faith.
The treatment Chick-fil-A has received for its "pervasive Christian traditionalism" is getting old and tired.
How We Respond
It's easy to shake our fists at a culture that seems to at every turn want to make religious expression not easier, but harder for people of faith.
But, we must remember that our anger and frustration will never win hearts or change minds for Christ. Those emotions are a barrier to loving and caring for others well in Jesus' name.
Just as we wish to be given the freedom to hold out views, so too should we give others the latitude to express theirs. Open discussion and debate about these issues can be helpful; in person screaming matches and comment wars on social media are not.
I cite the Cathys in my forthcoming book, Christians in the Age of Outrage: Bringing Out Our Best When the World is at Its Worst, in part because of what they did: they continued to make good (fast) food, serving all people, and remaining strong in the Christian faith.
And, as a New Yorker, I believe that's a New York value as well.
Ed Stetzer holds the Billy Graham Distinguished Chair of Church, Mission, and Evangelism at Wheaton College, is executive director of the Billy Graham Center, and publishes church leadership resources through Mission Group.
The Exchange is a part of CT's Blog Forum. Support the work of CT. Subscribe and get one year free.
The views of the blogger do not necessarily reflect those of Christianity Today.