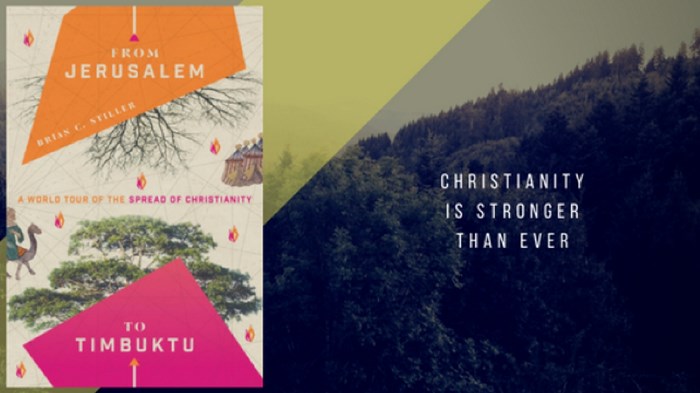 Ed: What led you to write From Jerusalem to Timbuktu?
Brian: North America media promotes the perception that the church is slowly dying. But in my travels, I see amazing communities of faith. In Latin America in 1900, there were 50,000 evangelicals. Today, there are over 100 million. In China, when Communism took over in 1949, there were about 700,000 Christians. Today, estimates range from 80 to 140 million. So, I asked, "Why? What brought about this enormous leap?"
My curious nature led me down paths of surprises.
Ed: What surprised you most in your research?
Brian: The biggest one was the contemporary role of the Spirit in witness and ministry. Ed, you and I and our generation have lived with a common reference to, and understanding of, the person and work of the Spirit, be it Reformed or Pentecostals.
What I did not see was that prior to 1900, the Spirit seemed to be caught in the shadows of the Father and the Son. There were periodic outbreaks of Spirit empowerment through the centuries, but not an understanding of how the Spirit gifts and empowers us for ministry and service. This breakout in the early 1900s changed the church.
With ministry no longer confined to pastors and evangelists, the laity discovered the Spirit was in them and that they too could exercise gifts of ministry. When this became more common knowledge, it rippled across the world, and the church has not been the same since.
Ed: Does one person or movement stand out for you?
Brian: When I was a young teenager, a South African names Nicholas Bhengu spoke in our church in Saskatoon. I had never heard such preaching, He was an evangelist who built deeply into his own land, creating an indigenous church plant that spread through the southern part of Africa.
He models for me the powerful influence, especially within the last century, of nationals taking over from the missionary, coloring in their understanding of the gospel from their own culture, language, and customs.
The gospel took on cloaks of peoples, communities, and cultures. As Jesus came into our world, so the gospel enters the lives and personalities of peoples who then speak of the gospel in languages and terms understood by their own communities. In my book, I tell many stories of how this happened in Africa, Vietnam, China, and elsewhere.
Ed: Why did you choose this title?
Brian: As I was researching, my friend Todd Johnson from the Center of Global Christianity published a map, which showed that the population density of Christians has dramatically moved. We know that the church began in Jerusalem in AD33.
As the church spread through Europe and North America, the center of that density (and that's the operative phrase, "center of density") moved through Europe. As the gospel exploded in Africa, Latin America, and Asia, that center of density also moved, landing this past year in Timbuktu Mali, Northwest Africa.
Ed: What does the future of the church look like to you?
Brian: As missiologists remind us, the gospel is serial. It comes into a community by a person who tells his neighbors of Christ. The message springs into life and people are transformed. It skips and hops through the world, without a central organizing agency except the agency of the Spirit.
We simply don't know where it is all going. In places of resistance, such as the Islamic world, stories of heavenly encounters abound, with countless individuals coming to faith. In places of secularity and gross materialism and spiritual deadness, the Spirit surprises us all as his reviving presence brings about new and vital faith.
This is Jesus' church. The global movements which capture our interest and attention are peanuts compared to the unseen presence of faith which is transforming peoples and nations.