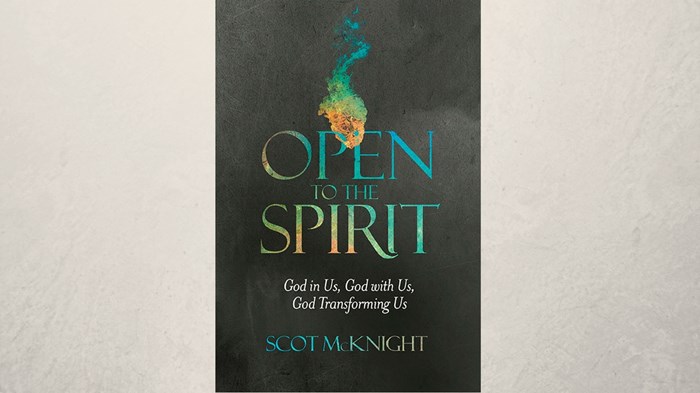 Ed: You say that the secret to experiencing the Christian life is allowing the Holy Spirit to empower us to live as God wants us to live. Why do you think so many Christians today are nervous and hesitant to open themselves up to the Spirit's work?
Scot: I see three types of hesitancy. First, some lack knowledge or education about the Holy Spirit. Some Christians come of age or are part of a church that goes mum on the Spirit, while others simply haven't listened carefully enough to hear what the Bible clearly says.
Second, some are afraid of the change that comes from transformation. The Spirit doesn't indwell in order to remain silent or to remain ineffective; the Spirit indwells us to make us like Christ. Since we are not Christlike we will have to change. The Spirit does that kind of transforming work.
Third, some have heard too many goofy stories about the extreme edges of Spirit claims. I grew up in a world that went mum on the Spirit because there were so many wild and crazy claims by some in our close circles. I understand that.
My church context was completely confident in eternal security so when I was at a church, as a youngster, and a family member told me a specific woman walking forward went forward weekly to get saved again and again, and then my family member said she needed to get baptized with the Spirit... well, I wasn't so convinced and I learned to be very guarded about the Spirit
Ed: What is the Holy Spirit's role in helping someone know they have personal salvation?
Scot: I quote Paul in Romans 5: "Hope does not disappoint us, because God's love has been poured into our hearts through the Holy Spirit that has been given to us." This hope of which Paul speaks is not optimism but genuine conviction about the future of our redemption that gives a person a place to stand on firm ground in the present.
This hope is rooted in God's love for us and God's love for us is known through the Spirit. Plus, we can refer to the Spirit's testimony in Romans 8 to conclude this: assurance and confidence about our salvation is a gift the Spirit communicates to us in our inner being.
This confidence fluctuates for many Christians while some are confident their entire walk with Christ. We can gain more assurance by learning to focus on the utter completeness of Christ's work on our behalf and of the Father's utter satisfaction with the gift of his Son.
Ed: What role does the Holy Spirit have in making us holy?
Scot: What is holiness? God alone is holy. Holiness is about God's presence. Holiness involves then for us two things: entering into God's presence (devotion to God) and exiting from the world's and sin's and the flesh's presence (separation). These three are important: holiness is about God's presence, our proximity to God and our distance from sin. Holiness is the work of the "Holy" Spirit to indwell us with God's presence and make us more godlike through God's transforming presence.
Ed: Do you believe all the spiritual gifts--described in the Bible and experienced by the disciples--are still active today?
Scot: Yes, I do. Here's why: There is nothing in the New Testament that teaches me that the gifts are only given to some people in the first generation of Christians. I could easily live with the restriction of "apostles" in the classic sense (Peter, Paul, et al) but even here we have Romans 16:7 which indicates there are "missionary" type apostles already in the New Testament era.
Those are still with us. Otherwise, I'm open to all the gifts of the Spirit. It is not ours to determine what God does through the Spirit but it is ours to be available to what God wants to do in our world through us and in us.
Ed: How does our public worship connect with being wide open to the spirit?
Scot: Good question. The Spirit's role, according to Jesus in John 14-16, is to witness to Christ and to glorify Christ in and through us. Anytime we are genuinely worshiping God as revealed to us as Father, Son and Spirit, the Spirit is present.
If we understand worship to be the sacrifice of our entire selves (Rom. 12:1-2) all day long in whatever we do, and if we understand that kind of sacrifice as surrendering ourselves to Christ, then the Spirit is the one who empowers us to worship as sacrifices to God. All of our following Christ is empowered by the Spirit.
The Exchange is a part of CT's Blog Forum. Support the work of CT. Subscribe and get one year free.
The views of the blogger do not necessarily reflect those of Christianity Today.