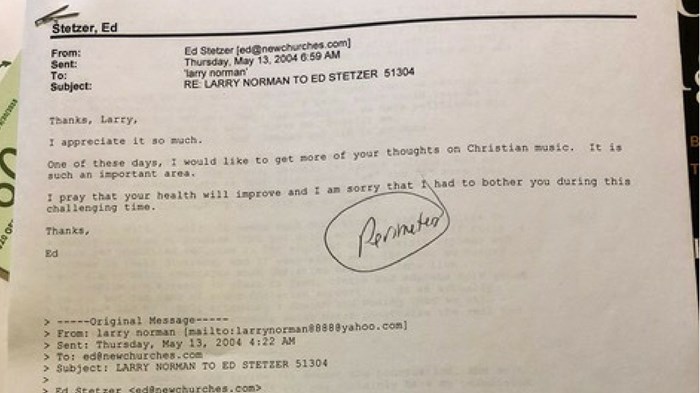 Ed Stetzer:
Thanks, Larry,
I appreciate it so much.
One of these days, I would like to get more of your thoughts on Christian music. It is such an important area.
I pray that your health will improve and I am sorry that I had to bother you during this challenging time.
Thanks,
Ed
Larry Norman:
Hi Ed,
I probably won't call you because it's 11:30 at night and you only need written permission, not a quote.
I've been very touchy about my lyrics in the past, and I've usually refused to give my permission. Especially when people want to use me as an example of rebellion. I never thought of myself as a rebel. I was operating as a satirical surgeon; trying to remove an ugly cancer from the church: The dogma which proclaimed that dance, modern music and the theater cannot be used by God because it is wholly profane.
Because I believed that God created all things in life, including the arts, then that meant that all things BELONGED to God. Christians had an obligation to reclaim the arts for the church. They are not the possession, nor the invention, of the secular realm.
But in aiming to set the arts free from a scriptural doctrine, I've been very disappointed to see the direction which this liberty has taken people. I don't see a balance in the exposition of most of the CCM artists' music, unless it is a bank balance.
And while there is nothing wrong with the artforms themselves, I can only agree in silence many times when Christians accuse the CCM industry of being ungodly in its presentation. It makes me sick to see the tattoos and facial piercings and hair colors. It reminds me of what Babylonian worshippers may have looked like. In our times, some tribes in Africa still stick bones and plates in their nose and lips and New Guinea wildlings remind me of the Cornerstone Festival on a hot day. This is not what Christ died on the cross for.
This is not an older but wiser man rising up in me. I felt this precision was required when I first launched my assault against both the proscriptive church and the sybaritic pop culture. There has to be a balance in living a spiritual life in the material world. And only God can show each person how to live. We must die daily unto self and live unto God.
The praise and worship music industry has become just as hedonistic in its excesses. Instead of seeking God's face, which would tell us to feed the poor and actively help our neighbor, we have petitioned His hands. Heal me. Touch my soul. Bless me. Benefit me. We forget to do His will, and instead ask Him to do ours.
The popularity of the Prayer of Jabez is enthusiastically misinterpreted inside our greedy Western religious culture. And our praise and worship music are very often about us and I more than about Him. And we are continually making promising. I will worship thee, I will follow, I will lift up my hands.
I will, I will, I will. It seems much more sincere and effective to simply do, than to promise that you will, and then not do. If it is pure and undefiled religion in the sight of God to visit orphans and widows in their distress, and if week after week the poor go hungry and die in other countries when Christian organizations like Compassion are already in place to feed, clothe and educate more young people but for want of wider Christian support … do we actually follow God by simply attending a church and vowing that we will continue in this hypnotic worship which never penetrates the veil and from which we cannot seem to waken?
If you can accommodate the lyrics … accept the punctuation. And omit (that) or leave it in parenthesis … you certainly have my permission to use my lyrics.
C1971 Larry Norman, J.C. Love Publishing Company / Beechwood Music (MI)
I like what you've written in this chapter. I look forward to enjoying the whole scope of your perspective.
If you want to write to me now or in the future, feel free to send emails directly to me. I'll answer them.
I'd also be interested in reading books you may have already written. This is my private email address. I sometimes don't receive emails through larrynorman.com until weeks later because we receive four or five hundred emails a week and they all have to be read and answered or re-directed to the correct destinations.
So please write to me directly if you wish.
God bless you.
Larry
The Exchange is a part of CT's Blog Forum. Support the work of CT. Subscribe and get one year free.
The views of the blogger do not necessarily reflect those of Christianity Today.