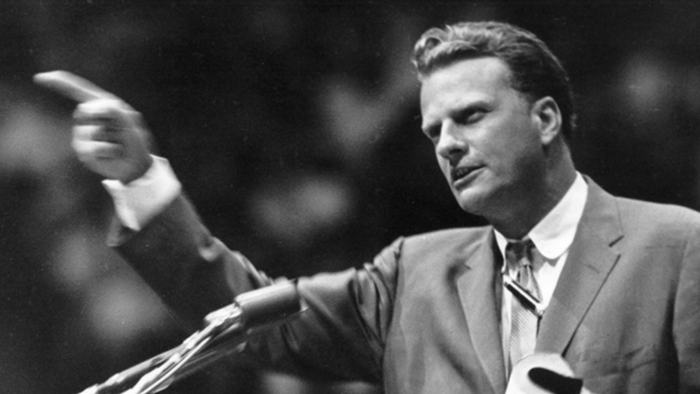 Image: Billy Graham Center Archives
I thank God for Billy Graham. Graham invited me to take the plunge into life with Jesus, and his example of trust and integrity in ministry continued to inspire me as a campus minister and professor. Throughout my life, Graham has stood at the center of the stage in the evangelical world. I will feel the void now that he is gone.
A Lit Match
When I was in sixth grade, my father took me to a Billy Graham Crusade in Houston. I remember Graham's sincerity, his earnestness, and his clear message that night. With conviction, Graham presented Jesus and his death on the cross as the only solution to a life marked by sin and a world filled with problems.
On the fifth or sixth stanza of a classic altar-call hymn (I think it was either "Just As I Am" or "Have Thine Own Way, Lord"), I nudged my dad and asked him to walk down with me from the upper deck to the field of Rice University's stadium so that I could proclaim my faith in Jesus.
Graham's confidence in the Bible made an especially deep impression on me.
It was obvious to me that evening that Graham was a gifted and compelling speaker. And at that time in my life, I had been pondering making a profession of faith in Christ. But I believe that what happened in my life that night was neither inevitable nor manipulated.
Graham was talented and effective for sure, but he was also a lit match, ignited by the Spirit of God for fruitful ministry. That night, the same Spirit lit the match of new life in my heart. Even though I had heard similar messages countless times before, in one evening Jesus went from being a great idea for other people to a precious treasure for me.
Life and Doctrine
As I began to perceive a call to vocational ministry, Graham's life shouted "follow me, as I follow Christ." Graham was far from perfect, but he took to heart Paul's admonition: "Watch your life and doctrine closely. Persevere in them, because if you do, you will save both yourself and your hearers" (1 Tim. 4:16).
Graham's confidence in the Bible made an especially deep impression on me. When many Christian leaders were wrestling with questions about the truthfulness of the Bible, Graham took the step of faith to trust fully in the message and testimony of the Bible.
Actually, the decision seems to have been driven as much by instinct as by faith. Deep down, Graham sensed that the Scriptures must be true, and he decided to give the benefit of the doubt to the veracity of those Scriptures in his life and ministry. He then placed his full weight onto the Bible whenever he preached and taught.
Graham knew that he was not above committing any sin, so he was all the more vigilant to guard his steps.
Graham's robust, orthodox, ecumenical theology helped open up a broader Christian world to me. Graham showed that by directing the spotlight to essential matters of faith and mission, believers from various perspectives could find common ground and feel more comfortable with differences on the margins.
This emphasis, along with Graham's own encouragement of inter-denominational cooperation, allowed many churches to rally behind Graham's crusades. The church of my youth was one of them. Similarly, Graham's Christianity Today kept me informed on the direction, challenges, and opportunities shaping the diverse and vibrant movement of evangelical Christianity.
In my formative years I witnessed many Christian leaders and even some of my own pastors being discredited because of personal failures that became very public. Graham took wise personal precautions in his life and ministry. He instituted practical steps to guard himself against temptations of infidelity, financial greed and impropriety, and the lure of power. Graham knew that he was not above committing any sin, so he was all the more vigilant to guard his steps.
My former professor, William Martin, wrote a biography of Billy Graham with the title A Prophet with Honor. That is an apt title for a man who honored God with his life and labors. Graham's preaching, leadership, and character reflected the holiness and nobility of the calling God gave him.
Graham relied on the power of the Spirit and the Scriptures to transform lives through the gospel of Jesus Christ, and I was one of the multitudes who experienced the rich blessings of Christ through Graham's ministry. I praise God for his faithful servant Billy Graham!
The Exchange is a part of CT's Blog Forum. Support the work of CT. Subscribe and get one year free.
The views of the blogger do not necessarily reflect those of Christianity Today.