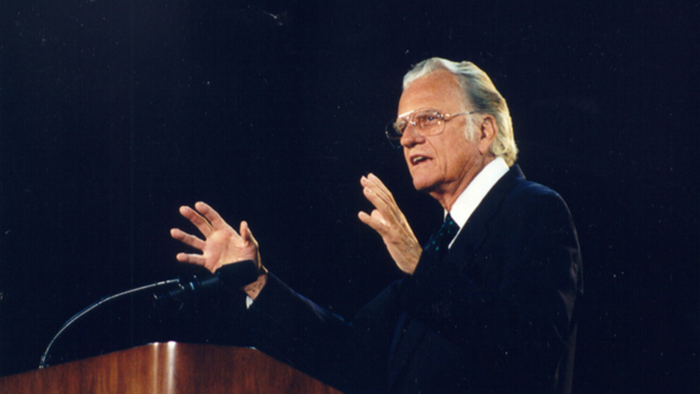 Image: Billy Graham Center Archives
Nearly a week after Rev. Billy Graham's death, so many around our world are still mourning. Closed-casket viewings will take place in Graham's childhood home on the grounds of the Billy Graham Library where the Billy Graham Association is expecting long lines and many visitors. These public viewings will be followed by a funeral service this Friday in Washington, D.C.
Before the invitation-only service, though, Rev. Graham's body will lie in repose in the U.S. Capitol Rotunda on Wednesday and Thursday. It's important to note that this privilege is regularly given to U.S. presidents, members of Congress, Supreme Court judges, and elite military personnel; rarely, though, are citizens outside these particular realms of public service given such an honor.
Looking at the size and scale of these proceedings, it becomes clear that Rev. Billy Graham wasn't just beloved by some small ground of fundamentalist followers. You don't have to be a Bible-thumper, church-goer, or even call yourself a Christian to love and respect this man.
Former President George H.W. Bush, reflecting on Graham's legacy, said:
His [Graham's] faith in Christ and his totally honest evangelical spirit inspired people across the country and around the world. I think Billy touched the hearts of not only Christians, but people of all faiths, because he was such a good man.
President Bush is right. Rev. Graham was a man who appealed to all people—believers and unbelievers—because of his exemplary character. There is much that we, the church, can learn from his leadership and legacy of outreach even today in our 21st century context.
Cultural Trends
Newsflash: we live in a broken world. The realities of human fallenness and sin haven't changed much since 1947, when Graham preached his first city-wide crusade; America needs the gospel just as much as ever.
Nevertheless, a few particular symptoms of our brokenness stand out. First off, most recognize that we live in an age of increased ideological polarization. Those who stand on the opposite side of the aisle—whether that aisle be religious or political—are seen as inferior and unworthy of respect. Discourse, for this reason, is often bitter and vitriolic.
Unfortunately, Christians too must take responsibility for their piece of the pie here. Religious leaders have, in many cases, contributed to the polarization and ill-will towards the 'other'; those who don't see the world through their same lens. Instead of being known for their warm embrace and unconditional acceptance, Christians have developed a reputation for judgment and anger against unbelievers.
The church has developed a dangerous routine: we meet people, we share the gospel, they reject it, and we write them off.
He Loved Them All
Looking at Rev. Billy Graham's life, he clearly flew in the face of these tendencies. His body will lie in the Capitol Rotunda this week not in spite of, but precisely because of his rejection of the notion that unbelievers weren't worth his time and attention.
Rev. Graham met with dignitaries from all over the world. He visited countries where practicing the Christian faith was near unheard of. He made himself a friendly, familiar face to every U.S. President after World War II. He touched the lives of millions of listeners because he understood that rejection of the gospel—or, more likely, indifference towards it—is no reason to reject a person's friendship.
When we look at scripture, we see that Christ's redemptive love comes first. He looked on the broken, hurting, and overlooked members of society and loved them even before they had considered or accepted his message. All of us are prodigal children in the hands of a merciful God who, amidst our wayward wanderings, called us home to him.
Graham recognized that we don't criticize or condemn people into a relationship with God—we simply love them, and pray for clarity from God. Those who don't understand, aren't interested, or can't accept Jesus as their Savior are still people made in his image worthy of our care and attention; alienation is never the answer.
Living in a Post-Rev. Billy Graham Era
Many have begun asking the inevitable question: Who's the next Billy Graham going to be? But as I explain in my recent article in USAToday, I don't believe this question is helpful, nor is it what Rev. Graham would want. He lived and ministered to millions not so that we could honor him, but that we would honor God.
The right question, I believe, should be: How can I be a part of the work Rev. Graham did in Jesus' name? Instead of looking for another figurehead to lead the charge, look to yourself and your local church to take up the baton and answer the call to proclaim the gospel far and wide.
Going forward, we must recognize that truly effective evangelism never was a matter of anger, resentment, or bitter discourse. It's a matter, as Rev. Graham showed us, of friendship, mentorship, and unconditional love—the kind that Christ gives us each and every day.
This morning I was on NPR. Check out what I shared about Rev. Graham and his impact upon our world, and the role of evangelicals today.
Ed Stetzer holds the Billy Graham Distinguished Chair of Church, Mission, and Evangelism at Wheaton College, is executive director of the Billy Graham Center, and publishes church leadership resources through Mission Group.
The Exchange is a part of CT's Blog Forum. Support the work of CT. Subscribe and get one year free.
The views of the blogger do not necessarily reflect those of Christianity Today.