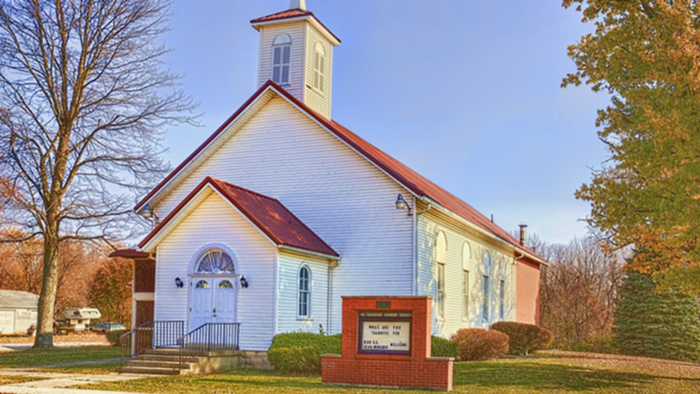 Numerically, smaller churches dominate U.S. life. They should also be key parts of the mission.
There is much benefit, therefore, in identifying various ways that smaller churches can reach their communities and beyond for Christ. This chapter will identify and briefly expound a few ways small churches can be mission-minded, both locally and globally. They are in no particular order of preference or importance, and there is certainly no expectation that a church on mission would only select one of these opportunities. Many coalesce together and can be seamlessly integrated to form a more fully orbed missional church.
Small churches can serve the hurting and the poor.
Today, churches are known for many things, but meeting the needs of the hurting and poor is rarely (if ever) one of them. If we join Jesus on his mission, I think we too will serve those who are hurting. In fact, I think the world is often confused when they see a church that claims to follow Jesus but is not actually doing much of what Jesus did.
They know he healed the sick and ministered to the hurting, and they wonder why a church would be unengaged in these areas. To paraphrase Ghandi, "Why do your Christians look so little like your Jesus?"
Think back to the early church. One of the primary activities they were known for was serving the poor. As one Roman emperor, Julian the Apostate, wrote:
These [Christians] not only feed their own, but ours also; welcoming them with their [love], they attract them, as children are attracted with cakes . . . Whilst the pagan priests neglect the poor, the hated [Christians] devote themselves to works of charity, and by a display of false compassion have established and given effect to their pernicious errors. Such practice is common among them, and causes contempt for our gods.
He knew that acts of charity towards the least of society in the name of Jesus were having a profound effect. The marginalized, those who had little to give to society, still had value and worth in the eyes of God and Christians, and as their needs were met their hearts were opened to abandoning false gods and learning about Jesus.
Small churches can recapture this passion for ministering to the hurting in their communities. You don't need state-of-the-art worship facilities or a seven-digit church budget to care for those in need. You only need to be willing to engage and empathize with the downcast and weary, and in doing so you might see their hearts opened to Jesus.
Small churches can partner together, either through association via a denominational structure or as part of a city partnership, to pool resources towards this end. A food pantry that is stocked once per month by a different church is an affordable way that small churches can contribute. Giving to a ministerial alliance fund specifically created to assist with an overdue utility bill or missed rent payment means the world to someone on the brink of having their electricity cut off or being evicted from their home.
Some churches have partnered together to pool money in an effort to help the poor out of the vicious cycle of predatory lending and title loan companies. With interest rates often exceeding 400% (and sometimes 4,000%), persons who are at the end of their financial rope are falling prey to such loans not because they lack business savvy but because they have no other option. In the long run, these loans always cost the borrower much more than a regular loan does.
One such example is University Heights Baptist Church in Springfield, Missouri. They partnered with a local credit union, providing $20,000 in seed money, to begin a program of helping those with high-interest loans.
Small churches can make a tangible difference in the lives of the poor in their community by helping them get out of debilitating debt. And a person who has been helped in a tangible way is often open to hearing about Jesus.
Small churches can be on mission by helping members become certified as foster parents.
In many states, foster care workers are overworked, underpaid, and incredibly stressed. In any given year, there are over 400,000 children in the foster system. States are always looking to recruit more certified foster parents. In 2016, multiple states were forced to house children in foster care offices or motels, sometimes for only a day or two but sometimes for weeks at a time.
Small churches could easily work towards certifying three to five families in their congregations, which would have an immediate impact in several ways. First, children could be placed in caring homes on their first night instead of in hotels, offices, or already-crowded foster homes. Second, Christian foster homes have a unique opportunity to care both for the physical and spiritual needs of displaced, confused, and hurting children.
In 2016, 60 percent of all children in foster care were non-white. One way churches can become more multiethnic is through foster care. I have a friend who, along with his wife, has been certified as a foster parent for over five years.
They have had multiple ethnicities and races in their home and always make a point to bring children in the foster system to church with them. In one instance, their church pooled resources together to help the mother of their foster children. She desperately wanted to regain custody of her children but needed an apartment and furniture before the state would return them to her. After she found an apartment, church members collected couches, beds, and other living necessities and helped to furnish her apartment.
It was a holistic effort at ministering to this family, meeting the needs of both the children and the mother. Other instances include parents being invited to church on Sundays so they can see their children in addition to their state-appointed foster care visits (of course this needs to be discussed with the case worker to ensure the safety of the children).
Often, foster care will result in children being reunited with their parents (or a relative). Sometimes, though, children are made available for adoption. Currently there are over 100,000 children in foster care who are eligible for adoption. As James instructs believers, part of living the Christian life is caring for orphans.
Not everyone is called to adopt from foster care, or even adopt at all. But we are called to care for orphans, and small churches that are engaged in foster care can minister to children in vulnerable circumstances. What time could be better to tell them of a Father who created and loves them and a Savior who came to be the rescuer?
Small churches can identify an unreached people group or an unengaged unreached people group and begin strategizing ways to share the gospel with them.
An unreached people group is defined as a population similar in language and customs that has less than 2 percent of an evangelical presence within its group. According to the International Mission Board, there are currently over 6,700 unreached people groups in the world. Unengaged, unreached people groups are unreached people groups that have no active church planting strategy among them. Currently, there are over 3,000 unengaged, unreached people groups in the world.
Small churches can engage the lost by identifying and beginning to plan ways to minister specifically to one unreached or unengaged, unreached people group. Time in weekly corporate prayer should be devoted to this people group.
Members can spend time in daily prayer for the needs of these people. Certainly there are spiritual needs; that is why they are an unreached people group. Pray for Christ to be made known to them. But there are also various physical needs that can be prayed for. These will be unique to each group, but churches that are serious about making Jesus known in all the world will be compelled to pray for wholeness of life.
As with many things, as we become committed in prayer for a certain matter (especially those with spiritual implications), God moves our hearts to do more than pray. I know a pastor of a small church who has begun a partnership with a missions agency.
After six months of research and four months of congregational education, his church adopted an unreached people group in West Africa. A few times each year, he and a few others fly over and spend a week hiking from village to village sharing the good news of Jesus. The cost isn't exorbitant ($2,000 round trip per person).
In seventeen trips, they have shared the gospel in countless villages and have seen over thirty-five people come to declare Jesus is Lord. They are making a legitimate and successful attempt to push back the darkness and make disciples that will one day worship King Jesus for eternity.
In Part 3, I'll continue identifying ways smaller churches can reach their communities and beyond for Christ.
Ed Stetzer holds the Billy Graham Distinguished Chair of Church, Mission, and Evangelism at Wheaton College, is executive director of the Billy Graham Center, and publishes church leadership resources through Mission Group.
The Exchange is a part of CT's Blog Forum. Support the work of CT. Subscribe and get one year free.
The views of the blogger do not necessarily reflect those of Christianity Today.