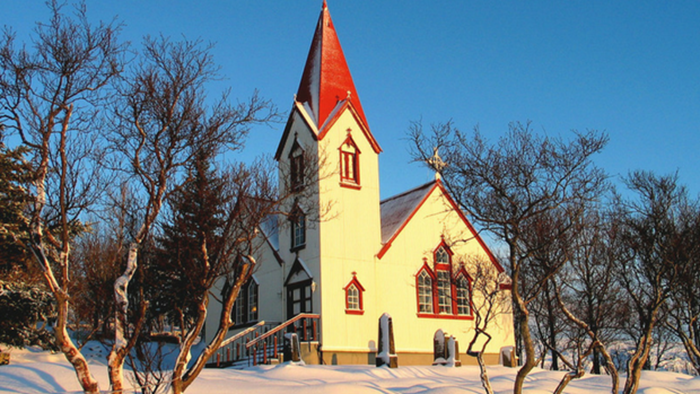 Small churches can adopt the same (or different) unengaged, unreached people groups currently living in the United States.
In addition to overseas work, consider how you can share the gospel effectively and long-term with a people group in America. States like Oklahoma, Louisiana, North Carolina, and Iowa, to name only a few, have thousands of people who comprise various unengaged, unreached people groups.
They are as spiritually destitute and lost as those living overseas without a gospel witness. If your church is geographically near one of these groups, then begin praying about how you can begin a ministry to them. Preach on the value of avoiding worldly wealth and, instead, storing up treasures in heaven in hopes that some of your members will envision themselves selling their homes and moving closer to this group to encounter them daily in their neighborhoods.
These groups, depending on location, are either centralized (think one main neighborhood) or decentralized (think ethnic neighborhood[s] spread throughout a city). But as a people group, they share common languages and customs. Interacting with them in their environment, learning their culture, understanding their traditions and religion(s) will allow you to be better prepared to engage them with the gospel.
Befriend them. See them not as a project to be conquered or a task to be checked off the list, but people who are lovable and need to learn about their Creator.
Churches that are willing to pursue both international and national unengaged, unreached people groups could look, for instance, at the Khuen people. There are 3,000 in the San Francisco area and 13,000 in Myanmar (formerly Burma). Churches in or near the Bay Area could interact with U.S. residents first and begin incorporating international trips as well.
The cultural similarities, despite the distance of almost 8,000 miles between San Francisco and Myanmar, unite these people much more so than it divides them. Myanmar has a long history of mission work (read about Adoniram Judson and his work in the country in the first half of the 19th century).
Small churches can make an impact simply by making their building(s) available to various constituencies in their communities.
Typically, small churches use their facilities no more than six hours per week. The other 162 hours of the week buildings sit empty and woefully underused. Open your property to a church plant in need of a place to worship. Invite the local addiction recovery chapter to meet in your building for as long as they want. Offer to provide coffee and cookies baked by a different member each week.
Neighborhood association meetings are often looking for a place to hold gatherings. These take place no more than once a month (usually much less frequently) and are a wonderful way to get people to come to your building. Boy Scout and Girl Scout troops are always looking for places to hold weekly meetings. Let your building(s) be a blessing to your community. Value relationships with your neighbors more than you value the cleanliness of the carpet in your sanctuary.
Serving people is more important than a pristine fellowship hall. Your community will soon take note of which churches care about them and which churches care only about themselves. Be the former, not the latter.
One of the most successful ways of serving your community is to offer a free night of babysitting so parents can have a date night. Sometimes this is structured around Christmas so parents can shop together without having to bring their kids and hide purchases.
Often it is simply a random Friday or Saturday evening where parents can spend an evening strengthening their marriage without shelling out $20–$40 on a babysitter. The kids are served a meal, presented a Bible lesson, and allowed to play together.
At pickup, church members tell parents about one unique thing their child(ren) did that night, showing that each child was valued. It is also a time where families can be invited to attend worship the following Sunday. Something as simple as taking down their name, address, or email for the promise of inviting them to future 'Date Night' babysitting events produces a ready-made list of prospects for future contact and evangelism.
In any way that you use your building(s) to serve your community, make sure you have members at each meeting to unlock the facilities and to welcome all who enter. They are there to assist, not to eavesdrop on the meetings.
A warm welcome goes a long way towards showing them you really care about them, not simply that you're begrudgingly providing a community service. And it should go without saying, but just so no one misunderstands, all of these opportunities should be rent-free for the users. Don't try to make a buck off of your community. Don't even justify it as covering your costs.
Take the hit; pay for the electricity usage out of your own pocket. Some might demand that they pay and that's okay. Just make sure they know you're going to designate the money towards something worthwhile in your community, like funding the food pantry mentioned above. People will appreciate hearing that their gifts aren't going to pay the salaries of church employees.
Provide an environment where the arts are offered to neighborhood children.
Christianity used to be the epicenter of the arts. The best in music, sculpture, paintings, etc., all flowed from a Christian worldview. This has reversed since the Enlightenment and the church produces very little art, though it is making a revival. With cuts to local school budgets, small churches are primed to lead the way in their communities by offering free (or substantially lower-than-market-rate) piano lessons.
The congregational pianist could invest five to ten hours per week tutoring children for a determined period (say an academic school year) and tie continued participation in the program with successful school grades. This gives students incentive to participate and the benefit of learning how to play an instrument.
Churches are also usually able to offer instruction in other artistic venues such as choir or painting. While older children may not find participating in choir appealing, I have yet to meet a younger child (say, under eleven) that doesn't love to sing.
A neighborhood kids choir provides children an opportunity to learn how to read music, how to operate in a group, reinforces the discipline needed to memorize words and notes, and offers an environment that celebrates all that is good within the arts. As for painting, children regardless of age love to paint. Churches could provide the supplies and children bring their own canvases, both groups sharing the cost of this ministry. Imagination and the ability to create are God-given blessings that humans can use to glorify Jesus. Small churches can lead in reclaiming the arts towards a Christian focus.
In any and all of these artistic venues, make sure that teachers are linking the beauty of music and art with the Creator God. We celebrate the splendor of nature not because it is an end to itself, but because it points to God (Ps 19:1).
Romans 1:20 explains that creation teaches us about God's power and nature. Because we experience creation, we can know some things about him. Therefore, we can teach about God while we use the arts to serve the community.
Small churches can "adopt" a particular local group and consistently serve them.
This could vary from groups like police or fire departments and EMTs, to the teachers at a particular elementary, middle, or high school, to a retirement home. Having a long-term relationship with a particular group fosters a deeper level of commitment and love than can occur with a one-time service project.
The longer you serve this group, the more you will come to know them as persons, the more deeply you will involve yourself in their lives, the more intimately you will know their hurts and needs. Being able to sit with someone who is losing a family member to cancer happens after years of loving service, not because you mowed their lawn once or cleaned the leaves out of their clogged gutters.
Once a year, have a celebration dinner on behalf of your group. Cook a nice meal, have the kids' choir sing the songs they've learned that year (as mentioned above), and honor them for various accomplishments they have achieved in the past year.
Create silly awards to pass out, give people a reason to laugh together. Make it an event that they look forward to each year. Show them that they matter, that someone appreciates them for who they are as persons. Make sure the event is saturated in Christian themes, such as love, compassion, and hope. Let them hear with their ears (as they have seen with their eyes throughout the past year) that Jesus loves them.
In Part 4, I'll round up the ways smaller churches can reach their communities and beyond for Christ.
Ed Stetzer holds the Billy Graham Distinguished Chair of Church, Mission, and Evangelism at Wheaton College, is executive director of the Billy Graham Center, and publishes church leadership resources through Mission Group.
The Exchange is a part of CT's Blog Forum. Support the work of CT. Subscribe and get one year free.
The views of the blogger do not necessarily reflect those of Christianity Today.