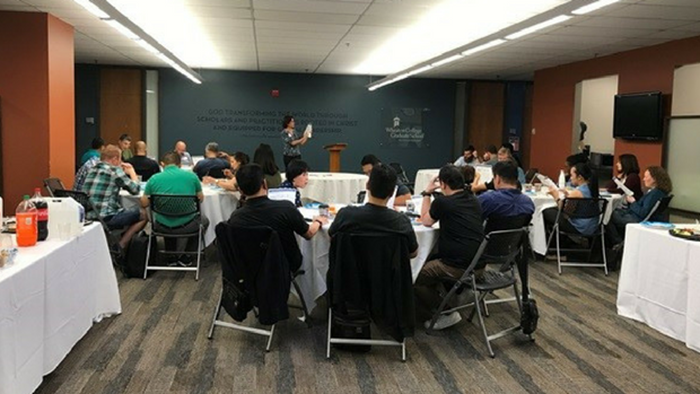 Ed Stetzer: Why bring the church and the academy together? Why is that important?
Colin Smith: Study matters, but so does hands-on experience. So bringing what can best be learned in the classroom together with what can best be learned in the church offers the best way to equip leaders for sustainable ministry.
Ed: What's the advantage of doing theological formation while in ministry apprenticeships?
Colin: Everything we do in life needs to have a purpose and that includes studying theology. When people say, "I want to do a degree in theology," I ask them, "Why? What is God calling you to do with your life?" The answer I hear most often is, "I want to serve the church." That's a great answer, but anyone who wants to serve the church will be best prepared for what they want to do by being immersed in the life of the church. That's the opportunity we want to offer, and it has huge benefits in making progress towards the goal.
Then when it comes to the complexities of church leadership, the art of pastoral care, and the demands of sustaining a preaching ministry, nothing can beat a total immersion in the life of a healthy local church.
Weeping with those who weep is better learned at a funeral or beside a hospital bed than in a library. Rejoicing with those who rejoice is better cultivated at a wedding or a baptism than in a classroom.
Ed: What do you hope for people who walk through the apprenticeship / academic partnership?
Colin: The partnership is designed to bring people to a place where they are ready to be deployed in ministry. I would like to see people who commit to this program gripped by the gospel, devoted to the church, fired up for service, passionate about godliness, confident in the Lord's ability to sustain them, and, wherever possible, free from crippling debt (which is why this program is so reasonably priced).
Ed: If you were apprenticed, tell me the story a bit and how it impacted you.
Colin: Before becoming a pastor, I had the opportunity of working alongside my own pastor, Derek Prime, at Charlotte Chapel in Edinburgh, Scotland. That gave me the opportunity of sitting in on staff meetings, visiting members of the congregation, and, on one occasion – that is still terrifying to me as I recall it – preaching in the church.
Derek is a man who walks with God. His life is marked by unusual wisdom and discipline. The months I spent with him shaped my life and ministry. Derek is now 88 years old and he has remained a life-long mentor and friend. I spoke with him by skype just last week and continue to thank God for his enduring influence in my life.
The long term value of what I gained in those months at Charlotte Chapel has fed my desire to open up similar opportunities for those who are called to serve the Lord in ministry today.
Ed: You've mentioned Spiritual LIFE, Biblical DOCTRINE, and Ministry SKILLS. Why those three things?
Colin: That's straight out of 1 Timothy: Watch your life, watch your doctrine, and stir up the gift that is within you (1 Tim 4:16, 4:14, and 2 Tim 1:6). These were Paul's priorities for Timothy as a young pastor, and they are the priorities for anyone who wants to serve the Lord in vocational ministry today.
In my experience, the most common reason for people dropping out of ministry is that they were not able to sustain the level of spiritual life needed for the demands they face. Ministry flows from a fountain of love for the Lord and His people, fed by a deep confidence in the authority and sufficiency of His Word. If that fountain runs dry, a pastor or missionary will soon be overwhelmed.
Students of theology can come out of their academic training spiritually drained rather invigorated and sometimes their studies lead to confusion rather than clarity. So cultivating a strong grasp of the central doctrines of the faith, and knowing how to apply them in ministry, is crucial to sustainable ministry.
With regard to skills, anyone in vocational ministry needs to know how to communicate the Word of God, how to minister in pastoral care, and how to lead effectively. And the best place to learn these skills is not in the classroom but in the local church, where they are both modelled and practiced.