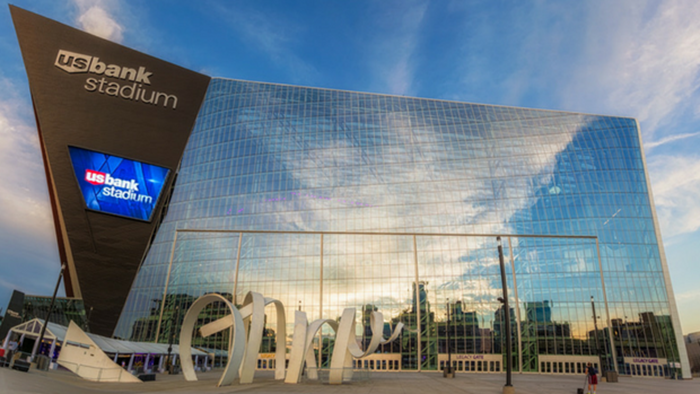 Super Bowl LII is today and football fans across the country will gather around their television screens to watch the New England Patriots and Philadelphia Eagles battle it out at U.S. Bank Stadium. Nachos and wings in hand, one thing's for sure: we're in for quite a night.
Athletic events have a real knack for bringing people together—no really, I mean that. Even when the Philly and Pats fans in your home start going at it with each other, it's the enthusiasm and mutual appreciation for the game that really matters… am I right?
Most spectacular of all is the platform players from these two teams have been given. For one night of the year (and many more in between), they're able to capture the attention of Americans in cities across the country—111.3 million in total just last year, making it the most watched television event of 2017.
I can't help but wonder: What are the implications of this kind of nationwide, worldwide fame? Moreover, how might one approach the stewarding of such a vast fortune and deeply influential public image?
For some in positions of power in the NFL and elsewhere, these questions are seldom even asked. Most are quick to use the gifts they've been given to self-satisfy and gratify. They turn to the usual remedies, using their resources to buy love, affirmation, approval, and most importantly, an escape from burdens heaped on by the demands of a success-obsessed culture.
But for others, the question matters, and so do the implications of the response. For players who claim to follow Christ, there is an understanding that the resources at their disposal do not belong to them—they really belong to God. What they choose to do with what they've been given—among them skills, time, and resources—isn't inconsequential, but instead a decision of great spiritual importance.
Several men playing in tonight's game have been brave in public expression of their faith. They've done what they can to glorify God both inside and outside the stadium, showing followers of Christ what it looks like to be bold in the proclamation of our faith in an often unfriendly cultural context.
Player Profiles
Rex Burkhead is the New England Patriots running back. He tells of his journey to faith and speaks to how it affected everything about his life—particularly, his motivation on the field. Before coming to Christ, Burkhead testified to the immense pull he felt towards worldly accolades. He craved success and found himself increasingly drawn toward self-centeredness.
But in an interview, he talked openly about the change he experienced in his heart upon giving his life to Christ, saying that time on the field "was no longer for myself, for those worldly desires and goals" but instead "to give everything to Him [God]."
In his own words, going forward he sought to learn how to play "the way Jesus Christ would have played."
This mentality—one centered around service of God and others, in lieu of self—seeped deep into Burkhead's life and ministry. While playing for Nebraska, a life-changing encounter with a young cancer patient, Jack Hoffman, led him to start the Team Jack Foundation, an organization dedicated to raising funds and awareness to combat pediatric brain cancer. It's an outward sign of an inward change that took place in Rex Burkhead's life—a testament to the power of the gospel message for all to see.
Trey Burton—a player for the Eagles in today's game—is also a man of great faith. In an interview, he told The Increase about what the call to follow and glorify Christ means to him: "complete surrender." For Burton, it looks like living in "constant relationship" with Christ and learning to allow "the Lord to have full reign over our lives for his glory."
For Burton, much like Burkhead, this deep and abiding faith has implications on actions both on and off the field. Just this summer, several NFL players and their families went down to the Dominican Republic with International Justice Mission, an organization that works to combat human trafficking and slavery.
Burton and his wife were one of the couples on the trip. He writes, "Ever since my wife and I heard about their work about a year and a half ago, this ministry and the battle they're fighting has been heavy on our hearts." During their time in Santo Domingo, they were deeply impressed by IJM's work—namely, the organization's cooperation with local officials and churches to better engage in the fight against the nation's booming sex trafficking industry.
Upon his return, Burton has since dedicated himself to finding more ways to "raise awareness and money for this mission" so that the suffering he saw is no longer a reality abroad or here in the U.S.
Human Trafficking at the Super Bowl
Burton's advocacy against human trafficking comes at an opportune time. Most are well aware that large sporting events and other gatherings can quickly become hotbeds for sex trafficking even here in the U.S. Amidst our celebrations, we must remember those living in bondage for whom Sunday night will likely bring increased abuse and exploitation.
Fortunately, nonprofits are springing into action in preparation for Sunday's game in Minnesota. In Our Backyard, an Oregon-based anti-human trafficking group, is planning to distribute "Freedom Stickers" with the National Human Trafficking Hotline clearly marked for women to call should they find themselves in unsafe circumstances.
Together, we as a Christian community should pray for tonight's game even as we become engaged in the rivalry itself. We should ask God to bless and strengthen these and other players who have so boldly taken a stand for Him. We should pray for him to aid them as they use their voices and leverage their platforms for his kingdom. But, of course, we mustn't forget to lift up those involved in the sex-trafficking industry, asking God to bring freedom to the oppressed and enslaved as only he can.
Ed Stetzer holds the Billy Graham Distinguished Chair of Church, Mission, and Evangelism at Wheaton College, is executive director of the Billy Graham Center, and publishes church leadership resources through Mission Group.
Laurie Nichols, who directs communications for the Billy Graham Center, contributed to this article.
The Exchange is a part of CT's Blog Forum. Support the work of CT. Subscribe and get one year free.
The views of the blogger do not necessarily reflect those of Christianity Today.