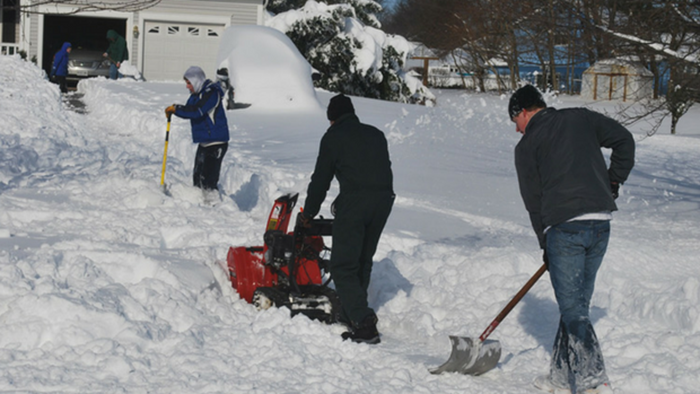 The church in the West lives in exciting and challenging times. People are truly considering what it looks like to be a missionary in their cultural context now more than in the past 100 years. This has been a great thing for the church, and a large part of this new movement is because pastors are getting excited about missional ministry.
They are leading their churches to think and pray about how to contextualize the gospel in an increasingly post-Christian culture.
However, among the pastors of this new movement, there is concerning statistical and anecdotal evidence that the talk of 'being missional' is replacing the actual practice of mission as it pertains to sharing our faith with our friends, neighbors, coworkers, and family. I am convinced that the pastor drives both the intention and the action behind evangelism in the church.
Not too long ago I shared statistics and thoughts on the difference between intention and action regarding evangelistic efforts with Influence Magazine.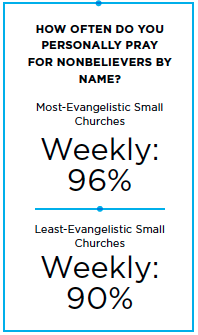 The first statistic I shared in the article was concerning prayer for nonbelievers: 90% of even the least evangelistic pastors of small churches pray for unbelievers by name, whereas 96% of the most evangelistic pastors make that a weekly practice. The statistics are high, even for the least evangelistic pastors.
The second statistic of note is the action of evangelism towards nonbelievers. Only 87% of the most evangelistic small church pastors share their faith on a weekly basis.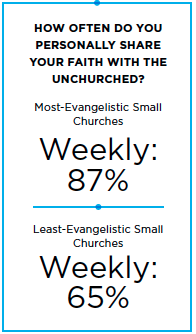 There is a nine-point percentage difference between how the most evangelistic pastors pray for the lost, and how pastors share their faith with the lost. As I mentioned in the article, "The intention is there, but the action isn't matching up. In other words, just about everyone is praying, but not everyone is sharing."
In Matthew 9, we have great insight into the praying mind and heart of Jesus:
When he saw the crowds, he had compassion for them, because they were harassed and helpless, like sheep without a shepherd. Then he said to his disciples, "The harvest is plentiful, but the laborers are few; therefore pray earnestly to the Lord of the harvest to send out laborers into his harvest." (Matt. 9:36-38)
Jesus loved people, and he loved to pray. As he felt compassion in viewing the crowds like sheep without a shepherd in Matthew 9, he urges the disciples to pray in the midst of giving them assurance that the harvest is indeed plentiful. While there may be difficulty and hardship in evangelism, Jesus says there are many ready and waiting to hear the good news and respond in faith.
In the article, I observe, "Prayer without action is as effective as filling up a car's gas tank only to park it in the garage and never drive it." There are many pastors who love Jesus and love the lost, yet cannot seem to lead their congregations towards evangelism and reaching people with the gospel. They host prayer meetings, revivals, and dedicate time weekly to a prayer meeting. These pastors plan evangelism trainings from experts in the field, complete years of Bible study, and yet utterly fail at leading their congregation to loving and reaching their neighbors for Jesus. I've advised pastors like this, and this sadly becomes a normal state rather than the exception. What is the cause of this disparity?
I attempt to answer this in the article:
Part of the answer is fear. Since the Garden of Eden, Satan has used fear as a motivator for evil action or evil inaction. He tempted Eve with the fear of missing out when he said: "For God knows that when you eat from it your eyes will be opened, and you will be like God, knowing good and evil" (Genesis 3:5). Perhaps fear silenced Adam as his wife faced the greatest battle of her life. Today, fear is still at work, paralyzing the church into inaction.
It is fear that drives so many good intentions but no true action. And that is very much against the pattern of Jesus.
As the very next verse following our Matthew 9, it says that Jesus "...called to him his twelve disciples and gave them authority over unclean spirits, to cast them out, and to heal every disease and every affliction" (Matt. 10:1). As we continue in the same scene, Jesus sends the disciples to the Jews, to witness and proclaim the Kingdom of God. This is remarkable. After he prays, he sends. Jesus urges the disciples to pray in light of his compassion, then he immediately sends out the 12 with authority over unclean spirits.
We have to follow Jesus. Our prayers must result in real, evangelistic, intentional action.
Here are three ways to turn your intention to action in the day to day:
1. Consistently host a community event at your house, like a cookout or dessert night. Go to your neighbors' houses with an invitation in hand, knock on their door, and invite them personally to your house. At the first event, plan a second and ensure people are invited before they leave. This will discipline your schedule to make time for the people in your proximity.
2. Spend time intentionally going and meeting people where they live, work, study, or play. This might mean moving some non-sensitive staff meetings to a coffee shop. Stop and talk to the barista. Go to the same restaurant consistently and tip well. Park outside of your garage and make a point to speak to your neighbors. Do your outdoor chores on the weekends and during a time when your neighbors will be outside.
3. Weave the truth of the gospel through as many conversations as you can, seeing yourself as a translator of the good news of Jesus into the lives of others. If you tip well, explain to your friend who is shocked by the amount that generosity flows out of who you are because you have been gifted everything you have by Jesus. If you are challenged about your beliefs, respond with clarity on how Jesus has changed you and invite that person to be changed by Jesus.
As I conclude the Influence Magazine article, I give a charge to pastors and now to you:
Pastor, the only way your church will overcome the gates of hell in your community is if you act on your evangelistic intentions. This is the difference between death and life, between effectiveness and apathy, between advancing the gospel and letting Satan seduce the people God has called you to reach. Don't stop praying. Just make sure you also start going.
As you speak the gospel to your neighbors, your church will follow. Let's do it together.
Ed Stetzer holds the Billy Graham Distinguished Chair of Church, Mission, and Evangelism at Wheaton College, is executive director of the Billy Graham Center, and publishes church leadership resources through Mission Group.
The Exchange is a part of CT's Blog Forum. Support the work of CT. Subscribe and get one year free.
The views of the blogger do not necessarily reflect those of Christianity Today.