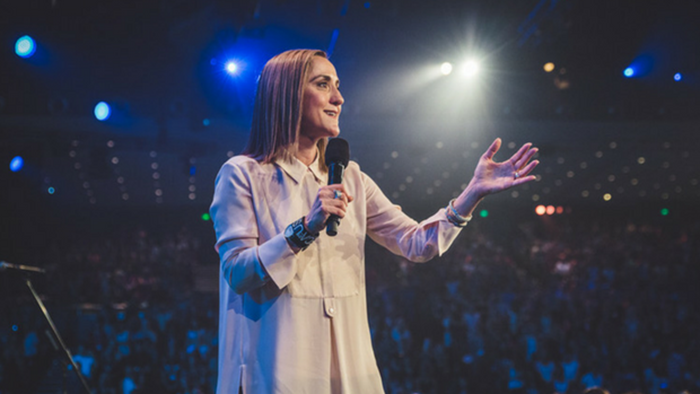 Ed: First, tell us a little about your background.
Christine Caine: I was born and raised in Sydney, Australia, the daughter of Greek immigrants. If you have seen the movie "My Big Fat Greek Wedding," then you will know my Big Fat Greek Life.
At age 33, I found out I was adopted and it was shocking to discover I was not who I thought I was. My faith in Jesus is what sustained me during those tumultuous days, as it did dealing with the sexual abuse I had encountered when I was younger. I truly know that even when your very foundations are rattled, an unshakeable faith in Christ can and will sustain you.
Today, my husband Nick and I have two daughters, Catherine and Sophia. I write books, travel the world telling people about Jesus, and have the honor of bringing the gospel to the globe through my Equip and Empower program on TBN. Nick and I oversee A21, a global anti-trafficking organization we founded almost 10 years ago. We also started Propel Women, an organization designed to activate the passion, purpose, and potential of every woman for the purposes of God.
Ed: You have a new devotional out called Unshakeable. How do you personally define the term "unshakeable"? And why do you think it's important for others to have an unshakeable faith?
Christine: Faith that is unshakeable is faith that is impossible to change, shake, or beat down. It is the kind of faith that rests on the confidence of knowing that Jesus, our rock and mighty fortress, has promised to never leave us nor forsake us.
Having that kind of unshakeable faith is important in the turbulent times we are living in. God wants you and I living on mission. On point. Fulfilling all that he has called us to do. In order to fulfill our destiny in him, we must have a faith that grows bigger than any storm we encounter and any fear shaking our world.
Ed: With Unshakeable, what is your challenge for readers?
Christine: Hebrews tell us that we have received a kingdom that cannot be shaken (12:28). That kingdom of God is on the inside of each of us. My challenge to readers is to live like they believe that to be true. When we believe that is true, it changes how we live. We take risks. We face fear head on. We stand on Jesus, our solid rock, in the midst of any storm.
Ed: How is Unshakeable different from other devotionals?
Christine: The focus of this devotional is up, not in. It is a tool to help you immerse yourself daily in God's truth, fix your eyes on Jesus, and develop unshakeable faith. The goal is to activate you, the reader, to live out your faith in the world around you, pursue the passions God has placed in your heart, and fulfill the destiny he has created uniquely for you.
Ed: How does this devotional work with your other books—Unashamed, Undaunted, and Unstoppable?
Christine: Scripture tells us, in Romans 8:37, that "we are more than conquerors through Him who loved us." I will always minister from that place of victory. And because he has given us the victory, we can live unshakeable, unashamed, undaunted, and unstoppable.
Each of those words is a declaration of who we are in Christ Jesus.
Ed Stetzer holds the Billy Graham Distinguished Chair of Church, Mission, and Evangelism at Wheaton College, is executive director of the Billy Graham Center, and publishes church leadership resources through Mission Group.
The Exchange is a part of CT's Blog Forum. Support the work of CT. Subscribe and get one year free.
The views of the blogger do not necessarily reflect those of Christianity Today.