Jan 17, 2018
work, new book, priest, identity
One-on-One with Scott Breslin on Embracing Our Priestly Nature at Work
There is innate dignity to every occupation and job a Christian might do. |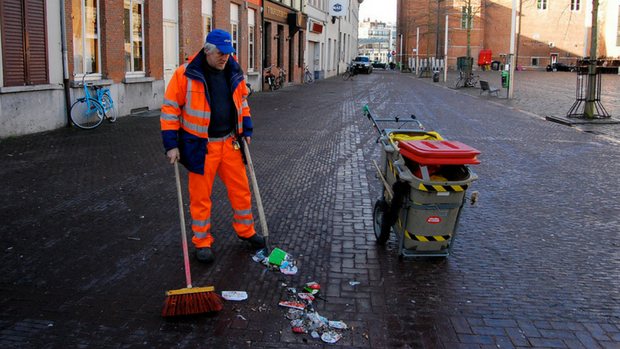 Image: My Name's Axel / Flickr
Ed Stetzer: What was the reason for writing Embracing Our Priestly Nature at Work?
Scott Breslin: I wrote the book to help rekindle the notion of the priesthood of all believers in a way that was both theologically sound and practical for ordinary Christians. There are many teachings out there on the theology of work, but very few demonstrate the link between our theology of work and our priestly identity.
Knowing that every follower of Jesus has a God-given priestly mandate adds an important degree of clarity to our role in life and gives innate dignity to every occupation and job a Christian might do. At the core of every follower of Jesus exists a priestly DNA, designed by God to be a prominent part of our self-identity. However, like a slow burning ember, our priestly nature risks remaining obscure and inconsequential unless fanned to life. This book was written to be that fan.
Ed: Why do you feel this book is necessary/critical for the global missions movement right now?
Scott: I believe it will take the whole Church to reach the whole world. It will certainly take much more than missionaries, pastors, and evangelists.
If God's people don't embrace their priestly identities in 'secular' work places, I cannot imagine a scenario where the peoples of the earth will ever be reached. The job is just too large. We need to remember that the gospel is not simply a message that can be transmitted digitally around the world via electronic media, although that is also important.
In almost all cases, God's kingdom advances via the presence of human agents (i.e. priests) on the ground. It is a job too big to be delegated to mission organizations alone… there are just too many unreached. The unreached are difficult to access, both physically and relationally. Everyone needs to be involved to get the job done. Everyone will need to embrace their God-given identity if the gospel is to reach all peoples.
This book was written to help fan into life the priestly nature of God's people that risks remaining obscure and inconsequential to the missional purposes of God. All of God's people have been called to stand up and embrace their priestly identity.
Ed: Describe some of your experiences that helped shape Embracing Our Priestly Nature at Work?
Scott: I have lived the majority of my life in countries other than my own. To the citizens of my host nations I was a foreigner, a stranger, an outsider looking in. However, in the workplace, even if I carry a different passport from my work colleagues, I was considered an 'insider' in relationship to that work community. History (and my personal experience) testify that in almost every instance the gospel spreads best along relational lines, rarely from stranger to stranger.
Yes, we need to represent Jesus to strangers also, but it is complementary to representing him to those within our own relational networks. We don't do this well. We have obligations to all people, but particularly to those with whom we are in relationship. The workplace is a community within a community and a space where most adults spend the majority of their waking hours. Yet our role in the workplace is typically overlooked and under-discussed by the evangelical church. Let's change that.
Ed: Where have you seen Christians struggle with this notion?
Scott: Everywhere. Many Christians struggle with the meanings of the word priest. To them, the word contains notions of persons dressed in black, swinging incense, conducting religious ceremonies, and hanging out in church all day. In other words, notions that obscure and taint the core biblical meaning behind our priestly identity.
Christians around the world struggle with the notion that they are indeed priests. And of course they do because it is under-discussed and under-emphasized in almost all churches. But consider what might happen if just 5% of all the Majority World evangelical Christians who are working as migrant/expatriate would truly embrace this notion. There are estimated to be 637,000 evangelical Filipinos, 540,000 evangelical Chinese, and 342,000 evangelical Indians working secular jobs in the Middle East, Indonesia, Central Asia, and other unreached regions.
What would be the impact if just 5% of them embraced their priestly nature? The world would never be the same. A priest has two fundamental responsibilities: first, to represent God to his/her people; second, to represent his/her people to God. I hope this book will play a part in awakening the priestly nature and missional purpose of Christians around the world working secular jobs.
Ed Stetzer holds the Billy Graham Distinguished Chair of Church, Mission, and Evangelism at Wheaton College, is executive director of the Billy Graham Center, and publishes church leadership resources through Mission Group.
Support our work. Subscribe to CT and get one year free.