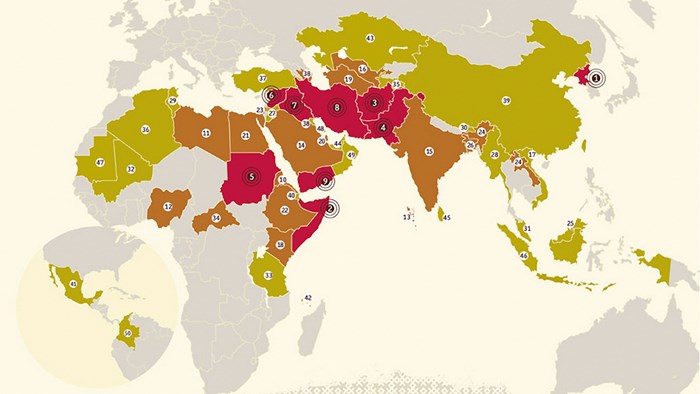 Having just come out of the holiday season, many of you will likely remember recent rhetoric surrounding a certain conflict—one that some have called the "war on Christmas." For those of you who aren't aware or haven't heard the news, some Christians felt they could not wish others "Merry Christmas" or were feeling disrespected when some would wish them "Happy holidays" instead of their preferred "Merry Christmas."
Perhaps for perspective we should instead read Open Door's 2018 World Watch List.
Just this past Wednesday, the organization released their annual report, which ranks the 50 countries where Christians face the most severe persecution. Among the worst of the worst were North Korea and Afghanistan, which claimed the first and second spots, respectively.
According to the list, the two were nearly tied. Pakistan scored highest in terms of incidents of church or church building attacks, abductions, and forced marriages. The rise of intense persecution in central Asian countries, as well as Hindu and Buddhist nationalism in other parts of the continent, were also noted by the report.
But we mustn't overlook another important facet of the report—one that gives us a picture of the kinds of persecution our brothers and sisters in Christ experience on a day-to-day basis: during this most recent reporting period, Open Doors found that 3,066 Christians were killed, 1,252 abducted, 1,020 raped or sexually harassed, and 793 churches attacked because of their expressed faith in Christ.
Persecution isn't something we just read about in history books. It's unfortunately alive and well—a tragic, yet very real, occurrence for many Christians around the world today.
What Persecution Is
The persecution of Christians happens more frequently and with greater severity than we'd prefer to imagine in our sheltered western world.
God promises us in 2 Timothy 3:12 that "everyone who wants to live a godly life in Christ Jesus will be persecuted." And we can and will experience pushback at times. But Christians around the world are experiencing life-threatening persecution. The reality and depth of this suffering should upset our sheltered hearts and minds.
As someone who has personally held the hands (in places I cannot name) and sat in the presence of people who've lost everything—and I mean everything—because of their faith in Christ, their pain is all the more real.
But as a member of the Wheaton College community, I've also seen the ways our local community recently been exposed to the evils of Christian persecution. Andrew Brunson, an alumnus of the college working as a pastor in Turkey, was imprisoned by that government in 2016. He remains in prison to this day. The false accusations officials provided to justify his imprisonment there was an attempt to mask the real truth: persecution is growing in Turkey.
What Persecution Is Not
In consideration of the plight of Brunson and thousands of believers around the world, those of us in the U.S. must recognize something: the occasional discomfort we feel as believers here in the States is wholly undeserving of the term 'persecution' as we use it today.
Our lives here as Christians, in comparison to those of believers living in the aforementioned countries, are comfortable. Some of us have certainly been treated poorly or unfairly because of our faith—I get that. But truthfully, today, the term persecution must be reserved for our brothers and sisters whose lives and livelihoods are constantly placed on the line for the sake of their allegiance to Christ.
How We Should Respond
As church congregations and followers of Jesus, our response matters. How, after all, can we expect the world to care if we do not? Despite issues related to geographical separation, the reality is that God is calling each and every one of us to respond and offer help to those who are hurting within the church body. This means we must seek out tangible ways to generously give to and radically love those currently experiencing persecution for their faith in Christ.
At the invitation of my friend (and their new lead teaching pastor) Steve Carter, I recently spoke at Willow Creek Community Church as they were in a series called, "Dear Church." The series is a walk-through the letters to the churches in Asia Minor from the Book of Revelation.
My assignment was to teach through Revelation 2:8-11, which is to the church at Smyrna. Smyrna was the church that was persecuted.
I happened to know, because of the great work of Sarah Cunningham at Open Doors, that the World Watch List was coming out the same day. And, she informed me, Turkey was moving up the list as persecution was growing.
Teaching at Willow on the persecuted church at Smyrna on the day the World Watch List cames out, when persecution is growing in Turkey, really needed a connection.
The production crew at Willow worked with Sarah at Open Doors on a plan.
I shared the message (you can see that here) and, following the message, I asked people to respond in two ways. First, how they might respond to the text. Second, how they might encourage modern-day believers living the reality of that text in the same place.
As we worshipped after the message, people came from across the room to place their prayers and exhortations to believers in Turkey. They placed them on the stage. It was amazing to see people stop, pray, and share their hearts. We went from Smyrna (which was located in Turkey some 2,000 years ago) to praying for and sharing notes with modern Turkey, where Smyrna is now called Is İzmir.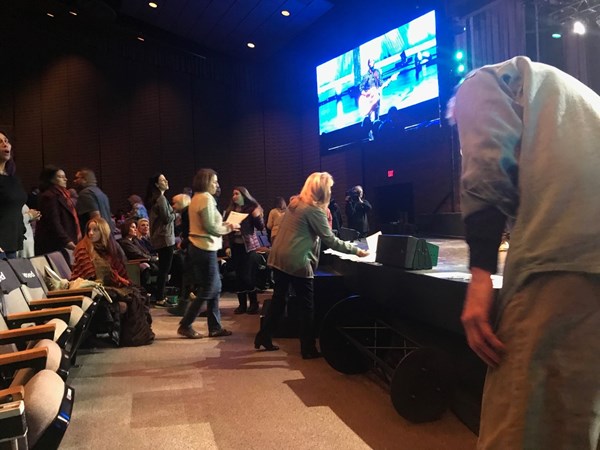 We worshipped God and prayed for believers in Turkey, but also for ourselves and how we might respond in light of the message. I know that we have regular readers from Turkey here on The Exchange as well, so know that we prayed for you.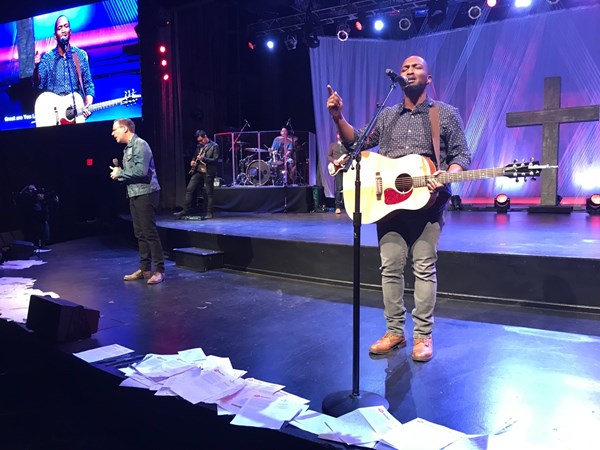 Moments like this are just one of many things that believers can do to love their brothers and sisters in Christ well.
But of course we mustn't forget that regardless of where we are in the world or the resources we might have or lack, all of us can start in the same place: by going to God in prayer.
That's what we did Wednesday night.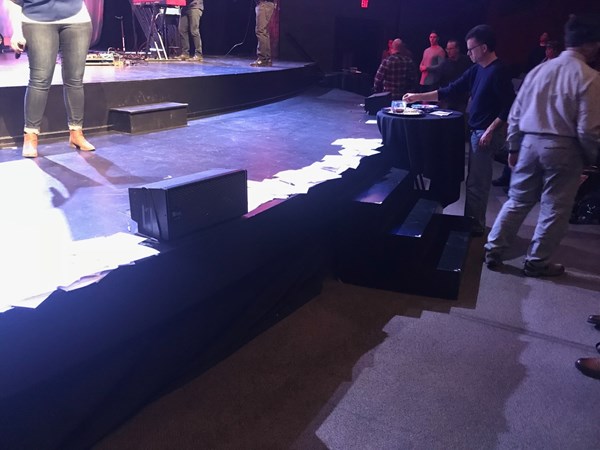 We can pray for strength for those who are persecuted—that God would allow his followers living in the throes of persecution to proclaim his word fearlessly. We can pray for comfort—that God would be near to those who've lost family members, been separated from loved ones, or forced into marriages. We can pray for peace—that Paul's words to the church in Corinth would ring aloud in their hearts and minds: "My grace is sufficient for you, for my power is made perfect in weakness."
And we can work to bring about change. For example, Wheaton grad Andrew Brunson still needs our voice.
If this issue touches your heart, there are many ways to connect to our persecuted brothers and sisters in these hostile regions.
Through Open Doors, readers can subscribe to a weekly update about the state of Christian communities in these challenging places.
You can also pray through a monthly prayer calendar containing specific prayer requests Open Doors gathers from Christians in these often underground faith communities. You can download the monthly prayer calendar here.
In addition, there are regular opportunities to send messages of encouragement that are delivered through underground methods to believers facing severe challenges. You can find those here.
Or some might be interested in receiving advocacy emails to learn about how to encourage U.S. lawmakers and government officials to intervene in the harshest situations where religious and other rights are being violated.
Finally, you can download free resources for your church or small group.
For those of you who might be interested, this is the note we used. Open Doors is delivering the letters to believers in Turkey.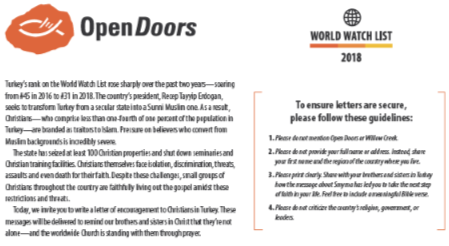 Ed Stetzer holds the Billy Graham Distinguished Chair of Church, Mission, and Evangelism at Wheaton College, is executive director of the Billy Graham Center, and publishes church leadership resources through Mission Group.
The Exchange is a part of CT's Blog Forum. Support the work of CT. Subscribe and get one year free.
The views of the blogger do not necessarily reflect those of Christianity Today.