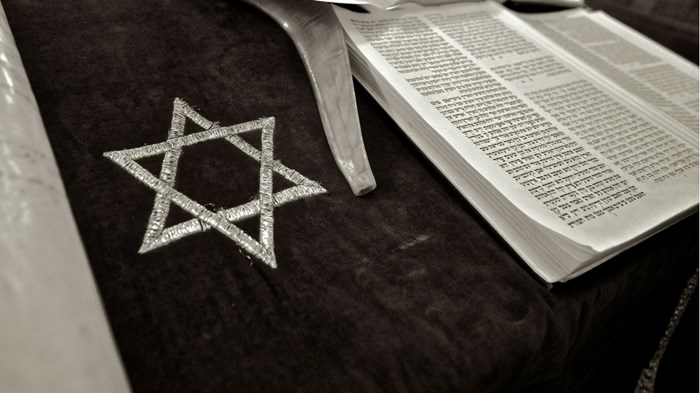 Image: via Creative Commons
"How do I get connected?" The question was a text from an earnest Hasidic (ultra-orthodox) Israeli Jewish guy named Aviel.*
After a series of casual conversations, he made a theological comment about God and time. That was the introduction for deeper discussion. How could anyone know God? His religious orientation was around what he must do to connect with the Lord. My perspective was a little foreign to his way of thinking.
Although we met in Israel, both of us grew up in the United States. We were introduced to ideas about God through Judaism, though our ways of doing religion were pretty different, even before I believed in Yeshua (Jesus). Interestingly, as children we both wanted to know the Lord and to be his child.
Aviel texted me a Hebrew quote about God's children from a passage early in Jeremiah 31. It spoke of God's love for his children who returned from captivity in northern Mesopotamia. Since Aviel introduced Jeremiah, I was free to suggest something from the same chapter in response. With his permission, I sent Jeremiah 31:31-34, speaking of the new covenant relationship.
He immediately saw the words "new covenant" and asked what it meant. I tell Christians we shouldn't assume other people know the Bible, even a religious Hasidic Jewish guy. And, no, I'd never heard of a "new covenant" in the Hebrew Bible before I believed in Jesus.
So I wrote, "It speaks of God's promise for a new covenant RELATIONSHIP. Though offered to Jewish people, it's for individuals. The text speaks for itself in context. God offered a covenant with our people that promised renewal of his faithful love."
Aviel immediately understood but wanted to think about it. It was confusing because while he wants to know the Lord, he knows that his sin is always a barrier. He believes he must overcome the roadblock by doing good. While he knows that's impossible, his soul longs to know God and his purpose.
"So did this already happen?" His text was referring to the new covenant. At the time he wrote it, Jeremiah's words were a future promise. However, I responded that since Jeremiah's day, the means to establish the new covenant relationship have all happened.
Jeremiah 31:31-32 actually speaks of two wonderful covenants. The first was the covenant through Moses. It was glorious and showed our people how to walk with the Lord. I can say it was beautiful, because it gave our Israelite ancestors order when they came out of Egyptian slavery. God's instruction through Moses introduced the nation to a way to know God, to live with Him, to be his people, and to know him as God in their midst. It also revealed that we're all broken, rebellious, and sinful.
The second is the new covenant. In it, our merciful God showed the way to restore anyone's relationship with him. While human nature causes us all to fail the effort to be holy, the Lord made it possible to change our hearts. That is the promise of his new covenant relationship. It is possible through his gift of faith. And the imperfect practice of obedience to him and the awareness that all our sin is forgiven, though not forgotten, is evidence of the Lord's new relationship with us.
Shame is removed, because he won't hold our transgression against us and the stain of guilt is washed away. That's a pretty novel concept for a pious Jew.
And yet, it made sense to Aviel: "So the only the way the Lord will forgive sins is through what is written and explained in the New Testament?" Hmmm, that was an interesting switch from the term "new covenant" in Jeremiah, but a fair synonym.
"How is the connection to the Lord different in the New Testament?" he asked. I explained the relationship without referring to religion:
"The Lord has always given his promises to and through people. The first, to Adam and Eve, told of a coming redeemer, a son, who could restore all sinful humanity to himself. That promise was refined through subsequent covenants to Noah and then to Abraham: a child of blessing to all the nations through Israel (Genesis 12:3). Among Moses' lessons were the ways God would provide forgiveness and restore relationships. The covenant through King David was a promise of the Lord's kingdom on earth, his anointed kings and the King Messiah. Those were former covenants because I don't like to call them 'old.'"
I wrote, "The relationship connection throughout all of the Lord's promises was the same. Jeremiah 31:33-34 showed that we can know the Lord as our Abba in heaven." We can trust his love us and his forgiveness for our sin. That's the new covenant relationship. The next morning, he wrote, "How do I get connected?"
We know, faith comes by hearing as people encounter the Word of the Lord. I want to have conversations with friends like Aviel as equals. It is natural when I trust the Holy Spirit is able to draw him to the Savior. When Aviel asks, I urge him to address the God of Israel in prayer. And then, Lord willing, we will speak of connecting with the Lord, the One who said, "This cup (of redemption) is the New Covenant in my blood…"
*Aviel is a pseudonym
Tuvya Zaretsky is a Lausanne catalyst for Jewish evangelism, serves the Lausanne Consultation on Jewish Evangelism (LCJE), and is a Jewish-Gentile Couples ministry specialist with Jews for Jesus. He posts resources at www.JewishGentileCouples.com. He and his wife, Ellen, are the parents of four incredibly amazing Millennials.