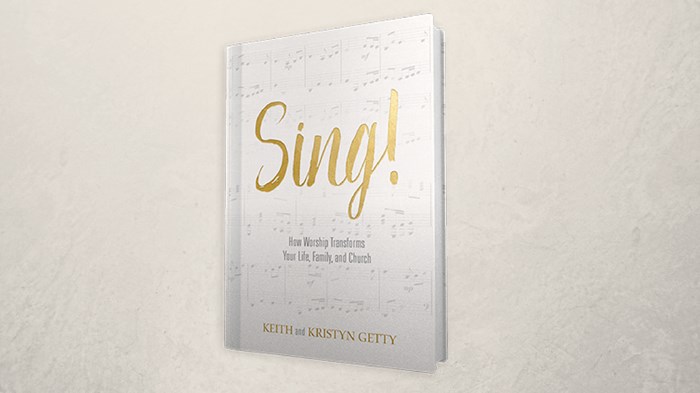 Ed: Where do your ideas come from when you write?
Keith Getty: What a wonderful question. Two things, and both are related to my Irish upbringing. First, my musical childhood was church music, classical music, and whatever influences of Irish "folk" music I imbibed. Second, the young crowd of Presbyterians I grew up with were interested in discussing the Bible and theology and many became pastors. There was a desire in all of us to know Jesus deeply and to help other people know him deeply, and so much of that happens in the songs we sing. When you put these two ingredients in the juicer, out comes modern hymns.
John MacArthur once asked me, "Do you realize what a gift it was to be born Irish? Irish music is the easiest to sing as a group..." I always encourage Irish musicians to embrace our extraordinary musical culture rather than always trying to sound American or British.
Ed: Why are hymns important for society and for the church right now?
Keith:We live in a time when much around us is uncertain, where emotional breakdown and suicide are at record highs, and where family breakdown and confusion have left whole cultures crippled. Even common decency—whether a form of cordial manners to neighbors or the ability to have meaningful discourse on social or political issues with each other in person or online—has all but died. Our political leaders,celebrities, and media are pathetic examples to all of us collectively. In this time, what could be more beautiful than God's people singing together?
What could be more inviting than the joy of a community singing with joy and love to one another? What could be more radical than song breaking down generational, socioeconomic, and political ideology barriers for the sheer delight of singing to one another about how much greater Christ is?
And in a society so contrived, what is more authentic than people pouring all their passion into singing to the Lord because of what Christ has done through the Cross and Resurrection? That's a unity worth striving for.
Ed: So what is your passion?
Keith: I hope, for both Kristyn and I, it is to know the Lord and help other people know him in more beautiful and rich ways. We could never have predicted how much raising girls would have both enriched that and exposed our many weaknesses.
But obviously I am also passionate about hymn writing—more importantly, communal hymns singing. The very act of congregational worship is a symbol of unity. At a theological level we are looking forward to the picture of Heaven, where every tribe, tongue, nation, and language will sing before their maker. Here on Earth we have a microcosm of that experience in our congregational worship.
At a very practical level, though, it is actually on a Sunday morning, reminding each other, encouraging one another, empowering one another by singing to one another, when the deepest worship can happen. We are witnesses and leaders to our own families and to outsiders in the church, whatever the state of their spiritual minds.
Typically, the great hymns paint a beautiful picture of God in the human experience through matching unique music too irresistible to not sing. That's a privilege for us musicians—whether you are a songwriter, arranger, church organist, or band leader, we practice and hone our musical gifts so that Christ will look more beautiful for those worshipping on Sunday. There really is no higher calling for music.
Ed: You lead worship all over the world. Is there one core thing you have seen in the places you visit?
Keith: I think we both would say we live in the most exciting generation in history to be Christian. The number of Christians, conversions, countries, languages in which the Bible is read, and opportunities and ways to share the good news is astounding. Yet the challenges are way greater and darker. The need for building deep believers and families has never been more urgent. The hymns and songs we share with our congregations help in this task.
Ed: What are you excited about for the next year?
Keith: We're on a five-year program right now, where year two is the Psalms. I've never felt a more important time to address the Psalms. I took 150 days out to study each of the psalms, attempt to set them all to music, and seek to understand them as a whole.
They paint such an extraordinary picture of God. They help us in ways that are artistic, magnetic, raw, and emotional so that we can bring all of our human emotion "Godward". They join us to the past and point us clearly to the future and the need for God in every part of life.
The Exchange is a part of CT's Blog Forum. Support the work of CT. Subscribe and get one year free.
The views of the blogger do not necessarily reflect those of Christianity Today.