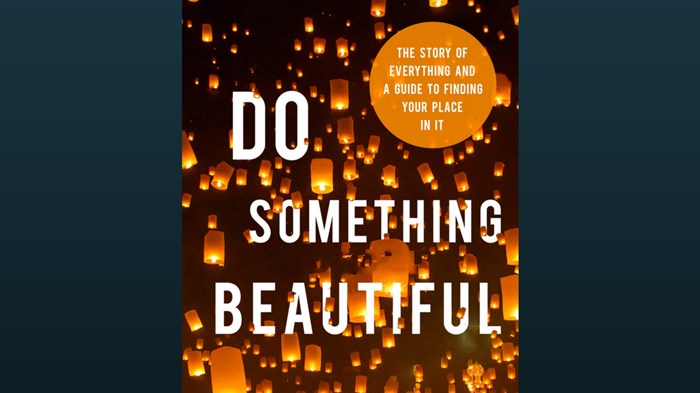 Image: via tellthestory.net/Creative Commons
Ed: What is 'the story of everything?'
York: I've intentionally written the book to be accessible to 'nons' and anti-churched readers. So many great Christian books will never be read by those who need them most because we speak in coded, theocentric language. This book is accessible for the urban justice advocate who has never been to church and for the Harley Davidson biker who lives to glide over the mountains of Virginia.
This book is inspiring for those who have become one of the millions of 'de-churched,' who have lost their belief in the possibility of righteousness and beauty. It is accessible for just about any reader and I've intentionally made it so by inviting the reader into a story—the story of everything. This is my way of describing the incredible in-breaking kingdom of Jesus and how it invades our darkness and the darkness of the world.
Ed: What was the inspiration behind the book?
York: For the past several years, I've watched scores of Millennials come to Jesus in meaningful ways. In recent years, the number of college students coming to faith in Christ through InterVarsity USA has exploded. As I've studied the major heart-felt themes of new Christians and those still on their way, I was inspired to write Do Something Beautiful.
My aim is to engage the three major kingdom draws for this generation—righteousness, beauty, and purposed community. These three themes form the foundation for how nons and even anti-churched Millennials are finding their way into meaningful Christian community. There are also two places in the book where the reader can pray to receive Jesus and begin their journey into 'the story of everything!'
Ed: What is your vision for the church in this book?
York: My main hope is that the reader will find his or her way into a local church. This is a book geared at getting people into community! Here is my line of reasoning: We are living in a time of great social action and upheaval, and yet I believe what this generation is actually pursuing is the kingdom of God through the doorway of social justice.
Having said this, justice will never satisfy. Righteousness goes beyond justice. Righteousness is the experienced reality for those who are in a purposed community with Jesus Christand with those who follow Jesus Christ. Righteousness is about flourishing, about making all things new. What drives this generation is the hope that things can actually be made right. Beauty is a large part of that because beauty is the fruit of people and places that are flourishing.
For quite some time, beauty has been a lost value for many evangelicals; however, this generation is driven by an unquenchable desire to encounter and be immersed in beauty. Beauty points us to the source of all beauty—God himself. When we encounter a roaring fire, a swirling snow storm, a sun-drenched beach, or the smile of a child, we are enraptured, entranced to the very core of our soul. This experience connects us to who we were meant to be. Beauty is the great open door in our day to woo a generation to Jesus Christ and the church. Finally, purposed community has statistically been demonstrated to be the number one factor behind the Millennial drive for belonging.
In Do Something Beautiful, I help the reader see the difference between justice and righteousness, lust or materialism and true beauty, and a social group verses a purposed community. There is a guide to help the reader find and belong to a local church—God's purposed community. Ultimately, I want the reader to see him or herself as being a part of what I call, "the righteous and beautiful community," a purposed community on mission with Christ, creating signs of beauty and righteousness in a dark and broken world.
Ed: Why does the world need a book like this now?
York: Our world has always been fragmented and hostile, but there is no denying that we've pushed the accelerator and are speeding away from civility and hope. There is a loss of hope for something better. People are beginning to assume hostility as the norm, expect division, and are giving up on love.
I want to invite the reader to see him or herself as a part of a movement back to a new normal, a revived community committed to righteous living, to the signs and wonder of beauty, and to purposed community. I believe Jesus does not merely change our world––He changes the world! God isn't just after souls as we learn from Revelation 11:15, "Then the seventh angel blew his trumpet, and there were loud voices in heaven, saying, 'The kingdom of the world has become the kingdom of our Lord and of his Messiah, and he will reign forever and ever.'"
This is the 'happily ever-after' God is working toward. One day, Jesus will make all things new and recapture not merely women and men, but the very kingdoms of the world. We need this kind of hope today and a firm belief that the good news of Jesus is the path toward that hope.
Do Something Beautiful has already helped hundreds of people step into the story of God by choosing to become followers of Jesus. My hope is that countless more will one day be at the family table of God in the kingdom of Heaven because of this book.
The Exchange is a part of CT's Blog Forum. Support the work of CT. Subscribe and get one year free.
The views of the blogger do not necessarily reflect those of Christianity Today.