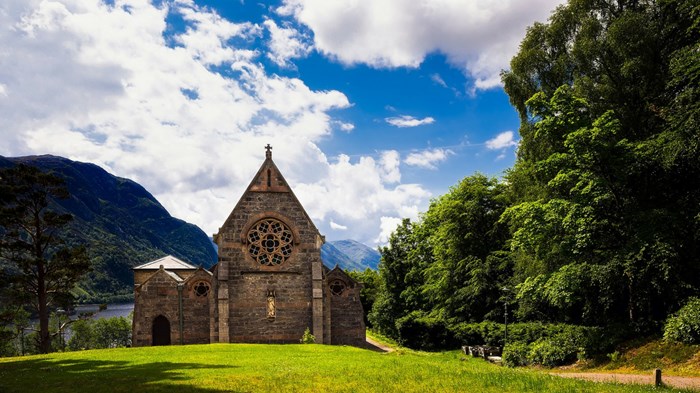 Image: via Creative Commons
We live in an ever-changing world in which the church seems to be struggling to keep up. Our churches are aging and losing their relevance in our post-Christian, postmodern, and pluralistic world. Our children grow up and leave our churches. Churches are moving away from the cities because they aren't able to connect with the new neighbors and some churches are closing their doors.

Let's be honest. Ministry is hard. I have experienced the ups and downs of ministry.

I have been a part of a struggling church plant that eventually shut its doors. I have had to cut budgets and lay people off. I have had to shut down ministries and even campuses. I have seen marriages of people in my ministry fall apart. I have seen people walk away from their faith.

I have also been a part of starting effective new churches and effective new campuses. I have been a part of growth that included increasing budgets, hiring more staff, and seeing friends, neighbors, and family members coming to faith, getting baptized, and connecting with our local church.

Here's the thing: after 25 years of ministry, I can now tell the difference of what leads to those seasons of ups and downs.

Looking back at these last 7 years serving in Austin at Gateway Church, I can see three distinct things we did to move from stagnant and declining to growing and thriving that might help you in your work of revitalization.

1. We need to remove the barriers we have put up between ourselves and God.
As pastors and church leaders we must acknowledge that God builds His Church. We are His servants. Unless He builds, we are laboring in vain.
At the same time, the Scriptures also reveal that we can obstruct what God wants to do in our local churches. When we are rebellious or disconnected from God, He does not force His way into our hearts and lives and ministries.
The first year in Austin was quite difficult.
I had been the Navigator (executive pastor) at Mosaic in Los Angeles with Erwin McManus. After serving with an amazingly creative and diverse and evangelistic team for almost 13 years, stepping into a new environment was challenging. My wife and I knew God was calling us to Austin to be closer to our extended family in order to serve and reach them and we felt called back to planting campuses.
In a city where only 13% attend church (and where it felt like half of those who attended church attended more than one), Austin seemed disinterested in faith. At first, all of my frustration for our lack of progress was pointed towards others. I found it far easier to blame others for all the conflict and the lack of growth.
Sharing my frustration with one of my mentors, he asked me what I was hoping to see. Immediately I answered with "momentum!" I meant for our campus, but he began talking about ways to gain personal momentum.
I began to realize that I could continue to blame others for our circumstances or I could begin to take responsibility of every part of my ministry that I could. I did not want anything within me to keep God from being able to move among us.
Over the next several months, I worked on defining my personal core values, my mission statement, and even my shadow mission statement. I asked colleagues to do a 360 degree evaluation of me and my leadership.
I began to work on what used to be blind spots – my workaholism, my people-pleasing tendencies, my anxiety, my control issues, and my tendency to micro-manage.
Working through Neil Anderson's Steps to Freedom in Christ and working through the 12 Steps to overcome anxiety, I began to make tremendous progress.
Serving people became a joy that came out of the overflow of God's love for me rather than a chore I had to endure or cross I had to bear.
Doing the work of personal renewal helped reconnect my head and my heart to Jesus and His Kingdom work. I wanted to be in ministry again, and people wanted to be in ministry with me.

2. We need to remove the barriers we have put up between ourselves and the church family within which we serve.
As I began to more clearly see the ways God's grace showed up in my life, I was able to offer more grace to those who had been so frustrating to me.
Extending grace meant forgiving even when no apology came.
Extending grace also meant loving others enough to have honest and hard conversations.
As a church leadership team, we began to clarify our core values, our process for moving people from lost to leading, our process for commissioning new leaders, and our path to move people from the city into the crowd and into our core.
Clarifying our vision and creating the processes for accomplishing our vision helped clarify who should not be on the team and who we needed on the team.
Teaming in this way also unified us – even as praying for unity and committing to be unified became priorities.
3. We need to remove the barriers we have put up between ourselves and the world outsideof Christ.

Consider this: can you invite a skeptic or someone who has doubts or even someone who is spiritually searching to a Sunday morning gathering?
If so, would they feel welcomed? Would they want to come back?
What if you could say every single Sunday gathering: "No matter where you are in your spiritual journey, you are welcome here!" You could not only say it, but your guests would feel that what you said was true.
"Come as you are, but don't stay that way" is what we want at Gateway.
At Mosaic we described our community as a place to belong before you believe.
This idea of allowing people to belong before they believed is the opposite of how most local churches operate. A member signs off on a doctrinal statement. Our websites lead with our beliefs. We use words others don't understand. We sing songs others don't know. We have traditions we never explain.
Sundays should be more like the Sermon on the Mount where the crowd included the disciples, the prostitutes, the tax collectors, and others not welcome in the synagogue.
In his letter to the Corinthian church, Paul reminded them not to forget about the unbeliever in their gathering.
When we have those who do not yet believe in our Sunday gatherings, we will communicate the truths of Scripture with more clarity.
If the pastor and worship leader explain why we are doing what we are doing, we lead better.
When we avoid Christianese, or insider language, or at least define our terms for those in the crowd who are not insiders, we are immediately more inclusive.
Here's a way to gauge our effectiveness on this. Does the 12 year old kid sitting in church understand what is happening? If not, then we have some work to do to communicate more clearly and succinctly.
In doing so, we are helping those who do believe know how to communicate the truths of Scripture in a way that their disconnected family or friends will understand.
We need to remove the personal and corporate barriers that keep God from moving freely in and through us.
Eric Bryant is the pastor at Gateway Church in South Austin, a professor with Bethel Seminary, author of Not Like Me: Learning to Love, Serve, and Influence Our Divided World, creator of churchgrowthworkshop.com, and founder of www.ericbryant.org.
The Exchange is a part of CT's Blog Forum. Support the work of CT. Subscribe and get one year free.
The views of the blogger do not necessarily reflect those of Christianity Today.