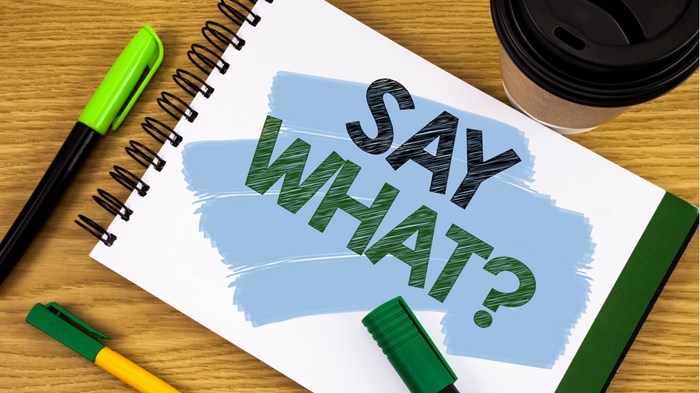 Image: By Artur Szczybylo via shutterstock
EAP @eadampeek: "You told too many circumcision jokes, so we are leaving the church. If we wanted to hear a comedy routine, we would have just watched a Will Ferrell movie."
Jeremiah Clements @JremiahClements: "Early in my first pastorate I had a guy stop me after service to introduce himself: "You know how Paul said he had a thorn in the flesh?" I nodded & he continued, "I'm yours."
Liam Thatcher @liamthatcher: "I couldn't focus for the entire talk coz you were wearing new glasses"
Brett Landry @BrettLandry: "That was, like, a really good TED Talk about Jesus!" (Excited guest who'd never been to church before)"
Scott Slayton @scottslayton: "Your preaching has gotten worse since your baby was born. It's like you're not as passionate about God as you were before."
Jason Spears @Jason_Spears: "Coming from my other church and my former pastor to here listening to you is like going from filet mignon to ground beef hamburger meat." … "Unfortunately, in my youthful insecurity, the next week I handed her a small bottle of A1 steak sauce and encouraged her to go back if she saw fit."
Christopher Cahall @chriscahall: "Would you like me to tell you how many times you said "um"?"
Hershaelyork @hershaelyork: "I preached in Grenada, MS, and a guy came up to me afterward, shook my hand and said, "Spurgeon! Charles Spurgeon." I was flattered, but thought he was overstating things a bit and I told him so and he said, "No, that's my name. I'm Charles Spurgeon."
Kris Freeman @PastorKris: "That was an amazing message. Too bad no one will ever respect you with your shirt not tucked in young man."
John Blase @johnblase: "On the way out of church on Sunday a.m., a guy used to give my Dad a nickel for a swing-and-a-miss, a dime for decent job, and a quarter if heaven was stirred."
Jeff Chandler @jeffmchandler57: "I was new to my first church and someone said: "You're not like most pastors; when you say that you sin – we believe you." Still trying to figure whether that was a compliment…"
J-T Richards @JT_Richards: "While I was preaching a sermon on a text mentioning circumcision, a man in his 90s leaned over to my dear wife and said, "I've been circumcised."
Challis @challies: "Have you ever read any books on public speaking? You probably should." That was after my first-ever sermon at a conference."
Gary Buchanan @Buchanan_G: "Elderly female guest pianist to me after the service – Did you go to seminary?
Me – Yes ma'am
Her – Did you graduate?"
Richard Lundie @RichardLundie: "At lunch after preaching, my 7 yr old said: "nice speech". My 9 yr old followed with, "Nah, you've had better" #keepsmehumble"
Philip Gregg @OStatePhil: "That was….. that was….well….that was something."
Nate Farrow @_natefarrow: "Had a sweet elderly lady tell me in all sincerity: "That was such a wonderful sermon that it put me right to sleep"
Jonathan Guerry @JonathanGuerry: "My second time to preach I forgot to pray at the end of my sermon. I just walked off stage. No one said anything… but a girl in the back started the slow clap. It was amazing."
Scott Sullivan @scottsull7: "Not me as I'm not a preacher, but I know a brother who received an anonymous note after preaching that said, "the Gettysburg address was only 272 words."
Paul Johnson @pastorpaulj: "That was a good sermon. It looks like you need a hip replacement."
Patti Pierce-Miller @PattiTheMiller: "Visitor a few weeks ago told me, "Yeah, it was pretty good, I mean you're pretty passionate about what you're saying – probably cuz you're a woman. Most preachers are men. Also… I mean, there's a LOT about Jesus. Like, a LOT. But it's ok, it was pretty good."
Tom Peers @PastorTomPeers: "The Lord healed me of insomnia during your message."
Joe Puentes @joepuentes: "Once I had someone tell me I talk too much about Jesus in my sermons so they were going to attend another church."
Dustin Hall @PastorDHall: "Good sermon, but I noticed one of the citations on one of your slides had a period out of place."
Casey Scott @caseyinakilt: "Best compliment and strangest comment goes to the same guy: after a particularly intense message on sharing our faith, one old farmer came up to me and said, "well, you really kicked me in the teeth today… thanks."
Dan Donahue @dpdonny: "I saw a documentary on Hell and thought of you." Um, thanks… I think?"
Joey Rogers @JoeyRogersMBC: "Had a visitor at a church plant I did back in 2000. He told me it was the clearest Bible teaching he'd ever heard. However, it was not of God because I didn't do "the Holy Ghost hack" after every sentence. Apparently, "the Holy Ghost overwhelms the breath of a real preacher."
Vince Torres @VinceTorresNM: "A guy in my church approached me after what must have been a personally convicting sermon and said, "Great teaching. But don't you ever talk to me like that again."
Tim Williams @TimGWilliams56: "Every one of your sermons is better than the next one."
Alan Rathbun @alanrathbun: "I was preaching in a church that met in a space with a bathroom just off the worship space. Guy said – "Your sermon was so good I left the bathroom fan off so I could hear you preach."
Rando Acres @randoacres: "Preacher, I woke up this morning fully intending to go kill a man, but after hearing your sermon I've decided not to."
John Everett @johnatignite: "Had a lady that would tell me after EVERY sermon "just keep trying.""
Dave Miller @davemiller7: "See Pastor, you CAN preach a good sermon."
Dan Thompson @cdanielthompson: "One of these days you'll really know what you're doing."
Ed Stetzer holds the Billy Graham Distinguished Chair of Church, Mission, and Evangelism at Wheaton College, serves as Dean of the School of Mission, Ministry, and Leadership at Wheaton College, is executive director of the Billy Graham Center, and publishes church leadership resources through Mission Group.
The Exchange is a part of CT's Blog Forum. Support the work of CT. Subscribe and get one year free.
The views of the blogger do not necessarily reflect those of Christianity Today.