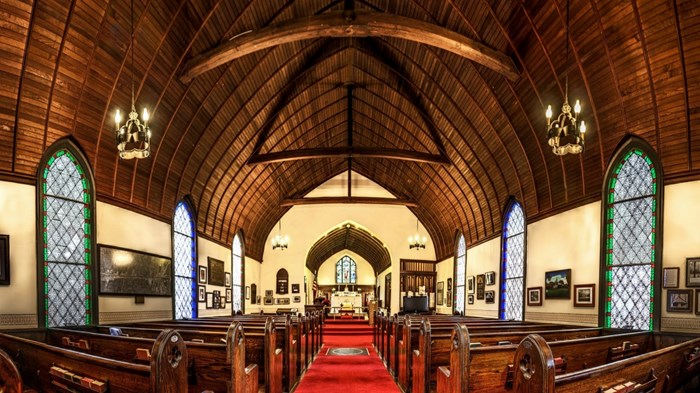 Image: Pexels
Karl Vaters' new book Small Church Essentials: Field-Tested Principles for Leading a Healthy Congregation of Under 250 has just released and it's a great read for pastors and leaders of smaller churches. Karl has been a small church pastor for 30 years, is the author of The Grasshopper Myth: Big Churches, Small Churches, and the Small Thinking that Divides Us (2013), and travels extensively to churches and conferences to speak about leading a small church well. Below is what I found especially helpful.
1.Church leaders often wring their hands over the "problem" of small churches, and how to turn them into big churches. Like most prejudices, however, our problems with small churches aren't what they seem. Just because a church is small, doesn't mean it's broken (pg. 10).
2.Just because we don't have a kickin' worship band does not mean we'll settle for passionless worship (pg. 43).
3.On average, about one-third of the big church principles can be applied in a church of 200 and about one-fourth in a church of 100 or fewer. To know which third to keep, I have to understand how big churches and small churches are different (pg. 50).
4.In bigger churches, the individual people and their personalities have a smaller impact on the whole. The challenges are more about crowd dynamics than personality quirks. That outspoken, sometimes embarrassing church member who might shift the entire mood of the room in a small church causes no more concern in a big church than how to answer that awkward email the pastor gets every week. The impact is much smaller (pg. 59).
5.Small churches need to prioritize relationships, culture, and history (pg. 62).
6.In bigger or newer churches, the culture is more likely to be determined by the pastoral staff, with the congregation more willing to follow. In smaller and older churches, the culture is more the property of the congregation and its history than the pastor. The smaller or older the church, the greater impact the culture will have on any new ideas, projects, or changes a pastor wants to implement, especially if the congregation has had a high pastoral turnover (pg. 65).
7.In the church, the people are not a means to an end; they are not the tools we use to create a needed product or service. In a church, the people are not resources, they're the result. They're not on the bus to help you get you to your destination; they are the destination. People worshipping Jesus and sharing His love with others are what the church exists for (pg. 70).
8.There are more small churches than you may think. According to Barna, "the largest group of American churchgoers attends services in a more intimate context. Almost half (46%) attend a church of 100 or fewer members. More than one-third (37%) attend a midsize church of over 100, but not larger than 499"[1] (pg 83).
9.If you're doing the Great Commandment and Great Commission, you have a great church, no matter the size, the denomination, or the liturgy (pg. 86).
10.In the business world, massive companies like Amazon, Costco, and Coca-Cola get all the attention. Yet small businesses help drive the economy. The same is true for the church. Small churches drive the growth of the global church. Small churches may be Christianity's most overlooked, underutilized asset, and they're multiplying (pg. 90).
11.Before we spend one more dollar, one more minute, or one more drop of energy trying to unstick a church, we need to ask and answer this vital question: Is my church stuck, or is it just small? If small churches are a vital element in Jesus' Great Commission strategy, we need to know the difference between the two (pg. 99).
12.I've never met a pastor who says he went into pastoral ministry because he wanted to be a fundraiser, manage staff members, or fight with city hall over building permits. I'm sure there have been a handful who felt that calling from day one, but most pastors go into full-time ministry because they want to touch people's hearts and lives through more hands-on shepherding. Certainly every field of endeavor challenges us in unexpected ways, but for most pastors, their sweet spot of ministry involves the kinds of gifts small churches are looking for (pg. 105).
13.Healthy small churches start reducing clutter, not after they find a great new idea to implement, but before. We need to continually assess and clear space in the church closet; only then will we be ready to add something fresh and new (pg. 122).
14.A service order re-boot is free, easy, and reversible. Plus you don't have to add or lose anything from what you're currently doing. Instead of adopting another church's ideas and hoping you can pull it off, you're doing a better version of your church. Changing your service order is not a magic pill, but it might be a first step toward something special (pg. 142).
15.I'm not the big idea-generator in our church; I don't have to be. We've fostered an atmosphere where people know their new ideas will be heard and respected, their half-notions will be edited, experiments will be tried, successes will be celebrated, and if it doesn't work, we can learn from that, too (pg. 160).
16.We follow a simple guideline I call the G.I.F.T. Plan that has helped our church become friendlier and more welcoming. G.I.F.T. stands for Greet, Introduce, Follow up, and Thank (pg. 194).
17.On Christmas Eve, Good Friday, Easter, and other notable days, we don't have a special production. We worship the way we always worship, but we do it with an awareness that there are more first-timers than usual (pg. 204).
18.If you want to keep meetings short, have a written agenda and stick with it. Sure, there are always last-minute additions that come up, but they should be the exception, not the rule (pg. 226).
19.If we're going to reach the next generation, we'll need to get much better at doing ministry from the church, not just in the church. Keep your eyes and ears open to what's already happening in your community through the members of your church, then step up to help (pg. 231).
20.Facilities should facilitate. That is, they should serve a purpose beyond themselves. Form should follow function, not vice versa. If church facilities have any spiritual value at all, it is to the extent that they facilitate worship of Jesus and service to each other (pg. 239).
[1] pg. 83, referencing "The State of the Church," Barna Group Inc., September 15, 2016, https://www.barna.com/research/state-church-2016/
Ed Stetzer holds the Billy Graham Distinguished Chair of Church, Mission, and Evangelism at Wheaton College, is executive director of the Billy Graham Center, and publishes church leadership resources through Mission Group.