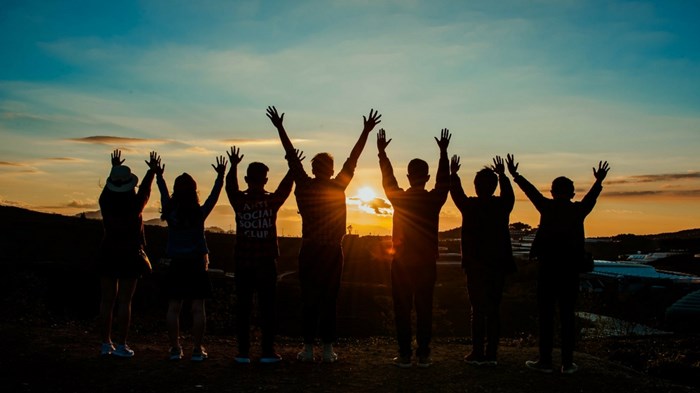 Image: Pexels
In his bestselling book, The Seven Habits of Highly Effective People, Stephen Covey explains that empathy is a key to effectiveness. He exhorts us to "seek first to understand, then to be understood." It's so easy to jump right into the point that we want to get across, but if we don't first take the time to understand where others are coming from, there can easily be unintended miscommunication.
Cultivating the ability to empathize with others leads to greater effectiveness in all forms of communication, including evangelism. In fact, Jesus himself models this as he empathizes with our brokenness.
Hebrews 4:15 explains that "For we do not have a high priest who is unable to empathize with our weaknesses, but we have one who has been tempted in every way, just as we are—yet he did not sin." After emphasizing that Jesus can empathize with our weakness, the writer of Hebrews goes on to say "Let us then approach God's throne of grace with confidence, so that we may receive mercy and find grace to help us in our time of need" (Hebrews 4:16).
The fact that Jesus stepped into our world and chose to humble himself is exactly what paves the way for us to understand God and approach his throne of grace with confidence. This same dynamic is true for us as we reach out to others with the gospel.
As we engage those who don't know Jesus and humble ourselves to empathize with their weaknesses, God becomes more approachable for them.
Since empathy is crucial to our evangelism, how do we intentionally cultivate it in our lives so that we can be more effectively and clearly communicate the truth of the Gospel? Here are four practical steps to help us get started.
1. Be honest with yourself about your areas of weakness
It's hard to acknowledge weakness in the midst of a world that glorifies strength and self-reliance. On top of that, we're afraid of being judged for our imperfections, and so we often prefer to gloss over the doubt, fear, and sinful desires that we have, hoping that if we don't think about them or talk about them, they'll eventually go away. We are often leery of admitting our weaknesses to others, and sometimes it's difficult to even admit it to ourselves.
However, it's precisely the messiness of our stories—the parts that we're easily self-conscious about—that others will be able to relate to. If we don't first acknowledge our own areas of weakness, it will limit our ability to empathize with others. Let us courageously take steps to be honest with ourselves, and as we do, we will find ourselves able to connect with others more authentically and effectively communicate the Gospel.
2. Let Jesus empathize with your weakness
In the midst of the struggles of life, God sometimes feels distant and unsympathetic; however, the truth is that Jesus can relate to whatever we're going through! Jesus was tempted just as we—his followers—are today. Stop for a moment and let that sink in.
As we begin to more fully grasp just how much Christ truly understands our weaknesses and the areas in which we face temptation, our capacity to empathize with others will start to expand. First John 4:19 tells us that "we love because [God] first loved us," and the same is true about empathy. We can empathize with others because Jesus first empathized with us.
3. Listen to others longer than you normally would
Empathy takes time. Francis Schaeffer said, "If I have only an hour with someone, I will spend the first 55 minutes asking questions and finding out what is troubling their heart and mind, and then in the last 5 minutes I will share something of the truth." Although this example may sound extreme to some of us, it challenges all of us to listen more intentionally.
It may be helpful to think about our ability to listen as a muscle that needs to be stretched in order to grow. In order to grow in our ability to empathize with others, it's important to practice listening a little longer than we normally would. In light of that, when you get to the point where you normally would chime in on a conversation, try asking one more question instead. As we take time to listen with our hearts, and not just with our ears, we will grow in our ability to both understand and speak to the hearts of others.
4. Seek to understand why others believe what they believe
As we reach out and seek to share our faith, we are inviting others to understand the world from our perspective, which is permeated with the gospel. If we want others to understand where we are coming from and come to believe it for themselves, it is important for us, as Christians, to be willing to empathize with and understand where others are coming from as well.
Granted, being willing to listen at this level takes time and emotional energy, but it's an investment that is well worth it. As we empathize with others in this way and seek to understand why they believe what they believe, we demonstrate both love and respect, and we gain insight into how we can more effectively share the gospel, given their current doubts or beliefs.
Empathy plays a significant role in effectively communicating the gospel. We must seek to understand people's hearts if we want the message of God's love and truth to speak to their hearts. As we continue to cultivate our ability to empathize with others, we will sharpen our effectiveness in evangelism and pave the way for others to approach the throne of grace, perhaps for the very first time.
Kerilee Van Schooten is Church Evangelism Research and Ministries Coordinator at the Billy Graham Center at Wheaton College.
Want to learn more about evangelism and how to integrate it into your daily life? Join us June 26-28 for the Amplify North American Evangelism Conference, where we will Reimagine a Simple Gospel in a Complex World. Learn more by visiting amplifyconference.tv.
The Exchange is a part of CT's Blog Forum. Support the work of CT. Subscribe and get one year free.
The views of the blogger do not necessarily reflect those of Christianity Today.