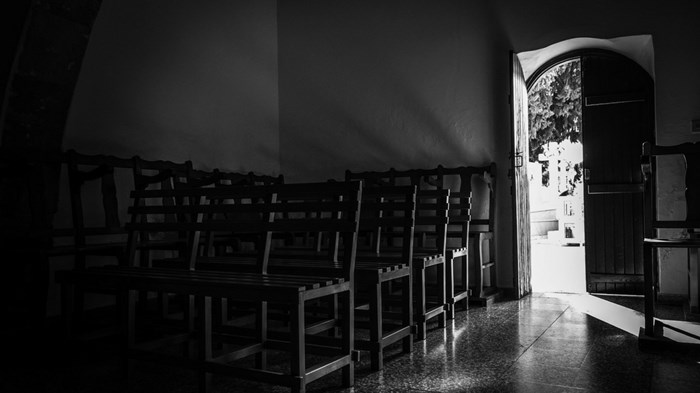 Image: Creative Commons
When you read the title, you may have thought, You're wrong—God is a god of second chances. There are many examples in the Bible of when God gave people second chances. If the Bible had a hall of shame, we would find many of the same names that we find in Hebrews 11 (often known the "hall of faith").
Noah was found drunk by his sons; Abraham trafficked his wife, Sarah; Moses murdered an Egyptian; Rahab committed prostitution; and David hired someone for murder and committed adultery. Then there are those in the New Testament: Zaccheaus, the tax collector, who overtaxed people out of personal greed, yet was accepted by Jesus prior to his conversion; and Peter, who denied Christ three times.
Yet, in spite of their illegal and immoral behavior, God gave them a second chance. They were repentant and went on to be faithful servants of God. But is it really God giving them a second chance to make good choices, and if they mess up again, he is done with them? Or is it God's grace being poured out in an attempt to restore their relationship with God and others?
Isn't grace what differentiates the Christian faith from other religions which focus on moral behavior or good works? Tim Keller states,
Christ's grace is not just a second chance. Christ's grace is NOT one more chance to redeem yourself. It is not one more chance to be a good moral person. The grace of Jesus Christ is NOT to appear before us and say look at me I'm honest, I'm compassionate, I'm generous, I have a servant heart, live like me and you can redeem yourself. Jesus doesn't come and say, look at me. Be as generous, caring and compassionate as me. If Jesus Christ came like that, if he came to be a model and example to us so we could redeem ourselves, he is an utter failure. I wish he'd never come. Because nobody can care like Jesus cared. And nobody can love like Jesus loved. And nobody can give like Jesus gave. If he is my model and he gives me one more chance, all he does is show me that I can never redeem myself. As a model he discourages me, he doesn't encourage me. He devastates me, he demoralizes and demolishes me. And leaves me in the darkness.
It is not one more chance to be good. Jesus Christ came and died to pay the penalty of our failures and if we receive him, his record becomes our record. He doesn't say one more chance to do good deeds, oh no, instead, he says, don't you see, your doing will never get you there looking at me – I have done all the good deeds for you. I have lived the perfect life, I have died the perfect death. I put myself in your place, I took your penalty so that if you trust in me, and you lay your doing down, and you trust wholly in me, the Father will welcome you as complete in me. Lay your deadly doing down at his feet, stand in him alone, gloriously complete.[1]
Do we as Christians really understand the grace and mercy given to us? What is the church's witness to the world on how we treat Christians who have committed immoral or illegal acts? Imagine if your greatest sin was made public and everywhere you went you had to reveal that mistake.
What if you were labeled by your sin—as a liar, adulterer, gossip, addict, failure, criminal, etc.? What if people whisper about you, "He or she is the one who…"? Is this the biblical response toward those who have been caught in sin?
Putting Our Focus on Redemption and Restoration
Let me focus on those who have committed an illegal act. People who society has given themselves permission to hate. Dominique DuBois Gilliard in Rethinking Incarceration points out that "Restorative justice must be the aim of God's people. God's intent to restore all things and all people must inform and transform our understanding and pursuit of justice" (p. 160).
Rather than continuing to support a retributive system which focuses on punishment, warehousing, and dehumanizing people, we need a justice system which focuses on accountability, redemption, and restoration.
Gilliard goes on to say later,
All too often, when we encounter the formerly incarcerated, we do not see them as brothers and sisters who reflect God's image. We usually view them with suspicion and interact cautiously with them. Furthermore, when we go into prisons and detention centers we frequently do not believe that people behind bars are capable of returning as citizens who can make our neighborhoods better places. (p. 191)
We are happy they attend Bible study in prison, but we don't want them living in our backyards or attending our churches.
Christians are different. The gospel revolutionizes our attitude toward those who harm. Not only do we treat others differently because of our own experience of God's mercy and grace, but he has called us to be part of the restoration process.
Galatians 6:1 (The Message) states,
Live creatively, friends. If someone falls into sin, forgivingly restore him, saving your critical comments for yourself. You might be needing forgiveness before the day's out. Stoop down and reach out to those who are oppressed (oppressive weight of temptation and spiritual failure). Share their burdens, and so complete Christ's law. If you think you are too good for that, you are badly deceived.
Christopher Marshall declares that Paul's words make it clear that
Christian justice focuses normatively on solidarity with sinners and their restoration, not on harsh punishment and rejection. Therefore, Scripture calls the church to actively engage in being involved in the muck and mire of communal transgressions, civic harms, and restoration of broken relationships (p. 161).
Who Will We Give Second Changes To?
In 2017, the U.S. Senate unanimously passed a resolution declaring April "Second Chance Month," a time to focus on giving those who have committed a crime, done their time, and have been released back into the community a second chance to be productive and contributing citizens. The 65 million Americans with a criminal record experience limited access to jobs, education, housing, and other things necessary for a full and productive life.
Over 48,000 collateral sanctions exist across the country not counting local laws enacted by municipalities. While some of these laws make sense and are in place for public safety purposes (e.g., not allowing those convicted of sex crimes against children to work in daycare centers, or those convicted of embezzlement not working in finance), over half of the restrictions are employment related. Yet, employment is one of the greatest predictors of a formerly incarcerated person becoming a successful and productive citizen.
The church should not be one of the barriers that stop formerly incarcerated people from flourishing. Instead, the church should be a place where broken people are welcomed and can receive healing. If we really believe in the transformation of the gospel—that any life can be saved and changed—we cannot say to someone, "You are not welcome here."
May we be a people who welcome formerly incarcerated persons and be intentional to seek out those like Zacchaeus and Rahab in our communities.
[1] Tim Keller, Sermon
Karen Swanson, Ed.D., is the director of the Institute for Prison Ministries of the Billy Graham Center at Wheaton College.
The Exchange is a part of CT's Blog Forum. Support the work of CT. Subscribe and get one year free.
The views of the blogger do not necessarily reflect those of Christianity Today.