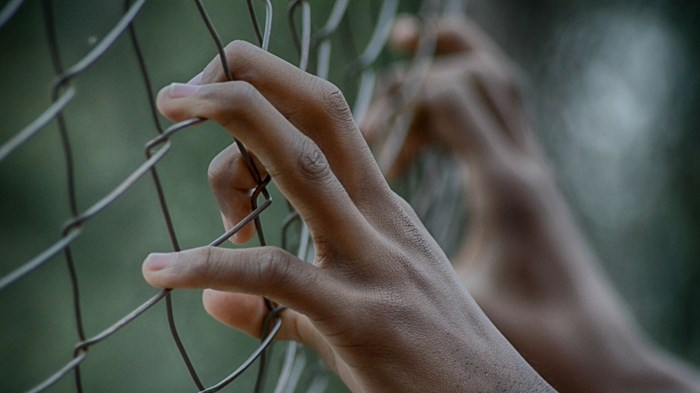 Image: via Creative Commons
As we think about criminal justice reform, I am reminded of something Jesus said in Matthew 25:40: "Truly I tell you, whatever you did for one of the least of these brothers and sisters of mine, you did for me."
Did what? What exactly was he referring to?
Indeed, he was talking about taking care of those who could not take care of themselves.
And who are the least of these?
Jesus said, "For I was hungry and you gave Me food; I was thirsty and you gave Me drink; I was a stranger and you took Me in; I was naked and you clothed Me; I was sick and you visited Me; I was in prison and you came to Me."
For those of us who work in correctional ministry, our mission is to care for those who are incarcerated and released from incarceration.
Of the 27 books in the New Testament, 14 were written from a prison cell.
We rarely hear about that.
Many people in the Bible experienced imprisonment: Joseph, Samson, Jeremiah, Daniel, John the Baptist, Peter, James, John, Silas, Paul, and even Jesus himself, who was held in custody before his death.
How do we care for the formerly incarcerated?
Jesus cares about those who are incarcerated, and we should too. But the reality is that nearly 90 percent of the people in our state prisons will be released. Do we want previously incarcerated individuals released with no resources so that they may reoffend? Our call instead is to invest in those behind bars so that they can be productive citizens once they are released.
You may say, "I don't know what to do." First, pray and ask God what you should do. Next, partner with your local church or non-profit ministry to assist those who are transitioning back into society by giving them a place to live, job training and placement, mentoring, biblical instruction, life skills training, and financial literacy classes.
In my work, we are teaching men to be fathers and husbands and to take responsibility in their communities.
From my experience, I have found five things to be essential elements to help a person transition back into society.
Housing. 22 percent of detainees said they were homeless at the time of their arrest.
Employment. Can you imagine the pressure and challenges of trying to get employment with a criminal record? In addition, the majority of all people released are on parole, probation, or owe some type of fine. Society asks and expects formerly incarcerated persons to pay fines, fees, and secure a residence, but little to nothing is done to help them with employment or training.
Education. More needs to be done within the prison system to help individuals obtain a high school credential, offer vocational training, or receive some type of college degree or credit.
Affirmation. Churches and communities can affirm those coming back into society by making them feel accepted and welcomed. This is easily done by mentoring or discipling. In my own personal story, I have people in my life who have walked with me for more than 20 years and still show they care just as much as when I was first released.
Advocacy. The church has an opportunity to fight for human rights for those with a felony record. Proverbs 31:8-9 insist, "Speak up for those who cannot speak for themselves, for the rights of all who are destitute. Speak up and judge fairly; defend the rights of the poor and needy." Christians must not only speak up for those formerly incarcerated, but must also empower the formerly incarcerated to speak for themselves. We want people to speak with us, not just for us.
Changing our perception
Recently in South Carolina, seven men were murdered in a prison riot. The governor simply called them violent people, explaining that it's just what they do. The image given to the public is that of violence; yet, most of those incarcerated are behind bars for non-violent offenses. The tragedy that occurred in South Carolina is a direct result of locking men in a cage without rehabilitation. If a person commits a violent crime, there is clearly something wrong with him or her. And what do we do? We incarcerate trauma instead of seeking to help heal the individual.
Over 70 percent of those in jail and prison are suffering from some type of mental illness that is most likely untreated or undiagnosed. Once these individuals are released, they are left to themselves on the street with no job or chance to ever become gainfully employed.
And so begins the vicious cycle of recidivism. Our prisons and jails need to be places of repentance, where a people can finally realize that there is no other hope besides faith in Jesus Christ. They need to take responsibility for their actions, but also need healing from trauma and address risks and needs which contributed to their pathway to crime.
It is time for the church to be more engaged in criminal justice reform. We have a critical voice and need to use it. We have resources that can be used to empower those impacted by our criminal justice system. We are called to take care of the least of these.
I, for one, am grateful for those brothers and sisters in Christ who took care of me.
The Exchange is a part of CT's Blog Forum. Support the work of CT. Subscribe and get one year free.
The views of the blogger do not necessarily reflect those of Christianity Today.