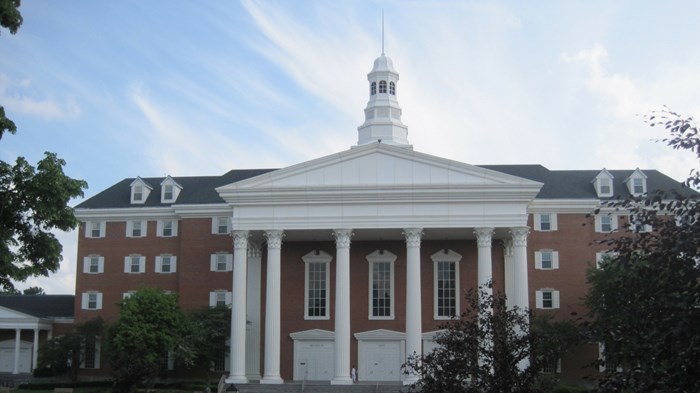 Image: By Christoffer Lukas Müller [CC BY-SA 3.0 (https://creativecommons.org/licenses/by-sa/3.0)], from Wikimedia Commons
Two years ago, I made the decision to leave Lifeway Research, pack up my family, and head north to become the Billy Graham Chair of Church, Mission, and Evangelism at Wheaton College and the new Executive Director of the Billy Graham Center there.
It was a huge transition, but we knew it was God's leading, and were excited to begin. The last two years have been, in many ways, a learning curve for me as I've navigated the complexities of an institute of higher education while also looking outward at building a world hub of mission and evangelism training.
At times, it's been hard. At times, I've wanted to pack up and head south to train pastors in Brazil. Seriously. But more frequently than not, I've not wanted to go anywhere. Nearly daily, I am reminded of God's calling upon my life and my leadership here at the college and the Center. It really is a great place to work.
God has done significant things through the hard work of my staff over the past two years. I want to share just a bit of it, and then end with some exciting news.
At the Billy Graham Center…
We've launched the Send Institute in partnership with the North America Mission Board. This is a one-of-a-kind church planting think tank that is tackling some challenging issues in North American church planting today.
We've launched the Rural Matters Institute, finally bringing on the map the important work of church planters and pastors serving in rural contexts in North America. RMI has become a go-to place for resourcing rural pastors.
We've exponentially increased our Church Evangelism Initiative, which brings together senior pastors in cohorts to grow their personal evangelism and take their churches to the next level of growth through conversion.
We've increased the presence of an Evangelism Initiative by double on Christian higher education institutions around the world.
We've undergone (or are currently working on) seven major research projects on missions and evangelism in North America for better understanding of the church in culture today.
We've grown our Institute for Prison Ministries to include think tanks to provide toolkits and best practices for chaplains, pastors, and those in correctional ministry.
We've built out our platform of evangelism resources to include evangelism toolkits like Our Gospel Story to build up all Christ-followers in their personal witness.
We've connected with Lausanne North America as a key partner in all we do, focusing on connecting influencers and ideas in North America for Christ and his kingdom.
And much more…
Through the Wheaton College Graduate School…
We've grown our Evangelism & Leadership MA program to triple its size, and we are seeing leaders from all over the world engage in our modular learning design in such a way that we are seeing real-time results in terms of kingdom growth as a result of what they are learning in our programs.
The pace at which we are growing is something we can only attribute to God's favor and the hard work of my team.
We are also building out partnerships with organizations around the world to provide affordable, world-class education to many who could otherwise not afford it. Some of these partnerships include Propel, Open Bible Churches, Every Nation, NewThing, Christian Camping and Conferences Association, and more.
Some New News!
Just last week, I also accepted the position of Dean of the new School of Mission, Ministry, and Leadership at Wheaton College. This school will launch on July 1 and will include undergraduate and graduate programs to equip students in global evangelism, ministry, and mission-oriented leadership. Programs in this school will include:
BA in Christian Education,
MA Evangelism and Leadership,
The new MA in Humanitarian and Disaster Leadership,
The revised MA in Higher Education and Student Development,
MA in Intercultural Studies,
The revised MA in Ministry Leadership,
MA in Missional Church Movements,
MA in Outdoor & Adventure Leadership.
The formation of this school will allow us to continue to have a strong undergraduate presence in Christian spiritual formation and reach more graduate students from around the world who want to have the excellence of a Wheaton education while continuing to live and work where God has placed them. We have a world-class faculty team (in addition to great adminstrative team members) and we are excited about the significant work we are about to launch.
In my role as Dean, I will be responsible for shaping the vision of the school, building relationships with current and future partners, and representing the school in direct and indirect activities to raise its national and international visibility.
You may be wondering how I can do all this in addition to the other responsibilities I have. The short answer is, I can't. It would be a huge understatement to say that I indebted to of those who partner with me in all of these efforts. It truly takes a team to make all this happen.
So too with this new position. Wheaton College will be hiring a new academic leader as an Associate Dean of the School who will work directly with me, faculty, and Wheaton College Graduate School Dean Scott Moreau to provide exemplary academic leadership. This person will be responsible for oversight of curriculum, budget, personnel, and other administrative aspects in the school and will hold faculty status.
Additionally, we will be hiring two additional roles: an Academic Partnership Coordinator, who will continue to build the kind of partnerships I describe here, and an Online Project Coordinator, who will help us develop online courses and programs.
So, if you are interested in joining our team, we have three new opportunities for you! You can see all the info on the three jobs and apply here.
So get involved!
Why do I share all of this? Because I want you to join us on this journey to equip Christ-followers in our mission to show and share the love of Jesus with others. Whether you are a seasoned pastor, a church planter in a small rural community, a chaplain in a prison context, or a mom who invests in growing her kids to love Jesus, there is a place for you in what we are doing at Wheaton College and the Billy Graham Center.
Will you join us?
Ed Stetzer holds the Billy Graham Distinguished Chair of Church, Mission, and Evangelism at Wheaton College, serves as Dean of the School of Mission, Ministry, and Leadership at Wheaton College, is executive director of the Billy Graham Center, and publishes church leadership resources through Mission Group.
The Exchange is a part of CT's Blog Forum. Support the work of CT. Subscribe and get one year free.
The views of the blogger do not necessarily reflect those of Christianity Today.